Now Accepting Undergraduate Writing Consultant Applications! (Deadline: 1/28) Attend an upcoming info session to learn more!
The Writing Studio is hiring for the 2022-2023 academic year, beginning with our undergraduate writing consultant positions. Our call for applications and information about two upcoming information sessions can be found below.
Call for Undergraduate Writing Consultant Applications for 2022-2023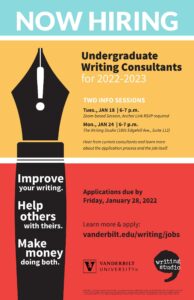 Are you interested in joining a committed and engaged community of writers who work to support fellow writers? At the Writing Studio, we welcome undergraduate consultant applications from all majors and from students of diverse backgrounds, including individuals from underrepresented minority backgrounds and from students who are multilingual or who have experience supporting language learning. Strong candidates will have excellent communication and collaboration skills and will be highly motivated and eager to continue learning and growing as a writer and consultant.
Application Deadline: Friday, January 28, 2022
To learn more and apply visit our Undergraduate Writing Consultant Position Overview.
(URL: https://www.vanderbilt.edu/writing/jobs/undergraduate-consultant-positions/)
Undergraduate Writing Consultant Information Sessions and Application Workshop
Interested students are invited to attend this online information session and application workshop. During the meeting, you will have the chance to hear from current undergraduate consultants, to learn more about the application process and the job itself, to get your questions answered, and to begin thinking critically about putting together a strong application.
This Info Session will be offered twice. RSVP using the links below to receive the Zoom meeting information.
Undergraduate Writing Consultant Info Session #1
Undergraduate Writing Consultant Info Session #2