Writing Studio and Tutoring Services Celebrate and Support First-Generation Students, Announce New Partnerships with FirstVU!
Celebrating National First-Generation Day, Sunday, Nov. 8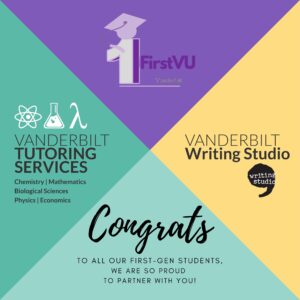 As part of the National First-Generation College Celebration on Sunday, November 8, the Vanderbilt Writing Studio and Tutoring Services celebrate the contributions and accomplishments of first-generation college students at Vanderbilt. We are fortunate to have a number of first-gen administrative and student staff and are thankful for their insight, creativity, and camaraderie. At the heart of our work is collaborating with students to help them build on their strengths and find success in and out of the classroom.
New Partnerships with FirstVU in Support of First-Generation Students
In that spirit, we are thrilled to announce new partnerships with FirstVU, Vanderbilt's student-run organization committed to supporting, celebrating, and empowering first-generation college students.
Tutoring Services has partnered with FirstVU to make Weekly Learning Roundtables in CHEM 1601 and BSCI 1510 available to students who are FirstVU members. Weekly Learning Roundtables provide students with the opportunity to study regularly with dedicated peers enrolled in the same course as they work together to master course content. This partnership is helping to provide a space for the FirstVU community to grow friendships alongside common academic interests.
Beginning this December and continuing into the spring, the Writing Studio will offer a series of workshops specifically for first-generation students. These workshops, chosen based on input from FirstVU members, will offer support for both refining their college writing skills and developing a supportive writing community of fellow first-gen students and staff.
First-generation students interested in either of these programs should contact FirstVU at vandyfirstvu@vanderbilt.edu or @VandyfirstVU or reach out directly to Toby Irenshtain, FirstVU president. We at the Writing Studio and Tutoring Services are excited about the opportunity to work more closely with FirstVU and the brilliant first-generation community at Vanderbilt.