Turning your lecture slides into a Kaltura Capture video
Kaltura has its own screen capture tool to allow users to record their screen, microphone, webcam, computer audio, or any combination of the four. This tool can be used to record your lectures for student viewing within Brightspace. This guide will show you how to use Kaltura Capture to record your lectures accompanied by your PowerPoint slides (or other presentation tool).
Updated Spring 2022
---
Step 1 – Prepare to Record
Open Kaltura Capture by navigating to the My Media tab. From the Add New menu, select "Kaltura Capture".


If it's your first time using Kaltura Capture, you'll need to download it. A download window will appear. Select the correct download option for your computer.

When you've opened the Kaltura Capture program, a toolbar will appear on your screen. There are four tools for recording on this toolbar. From left to right: Start recording, enable/disable webcam, record screen, enable/disable microphone. If one of these is disabled, it will appear greyed out.

Note: If you have more than one screen that you want to record, you can change one of your inputs from Webcam to the other monitor. You can do this by clicking the down arrow next to the appropriate icon and selecting your input.

If you haven't already, open your lecture presentation onto your computer. This may be PowerPoint slides, or another tool. For this guide we will assume you are using PowerPoint.
You are ready to record
Step 2: Record the lecture and slides
Once you have your recording settings ready and your presentation is open, click the red "Record" button. You will see a 3 second countdown before recording starts. If you are using Powerpoint, select 'From Beginning' to begin presenting. Speak aloud to explain concepts while you navigate through your slides. Note: You can edit the video later, so don't worry too much about your video starting perfectly!

While recording, you will notice a new toolbar appear. This toolbar allows you to control the recording in progress. You can stop, pause, and cancel (the X button) at any time. Additionally, there is a pencil icon that allows you to draw on the screen and will record your screen clicks with a yellow dot.

Clicking on the pencil icon will open a tool bar allowing you to:
Draw
Place arrows
Enter text
Use your cursor
Move things
Delete your drawing/text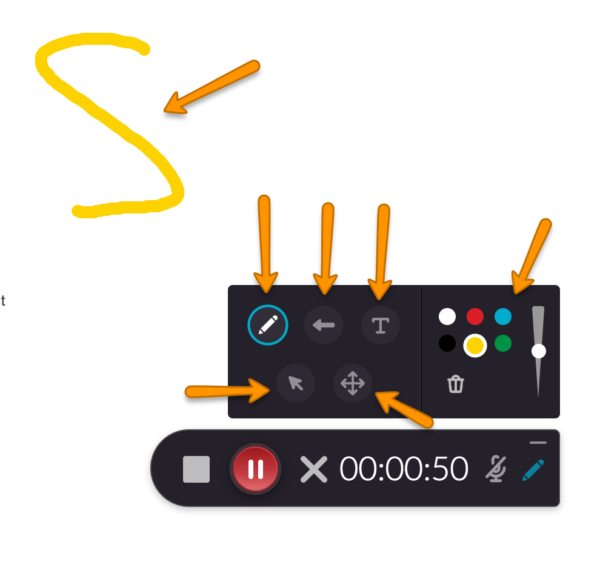 When you have completed your recording, click the Stop button. You will then be asked if you are sure that you want to stop.

After confirming that you want to stop your recording, a save screen will appear. On this screen, you can name your recording and add other optional information like a description and/or tags. Once you have this information entered, click Save & Upload.

You will then see an upload progress bar appear next to your video. After your upload is completed, your new video will be in your "My Media" tab.

Step 3 – Finish Up
Open your video from "My Media". From here you can view and edit your video. For more details on editing, see our guide on Making edits to Kaltura videos.
---