Dinner and a Draft with Dr. Adeana McNicholl 9/29
You are invited to Dinner and a Draft, a chance to sit down to a great dinner, chat about writing, and get to know a Vanderbilt professor in a fun, informal setting.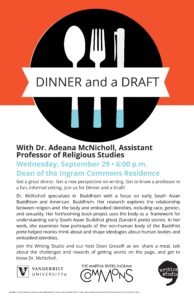 Our Fall Dinner and a Draft event is coming up on Wednesday, September 29 from 6:00 to 7:30 p.m. at the Dean of the Ingram Commons residence with faculty guest Professor Adeana McNicholl. Dr. McNicholl specializes in Buddhism, with a focus on early South Asian Buddhism and American Buddhism. Her research explores the relationship between religion and the body and embodied identities, including race, gender, and sexuality. Her forthcoming book project uses the body as a framework for understanding early South Asian Buddhist ghost (Sanskrit preta) stories. In her work, she examines how portrayals of the non-human body of the Buddhist preta helped monks think about, and shape ideologies, about human bodies and embodied identities.
Join the Writing Studio and our host Dean Gresalfi as we share a meal, talk about the challenges and rewards of getting words on the page, and get to know Dr. McNicholl.
The event will be held in the back yard of the Dean of the Ingram Commons Residence, and all university COVID-19 protocols will be in effect. Space is limited so reserve a spot here soon. If you have any questions, please email simone.mccarter@vanderbilt.edu.
We hope to see you there!
(*First-year students given priority for this event, which is held in partnership with the Dean of the Ingram Commons.)