The Blank Screen and the Blinking Cursor: The Design of Writing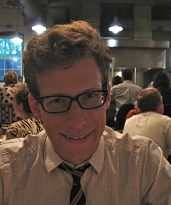 by Andy Hines
English Writing Fellow for Fall 2013, Vanderbilt Writing Studio
Invoking the blank screen and the blinking cursor might as well be the writer's equivalent of Kurtz's whisper in Joseph Conrad's "The Heart of Darkness": "The horror! The horror!" Why? They are the new site of the beginning of a draft, the digital replacement for the empty page. Poststructuralist thought tells us that the empty page is not empty at all, but rather contains all possible inscriptions; the writer's work becomes less about inscribing and more about carving away, shaving the potential down to its meaning. Whether a writer thinks of the page as entirely empty or entirely full (or half-empty and half-full), putting pen to paper, fingers to keys, or pixels to screen remains a difficult task.
Many writers visit the Writing Studio to overcome these initial anxieties, especially since talking through their ideas and writing plans with a consultant provides an outlet to realize what it is they have to say, or, how to say it. Besides talking through ideas with a consultant, many strategies for starting the writing process include creating an auxiliary and inevitably temporary document that at least begins to constrain the possibilities of the blank screen. In our "Dinner and a Draft" event this semester with G. Kane Jennings, Professor of Chemical and Biomolecular Engineering, several participants—including Prof. Jennings—mentioned a new and different problem: the illusion of permanence provided by the on-the-fly formatting tools of word processors that make each and every sentence look already published. No longer is the word-processing window merely a virtual representation of a material page to be printed; instead it mirrors the increasing number of screen-based venues to read and to publish academic writing.
While it has always been part of the writing process, the essay's design seems to be of growing importance. In fact, a recent textbook authored by Andrea Lunsford devotes an entire chapter to "Designing What You Write" that details a suite of choices a writer can make to allow their work to mean differently depending on the text's appearance. It is true, however, that many clients walk into the Writing Studio with class assignments with particular design constraints: 12-point Times New Roman font, 1" margins, and MLA, APA, or Chicago style. That suite of requirements—instead of choices—says just as much about the audience of the paper, as does the critics cited, or the disciplinary commonplaces evoked. They mark the paper as a piece of academic writing. They, too, are part of the genre. Even though meeting these baseline requirements may be the easiest part of the task, they are still very much part of the attempt to locate the discourse of the academy, what David Bartholomae has famously called "inventing the University."
Even though there are potential constraints on the text's final appearance, there are no limitations on the ways writers can manipulate their text while they are composing it. To fight the feeling that drafting looks definitively final, some writers make the draft look like it isn't final at all. Some participants in the "Dinner and a Draft" session mentioned changing the text-color to something other than black, composing in a simple text-editing program rather than a heavy-hitting word processor, or evading the screen entirely by using pen and paper. All writers work differently, but, for me, knowing that a draft is only a draft is an essential step in getting anything onto the page at all. To consider the fear that my feverish and drafty ravings even look like they could be legible, let alone publishable, is too much to bear.
As much as the place where we sit when we write dictates our comfort in composing, so does the virtual space where we do our writing. Johanna Drucker, book-artist, digital humanist, and interface critic, has argued that the graphic devices that organize our screen reading often go entirely unnoticed in critical evaluations of narrative. In her estimation, those elements "contribute to the production of the narrative in substantive ways." Despite a tendency to understand text as not graphic, text, too, is a graphic device. Just as the interface of the environment we read text on or in shapes its narrative, so, too, I'd wager, the digital environment in which we write affects our text. Manipulating our virtual environments so that they feel more in line with our writing sensibilities seems a space to experiment with more frequently in our writing practice.