VISE names first fellow: Smita De explores the intersection of surgery and engineering
The Vanderbilt Institute in Surgery and Engineering is pleased to announce its first VISE Fellow, a biomedical engineer and M.D. who specializes in urology and spent a research year at the manufacturer of the da Vinci surgical robot.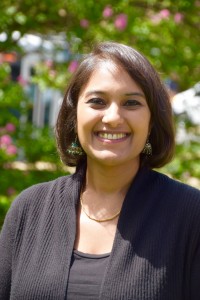 Smita De first developed an interest in medical device development as an undergraduate at Duke University, majoring in biomedical engineering.  She then completed the M.D./Ph.D. program at the University of Washington, where her graduate research in the BioRobotics lab involved a highly collaborative study on evaluating the tool-tissue interface in minimally invasive surgery.
During her subsequent urology residency at Stanford University, Dr. De had the opportunity to step outside of the academic world and spent her research year at Intuitive Surgical.  She joined the clinical engineering group and served as an intermediary between surgeons and engineers, who often do not speak the same "language." As one of the clinical engineers, Dr. De worked on multiple new devices related to surgical robotics, some of which received Food & Drug Administration approval and launched in the last 2 years.  Dr. De said the experience of seeing these products used clinically was so exciting and rewarding, she decided to pursue opportunities that would allow her to incorporate technology-related translational research into her academic clinical practice.
Just over a year ago, the Vanderbilt Initiative in Surgery and Engineering became an Institute (VISE), and leaders established a fellowship as a part of the expansion efforts to help enhance collaborations and encourage entrepreneurship.  At the same time, Dr. De applied for the endourology fellowship with Dr. Duke Herrell, associate professor of urological surgery, and Dr. Nicole Miller, associate professor of urology.  Dr. Herrell, a member of the VISE steering committee, felt that Dr. De's clinical and research background as well as enthusiasm for device development made her an ideal candidate for the first VISE Fellow and suggested a combined two-year VISE fellowship and clinical endourology fellowship.
"We are excited and very fortunate to have Smita De as our first postdoctoral VISE fellow. She is the perfect example of individuals who can bridge the gap between engineering and medicine.  Her clinical expertise will be instrumental in guiding engineering innovation and launching new research projects," said Benoit Dawant, Cornelius Vanderbilt Chair in Engineering and VISE director.
Dr. De said the fellowships are the perfect blend of her clinical and research interests.
"The VISE fellowship provides not only a chance to work on amazing new technology, but also learn the steps of taking a concept from the lab, building a product, and getting it into the clinical setting," De said.  "Clinicians generally don't know the process. I believe that this experience will make me a more effective scientist as well as a more aware consumer of surgical devices."
In addition to her research on novel surgical robots with VISE professors Robert Webster and Nabil Simaan, Dr. De will be participating in the IMPACT course this fall, which focuses on developing business models for novel devices.  The course is being taught by Webster, associate professor of mechanical engineering and VISE steering committee member, and Byron Smith, Vanderbilt medical engineering alumnus.