Physician-in-Residence Program
Vanderbilt Institute for Surgery and Engineering's (VISE) Physician-in-Residence program provides an opportunity for physicians to collaborate with engineering colleagues in developing technologies that can advance surgery and other procedures. The initial goal of the six-month program is to develop a technology that would later translate to the procedural or surgical theater. In parallel, the joint team collects the initial data and plans a research proposal to a federal agency for funding.
The six-month program was implemented by the Vanderbilt University School of Engineering.
Current program participant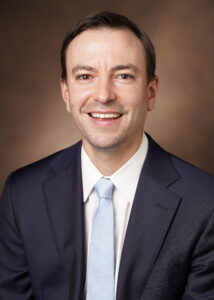 Michael Topf, M.D.
Assistant Professor of Otolaryngology-Head and Neck Surgery

Dr. Topf has worked with Jie Ying Wu, Assistant Professor of Computer Science, to create an intraoperative mixed-reality guidance system for tumor removal. First, a patient-specific model is created by 3D scanning the resected specimen in the operating room, providing a visual aid for the pathologist to label where the missed margin occurred. This could reduce recurrence rates as the surgeon can then manipulate the virtual model to help identify how margins on the specimen relate to the resection bed.
Past program participants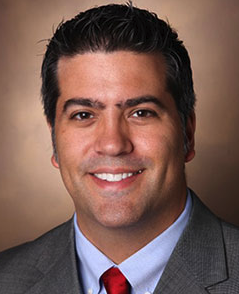 Kent Higdon, M.D., FACS
Associate Professor of Plastic Surgery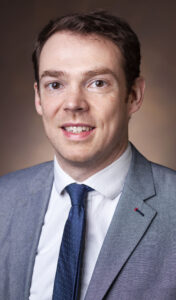 Nicholas Kavoussi, M.D.
Assistant Professor of Urology
Dr. Kavoussi has worked with Dr. Oguz, Assistant Professor of Computer Science, to create a real-time navigational system to decrease residual stone fragments after urinary stone surgery, addressing the problem of repeat stone surgery and complications. This includes deep-learning based real-time stone segmentation from endoscopic videos as well as the integration of anatomical knowledge from pre-operative imaging to create a 3D navigational system during endoscopic surgery. The research supported by VISE has led to an R21 award by the NIH-NIDDK, with Drs. Kavoussi and Oguz as co-PIs.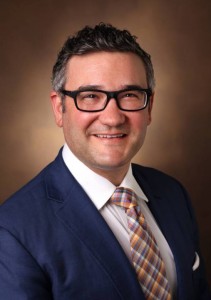 Alexander Langerman, M.D., SM, FACS
Associate Professor of Otolaryngology-Head and Neck Surgery and Radiology and Radiological Sciences
Dr. Langerman will continue his work on the "Cleopatra" wearable surgical camera, and collaborate with Benoit Dawant, Cornelius Vanderbilt Professor in Engineering and Professor of Electrical Engineering, to develop deep learning algorithms for analyzing open surgical video. The ultimate goal of this research is automated detection of surgical activity for safety, quality improvement, and documentation.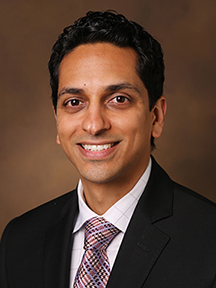 Rohan Chitale, MD
Assistant Professor of Neurological Surgery
Dr. Chitale is working with Nabil Simaan, Ph.D., Professor of Mechanical Engineering, and his team to develop intelligent assistive technologies to enable semi-autonomous image-guided navigation of endovascular catheters.   The work will also aim to provide sensory augmentation for the surgeon during neuro-endovascular procedures.  These advancements would lower technical difficulty and improve safety and efficacy of neurovascular procedures including mechanical thrombectomy for stroke.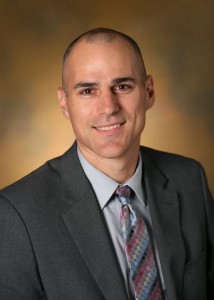 Fabien Maldonado, M.D.
Associate Professor of Medicine and Thoracic Surgery
Dr. Maldonado continued his collaboration with Robert Webster, Ph.D., associate professor of mechanical engineering, and his team to develop minimally invasive approaches to treatment of early lung cancer, using robotic bronchoscopic and thoracoscopic approaches to novel thermal ablative therapeutic interventions.

Shriji Patel, M.D., BA
Assistant Professor
Dr. Patel worked with Kenny Tao, Ph.D., assistant professor of biomedical engineering, and his engineering lab to construct and test optical coherence tomography (OCT) for intraoperative use during ophthalmic surgeries.  This imaging modality would provide the surgeon with dynamic, real-time feedback to assist with surgical maneuvers and potentially improve outcomes.

Filip Banovac, M.D.
Associate Professor of Radiology and Radiological Sciences
Dr. Banovac worked with a team of engineers led by Mike Miga, Ph.D.,Harvie Branscomb Professor and Professor Biomedical Engineering, to develop technology that will improve the accuracy of tumor sampling during biopsy. The technology would allow longitudinal and serial biopsies of the metabolically active part of the tumor.

Ryan Hsi, M.D.
Associate Professor, Department of Urologic Surgery
Dr. Hsi collaborated with Brett Byram, Ph.D., assistant professor of biomedical engineering, to develop nonlinear beamforming methods for kidney stone detection and sizing.  These next-generation ultrasound methods for kidney stone imaging will improve the performance of ultrasound and potentially reduce reliance on CT imaging and associated ionizing radiation exposure.