Annual Symposium
12th Annual Surgery, Intervention, and Engineering Symposium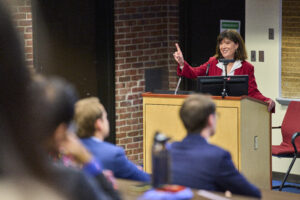 The VISE seminar series culminates with a winter Annual Surgery, Intervention, and Engineering Symposium which highlights panel sessions on cutting-edge topics of the day within procedural medicine research, a poster presentation showcase of translational projects at Vanderbilt, and finally a keynote seminar and reception.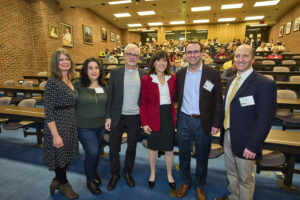 Similar to the academic series, the symposium also serves a dual role within VISE.  To begin, it provides our trainees with an invaluable experience in a conference presentation.  More specifically, trainees have the following opportunities: (1) scientific poster creation and presentation, (2) experience in video-recorded shorts about their research, (3) exposure to what a panel discussion debates, and (4) important perspectives from a keynote speaker who is an experienced seasoned leader in the field.  The second role is more directed at the faculty and is designed to cross-pollinate research across ESI domains.  More specifically, the symposium is designed to have faculty and trainees interact and learn each other's core competencies with the goal to foster new collaborative efforts.
 2023 Keynote Speaker
Aydogan Ozcan, Ph.D.
Chancellor's Professor at UCLA
Volgenau Chair for Engineering Innovation
Electrical & Computer Engineering, Bioengineering
HHMI Professor
Howard Hughes Medical Institute
Associate Director
California NanoSystems Institute (CNSI)
Fellow, National Academy of Inventors
Fellow, Guggenheim Foundation
Fellow, AAAS, SPIE, OSA, IEEE, AIMBE, RSC, APS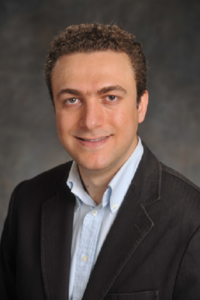 Date: Wednesday, December 13, 2023
Title:
Virtual Staining of Label-free Tissue Using Deep Learning
Abstract:
Deep learning techniques create new opportunities to revolutionize tissue staining methods by digitally generating histological stains using trained neural networks, providing rapid, cost-effective, accurate and environmentally friendly alternatives to standard chemical staining methods. These deep learning-based virtual staining techniques can successfully generate different types of histological stains, including immunohistochemical stains, from label-free microscopic images of unstained samples by using, e.g., autofluorescence microscopy, quantitative phase imaging (QPI) and reflectance confocal microscopy. Similar approaches were also demonstrated for transforming images of an already stained tissue sample into another type of stain, performing virtual stain-to-stain transformations. In this presentation, I will provide an overview of our recent work on the use of deep neural networks for label-free tissue staining, also covering their biomedical applications
Short Bio:
Dr. Aydogan Ozcan is the Chancellor's Professor and the Volgenau Chair for Engineering Innovation at UCLA and an HHMI Professor with the Howard Hughes Medical Institute. He is also the Associate Director of the California NanoSystems Institute. Dr. Ozcan is elected Fellow of the National Academy of Inventors (NAI) and holds >60 issued/granted patents in microscopy, holography, computational imaging, sensing, mobile diagnostics, nonlinear optics and fiber-optics, and is also the author of one book and the co-author of >1000 peer-reviewed publications in leading scientific journals/conferences. Dr. Ozcan received major awards, including the Presidential Early Career Award for Scientists and Engineers (PECASE), International Commission for Optics ICO Prize, Dennis Gabor Award (SPIE), Joseph Fraunhofer Award & Robert M. Burley Prize (Optica), SPIE Biophotonics Technology Innovator Award, Rahmi Koc Science Medal, SPIE Early Career Achievement Award, Army Young Investigator Award, NSF CAREER Award, NIH Director's New Innovator Award, Navy Young Investigator Award, IEEE Photonics Society Young Investigator Award and Distinguished Lecturer Award, National Geographic Emerging Explorer Award, National Academy of Engineering The Grainger Foundation Frontiers of Engineering Award and MIT's TR35 Award for his seminal contributions to computational imaging, sensing and diagnostics. Dr. Ozcan is elected Fellow of Optica, AAAS, SPIE, IEEE, AIMBE, RSC, APS and the Guggenheim Foundation, and is a Lifetime Fellow Member of Optica, NAI, AAAS, and SPIE. Dr. Ozcan is also listed as a Highly Cited Researcher by Web of Science, Clarivate.