About Hari Srinivasan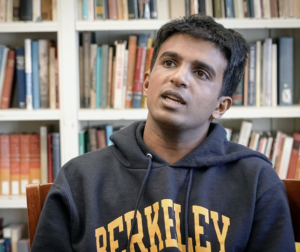 Hari Srinivasan is a minimally-speaking autistic at UC Berkeley majoring in psychology and minoring in Disability Studies. He is the Frist Center for Autism & Innovation's first-ever visiting fellow, serving in that role from July 2021 to June 2022.
At Berkeley, Hari is the lead instructor for a semester-long class on autism, and is the first nonspeaking president of the student org "Spectrum at Cal." He also writes for the Daily Californian and is an RA at the university Psychology Labs as well as the UC Berkeley Disability Lab. Hari hopes to go onto grad school and pursue research that relates to the autism and disability space. In his free time, he enjoys listening to music and watching pro sports in addition to learning tennis. He loves creative writing with some of his poems and other work winning awards including a National Award at Carnegie Hall. Hari is passionate about disability advocacy and is a board member of ASAN and on the advisory board of ASA. He was featured on President Obama's Instagram campaign on the 30th anniversary of ADA. You can learn more about Hari by reading his contribution to the Disability Visibility Project blog here!
Twitter: @hariSri108
Instagram: @hariSri108