Frist Center Driver Training Project receives CIVIC Grant from NSF
On October 17, The Civic Innovation Challenge (CIVIC) — a partnership between the National Science Foundation (NSF) and the U.S. Department of Energy (DOE) — announced 56 teams of civic and academic partners to be awarded Stage 1 Planning Grants of $50,000 to "support the strengthening of their partnerships and plans for ready-to-implement, research-based pilot projects" and to "accelerate the transition to practice of foundational research and emerging technologies into communities through civic-engaged research."
The NSF has awarded two grants to Vanderbilt University groups. Through the Resource and Service Equity track of CIVIC, the School of Engineering and Frist Center for Autism and Innovation (FCAI) will partner with San Diego State University to focus on a project to improve equity for neurodiverse adults. This project will explore an integrated AI and behavioral science-based driving training (AIDT) system designed for neurodiverse individuals to improve transportation independence.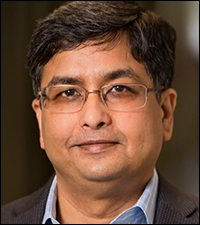 The need for independent transportation in the neurodiverse community is evident. Unfortunately, 85% of autistic adults are under or unemployed, costing the economy $400 billion annually. Still, autistic adults rate employment as their top concern for improved quality of life. Transportation independence is a factor in bridging this gap, as only 30% of autistic adults hold a driving license.
The PI of this team is Nilanjan Sarkar, David K. Wilson Professor of Engineering and chair of the Department of Mechanical Engineering. Other team members include Keivan Stassun, Stevenson Professor of Physics and Astronomy, professor of computer science, and director of the Frist Center for Autism and Innovation, and Mary Baker-Ericzen, a research professor in the College of Education at San Diego State University. Other stakeholders in this project include vocational training centers, schools, clinics, and insurance providers.
Stage 1 will include research into how to package the AIDT system for seamless deployment within the community and effectively train community service providers in its use. It will also plan mechanisms within the community to make these systems financially sustainable. The successful completion of Stage 1 of this project allows the team to apply for Stage 2 implementation funds of $1 million for an approved pilot project.
Click here to read the full story and hear about the other Vanderbilt winner.