NISE Fellow Hari Srinivasan Attends White House's ADA Event 
Hari Srinivasan, Neurodiversity in Science and Engineering (NISE) Fellow, was invited to the White House on Wednesday, 28th September. The event celebrated the 32nd anniversary of the Americans with Disabilities Act (ADA), which President Joe Biden co-sponsored as a bill in 1990.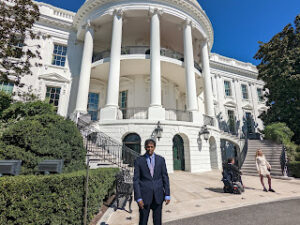 This Vanderbilt University neuroscience graduate student shook hands with the president twice and conversed with other guests. He described the experience of visiting the White House as both an 'honor' and 'thrilling on so many levels.' 
The ADA is a landmark piece of legislation sponsored by Senator Harkin and signed into law by former President George HW Bush. It is primarily a civil rights law that aims to protect those with disabilities from discrimination in all areas of life. First Lady Dr. Jill Biden remembered the bill coming to fruition at the event. After widely televised 'acts of protest', 
such as eight-year-old Jennifer Keelan casting aside her wheelchair and pulling herself up the steps of Capitol Hill during the 'Capitol Hill Crawl,'
the bill was passed into law in July 1990.
One of the astonishing political achievements of the ADA, which represents its vast support, was its bipartisan completion. For example, another co-sponsor was Orin Hatch, a long-time Republican. When Senator Hatch passed away in the Spring of 2022, there was an outpouring of eulogies on internet spaces like Twitter from the left and right alike, honoring his contribution to the ADA. Biden acknowledged this in his Rose Garden speech when Hari was present, remarking, "For our country, the ADA is a testament to the character of our people, to the country… it's proof we can work together and keep moving closer to realizing the promise of America for all Americans." He also stated his conviction that the ADA is 'one of the most important civil rights laws ever.'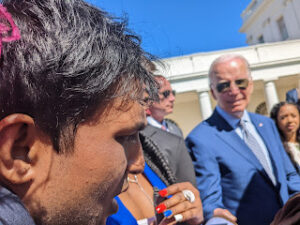 Blind artist Jose Andre Montano performed at the event, saying, "Life is more wonderful if you love your differences and love who you are; otherwise, life does not make sense." Hari uses this quote to remind us, "of the toll on mental health due to disability, as one is always playing catch-up to a moving target of what is socially acceptable".
One may assume that the social aspect of these events present challenges for those on the spectrum. Indeed, Hari remarked feeling comforted that this challenge was not unique to him when by he was told by another neurodiverse guest that it was inherently difficult for many autistics to 'work the room.'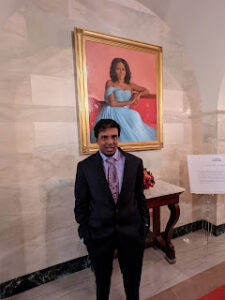 Clearly, this law is important to Hari. "I feel, the fact of ADA being a work in progress needs to be highlighted, as it seems especially relevant to the wide diversity in autism, which means building in flexibility and open-mindedness, as there is not going to be a clear one-solution-fits-all," said Hari in his blog. This builds on what activist Justin Dart Jr., widely regarded as Godfather of the ADA, and who helped to initially pass the ADA, said at its inception. "[The] ADA is only the beginning, it's not the solution. It is the center foundation on which solutions will be constructed. 
These quotes capture the need for continual work that has been occurring since the ADA was signed. We all must continue working towards solutions for those with disabilities. A final quote from Hari's blog: "Thank you, Mr. President, for acknowledging this momentous occasion for all of us disabled folks and being part of its journey right from inception." Indeed. Thank you, Mr. President. 
A link to Hari's full blog post can be found here.
The president's remarks at the event can be found here.
And the White House's ADA event fact sheet can be found here.