2021 UWS Academic Writing Showcase
Schedule-at-a-Glance: Academic Writing Showcase (Thursday, April 15)
Event updates

*Any updates about the event and its schedule will be posted here. Please check back regularly.
When: Thursday, April 15, 4:00-7:00 PM CDT | Where: On Zoom (registration required to attend)
4:00-4:10: 

Welcome from the Writing Studio

4:10-4:40: 

Keynote and Moderated Q&A with Anne Ellen Geller

4:40-4:50: 

Introduction to

Scaffold: A Showcase of Vanderbilt First-Year Writing

, Vol. 3

4:50-5:30: First-Year Authors Spotlight Panel
5:30-6:20:

"Author Talk" Breakout Panels

6:20-7:00: 

Advanced Research Aut

hors Spotlight Panel
Full schedule including presenters, their bios and abstracts available below.
We are excited to have you join us at our second Undergraduate Writing Symposium event  celebrating Vanderbilt undergraduates' achievement as writers as we spotlight first-year writing alongside advanced undergraduate research projects, giving authors at both ends of their undergraduate educations a chance to present and reflect on their writing and what they learned from it. Registration is required to attend the virtual session.
Registration: Academic Writing Showcase registration form
---
Full Schedule: Academic Writing Showcase Schedule (Thursday, April 15)
4:00-4:10: 
Welcome from the Writing Studio
4:10-4:40: 
Keynote and Moderated Q&A with Anne Ellen Geller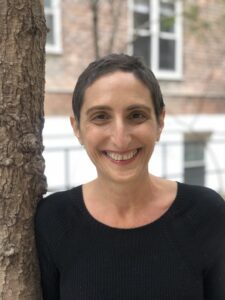 Anne Ellen Geller is Professor, English and Director, Writing Across Communities at St. John's University in Queens, New York. She teaches undergraduate and graduate English courses and supports St. John's faculty teaching with writing across disciplines and professional programs. She is one of the three co-researchers of The Meaningful Writing Project and co-author of The Meaningful Writing Project: Learning, Teaching, and Writing in Higher Education (Utah State University Press 2016) and Teaching Meaningful Writing (under contract with West Virginia University Press).
She is also a co-author of The Everyday Writing Center (Utah State University Press 2007) and the co-editor of Working With Faculty Writers(Utah State University Press 2013). She is also currently researching and writing Funding a Future: Writing Programs, Literacy Politics, and the National Endowment for the Humanities, a book project in which she is tracing the impact of the millions of dollars the National Endowment for the Humanities devoted to seminars for teachers of writing and to the development of writing programs at large and small, public and private colleges and universities across the country. She is a two-time recipient of the International Writing Centers Association Outstanding Scholarship Award. Beyond St. John's, Dr. Geller is a mentor with Visible Ink at Sloan Kettering Memorial Hospital.
---
4:40-4:50: 
Introduction to
Scaffold: A Showcase of Vanderbilt First-Year Writing
, Vol. 3
4:50-5:30: First-Year Authors Spotlight Panel
Panelists: Makala Desargent and Lipika Narisetti
Makala Desargent: "Colorism within the Black Community and Health Disparities
Presenter Bio: Makala Desargent is a member of the Class of 2024 at Vanderbilt University. She plans to major in Molecular & Cellular Biology and pursue a minor in Spanish. After taking a surplus of science-related courses during high school, she knew from a young age that she wanted to have a career in biomedical research. Makala spends her spare time mentoring college bound FGLI students, and can also be found in VSG, the Vanderbilt University Concert Choir, and the NAACP.
Abstract: Health disparities operate on a social stratification system and manifests itself on a socioeconomic status "ladder". These systems function so that White people, no matter where they are on the SES ladder, typically have better health outcomes than their Black and Hispanic counterparts. Because of this trend, I hypothesized: If this is the case across racial lines, would it still be the case amongst members of the same racial group? This specific disparity is a subset of racism; instead, it is called colorism -prejudice or discrimination against individuals with a dark skin tone, typically among people of the same ethnic or racial group. Colorism functions similarly to racism in that they both thrive upon institutional, white-supremacist systems in our society; however, colorism is a form of racism that is most commonly practiced by victims of societal racism themselves.
---
Lipika Narisetti: "Coronavirus as Seen Through the Lens of Camus's The Plague"
Presenter Bio: Lipika Narisetti is a member of the Class of 2024 from Columbus, Ohio, in the College of Arts and Science with an intended major in Neuroscience and minors in Psychology, Biological Sciences, and Medicine, Health, and Society. On campus, she is involved in the College Scholars Program, Doctors Without Borders, and Vanderbilt Student Government. She is excited to continue pursuing a unique intersection of her interests at Vanderbilt over the next three years, and plans on attending medical school after graduation.
Abstract: This essay, composed for the honors seminar "Pandemics in World Literature and Film," discusses the coronavirus pandemic through the lens of Albert Camus's novel The Plague. The disease outbreak detailed in Camus' novel is set in a very different time period from our own, during which medicine was not nearly as advanced as it is today. Nevertheless, Camus' narrative holds many parallels to the psychological, political, and social conditions wrought by the coronavirus pandemic, which this essay explores.
---
5:30-6:20: "
Author Talk" Breakout Rooms
Breakout A Panelists: Jackson Jones, Mary-Kate Sloper, Julia Tilton, and Joselyn Yang
Breakout B Panelists: Oliver Cenedella, Malea Hayles, Grace LaFrentz, and David Mailman
Breakout C Panelists: Anh Dao, Mila Sicorsky, Julian Yang, and Caelinn Leahy
Panel Chair: Professor Sophie Bjork-James (Anthropology)
---
Jackson Jones: "Dangerous Intersection: Combating Stereotypes from a Queer Muslim Perspective"
Presenter Bio: Jackson Jones is a member of the Class of 2024 from Louisville, Kentucky studying chemistry and public policy studies. His paper was written for RLST 3129: Race and Religion in America, a course exploring the intersections of religion and racialization in the United States.
Abstract: With discriminatory attitudes against queer Americans engrained within the history of the country, many religious affirmations of queer identity have been presented. However, in our predominantly Christian society, many of these affirmations have been based on the Christian religion. In the wake of the Pulse nightclub shooting, a small spotlight was provided to queer Muslims to provide an alternate narrative of religious affirmation of queer identity. This paper expands that focus to highlight specific creative outlets of queer Muslim activists and their physical and digital products.
Through this process, it is recognized that the most important products are the platforms and communities of support and affirmation formed through the creation of these aforementioned products. The discoveries of these platforms and the discussion of their role within the queer, Muslim, and larger American communities as a whole are crucial pieces to the puzzle of fighting for marginalized groups and recognizing biases within our communities and ourselves.
---
Mary-Kate Sloper: "Weeded Out: An Ethnographic Study of Vanderbilt University's Undergraduate Culture"
Presenter Bio: Mary-Kate Sloper is a December 2020 graduate who completed an Anthropology Honors Thesis entitled "Weeded Out". Her thesis highlights the tensions between the dream Vanderbilt University sells, and the reality of being a casualty of its "weed-out" culture. Mary-Kate felt drawn to the field of anthropology for its ability to bring awareness and solutions to real-world issues, and she hopes her thesis opens the dialogue about the many issues that arose in her research, but especially the issue of mental health on campus. In the future, Mary-Kate hopes to continue pursuing her passion for academia and advocating for student wellbeing.
Abstract: Vanderbilt University has drawn in a high-achieving student body with the promise that students will be supported with resources to succeed and achieve their goals; however, not all students are equally supported. In this thesis, I explore the literature around perfectionism, self-efficacy, female retention in STEM, and the "weed-out" phenomenon. I also share original research consisting of both quantitative and qualitative results. In my student survey, I found that while females and males change their majors at similar rates, females who change their majors are more likely to change from a STEM major to a non-STEM major (36.8%) than their male counterparts (25.5%), whereas males are more likely to change from a STEM to a STEM major (44.7%) than their female counterparts (26.4%). I also found that female students were more likely to suffer from lower self-efficacy than male students.
Most of my findings from student interviews parallel the literature; however, I also made some unexpected discoveries. Namely, there's a lack of guidance at Vanderbilt—the majority of student interviewees (4 of 5) reported minimal interaction with advisors and 2 of 5 had never met their advisors. In addition, all the female students (4) described a lackof access to mental health resources and perceived institutional apathy. From these findings, I suggest Vanderbilt address the problems around retention in STEM, ban grade deflation, keep advisors accountable in playing an active role in students' journeys, and implement genuine mental health initiatives such as mandatory mental health days.
---
Julia Tilton: "Millions on the Move: Understanding Climate Migration"
Presenter Bio: Julia Tilton is a member of the Class of 2024 and Ingram Scholar studying Earth and Environmental Science and Communication of Science and Technology. Raised as a skier in southern New Hampshire, where small ski mountains are increasingly suffering at the hands of global warming, Julia has long been interested in the impact climate change has on people. She is excited about the opportunities at Vanderbilt to learn more about climate change-induced migration and environmental justice. A passionate writer, Julia is on the writing staff for the Vanderbilt Hustler as well as the Vanderbilt Political Review, where she focuses her coverage on climate justice-related issues. Julia also serves as the undergraduate Vice President of Dores Divest, the organization advocating for Vanderbilt to divest from fossil fuels. After graduation, Julia wants to pursue a career in science journalism, where she can communicate essential information to the public concerning climate change and the communities it impacts.
Abstract: In "Millions on the Move", author Julia Tilton examines the impact climate change has on people. The paper, written for a first-year writing seminar in environmental science, focuses on rising sea levels and increasing temperatures in desert areas, exploring how these phenomena prompt the inhabitants of such regions to migrate. As research suggests, migration as a result of climate change will only increase in the coming decades if action is not taken to mitigate the consequences of a warming global climate.
---
Joselyn Yang: "The Evolution of the Romantic Comedy"
Presenter Bio: Joselyn Yang is a member of the class of 2022 from Sugar Land, TX double majoring in Biochemistry and Medicine, Health and Society with a minor in English Literary Studies. She is currently working as an undergraduate research assistant at the Vanderbilt Center for Neuroscience Drug Discovery and plans to attend medical school after graduation.
Abstract: Often described as a "guilty pleasure," the romantic comedy genre has garnered a paradoxical reputation—beloved by audiences and dismissed by critics. The legitimacy of comedy as art is often questioned despite humor's constant presence in life. Tragedy, on the other hand, seldom rears its ugly head, yet its rarity takes artistic precedence over comedy's relevance. While tragedy shies away from the clutter of a broad scope, comedy welcomes the chaos and encourages audiences to relate rather than revere. Comedy embraces the contradictory nature of life and invites its audience to laugh at human fallibility and rejoice in the hope of redemption. Romantic comedies, then, explore the triumphs and trials every generation of mankind has encountered as they attempt to answer one of life's most fundamental questions: how does one choose a life partner?
Writers of romantic comedies have all approached that same question differently. Shakespeare's Much Ado About Nothing challenged notions of social conventionality and gender stereotypes, emphasizing the variability of humans. Contrary to the stereotype that romantic comedies are unrealistic, Oliver Goldsmith's She Stoops to Conquer suggests that love and reason can coexist, highlighting the importance of self-awareness over superficial attraction. Moreover, "anti-romantic comedies" like Oscar Wilde's farcical The Importance of Being Earnest reflect upon the trivialities of social conformity and their role in romantic choices. While romantic comedies differ in their plotlines, settings, and more, they all provide a medium by which truths about human nature can by revealed through laughter and wit rather than judgment and admonishment.
Panel Chair: Professor Mark Wollaeger (English)
---
Oliver Cenedella: "Political Theory of Philanthropy"
Presenter Bio: Oliver Cenedella is a member of the class of 2021.
Abstract: Recognizing that philanthropic work can often fall short, proving to be ineffective and unjust, this Honors Thesis explores what philanthropy's contribution to society should look like. By assessing the problems stifling philanthropy's effectiveness, I reimagine how philanthropists should operate, providing a framework so they may better address the world's most complex problems.I begin by surveying the relatively limited contemporary political theory literature on philanthropic injustice and reveal how philanthropic work often contributes to recursivity of social power hierarchies and the perpetuation of inequity. I analyze these injustices and reveal how they violate democratic norms and contradict the goals of philanthropic work. I then link these harms to the inequities of the capital accumulation process and provide a comprehensive normative political theory that obligates members of the financial elite to remediate injustices they may have caused throughout the accumulation process.
In the second part, I examine the essentialization of complex problems and illustrate how social power dynamics create epistemological1differences between philanthropists and the people they wish to help. I show how epistemological differences provoke the types of philanthropic injustices described by the contemporary literature and argue that reducing these differences is necessary if philanthropy is efficaciously able address complex problems like climate change. I then provide a theory that illustrates a framework for reducing epistemological barriers by reimagining the responsibility of philanthropists through a new conception of membership in civil society.
---
Malea Hayles: "The Impact of an Oppressive Force Displayed by The Deweys in Sula"
Presenter Bio: Malea Hayles is a member of the class of 2024 from Los Angeles, California. She is currently in the college of art and sciences but is still figuring out exactly what she wants to major in. Some of her favorite activities include traveling and finding coolhole in the walls to eat at. She's also excited to get vaccinated at some point (hopefully soon) so that she can fully explore Nashville.
Abstract: This piece was centered around the connection between the Deweys in Toni Morrison's Sula and the Black community at large. The essay was written for a freshman year writing seminar and dives into how Morrison mirrors the histories of the American Black community with characters in her book. This layered, mirrored, and yet somehow also divergent relationship between the groups makes for a nuanced take on how the modern Black community came to be and why it is structured the way it is.
---
Grace LaFrentz: "Wax and Stone: Authorship and Gender in Ovid, Chaucer, and Shakespeare"
Presenter Bio: Grace LaFrentz is member of the Class of 2021 in the College of Arts and Science from Huntsville, Alabama. As an English major and a French minor, she is passionate about language, literature, and art. After graduation, sheplans to continue her study of English in graduate school.
Abstract: This thesis examines three literary instances of women metaphorically coded as waxen: Pygmalion's statue from Ovid's Metamorphoses; May from Geoffrey Chaucer's The Canterbury Tales; and Hermione from William Shakespeare's The Winter's Tale. After situating wax as a philosophical and artistic material within the larger historical contexts of classical antiquity, the Middle Ages, and theearly modern period, I articulate how each of these three authors engages with and manipulates the evolving trope of the waxen female. By closely analyzing the gendered dynamics between artist and subject in these works, I draw larger conclusions about each poet's attitude toward questions of female agency and artistic representation.
While these examples may initially seem to support a gendered and misogynistic artistic process where the female body exists as material to be molded and shaped by the artistic male touch, I argue that the doubleness inherent in wax's materiality opens up space for female creation and resistance to male shaping in each of these works. This space is liberating not only for the women in the texts, but also for their readers. In presenting us with the examples of women who slip out of the categories that male artists and authority figures define for them, Ovid, Chaucer, and Shakespeare engage in a symbolically waxen mode of authorship that transcends the rigid confines of artisticmale shaping. While we might imagine these authors' works as canonical and immutable, it is in fact their malleability and ability to respond to readers'continued shaping and interpretation that has contributed in part to their longevity and enduring relevance.
---
David Mailman: "Dope and Democracy: Case-Studies in Arabic and American e-Fatwas"
Presenter Bio: David H. Mailman is a member of the Class of 2024 from Hershey, Pennsylvania. He will bemajoring in History and Asian Studies with the intent to pursue studies in law after graduation; additionally, he is minoring in Saxophone Performance, a reflection of his love for theinstrument. He is a staff editor for the Vanderbilt Historical Review, a member of theUndergraduate Honor Council, and works with the Vanderbilt Mutual Aid Society.
Abstract: Written for a first-year writing seminar in Islamic law, this essay investigates a recent trend in the history of Islamic Jurisprudence; the digital fatwa. In the context of accessible internet services becoming available to worldwide Muslim communities, digital fatwas have become increasingly popular, allowing everyday Muslims to pose questions both major and minute before Islamic jurists. Utilizing a case study-esque structure -- specifically analyzing e-fatwas on marijuana and democratic participation respectively -- comparisons are drawn between the methodologies and outcomes of contemporary American and Arabic Islamic jurists online.
Panel Chair: Professor Frank Wcislo (History)
---
Anh Dao: "The First Year Experience Study: A Multi-Method Study of Imposter Syndrome, Sense of Belonging & Sensitivity to Social Feedback"
Presenter Bio: Anh is a member of the Class of 2021 majoring in Psychology and Medicine, Health & Society from Hanoi, Vietnam. She has completed on her honors thesis in Psychology in the Mood, Emotion & Development laboratory at Peabody College. Anh's project is a multi-method study of imposter syndrome, sensitivity to social feedback and sense of belonging in first-year students. She hopes to translate the results from this study to further enrich Vanderbilt student experience. Anh is also an undergraduate research assistant at the Department of Special Education, working on the development of an intervention package aimed to increase employment outcomes for individuals with intellectual and developmental disabilities, as well as increase access to resources. Lastly, Anh also works for the CRISP Center for Psychology Research & Application in Hanoi, Vietnam, broadly focusing on mental health literacy. Anh's main research interests include neural indicators of social processes in depression and predictors of treatment responses. In her free time, Anh likes to take pictures of her duck, Mimi, and her favorite place near campus is the Grilled Cheeserie.
Abstract: The first year in college is a transformative period for many young adults. Students' ability to adapt depends on different social factors, such as sense of belonging, which requires a robust assessment across multiple domains. Sense of belonging might be influenced by imposter syndrome, as new environments can often trigger a reevaluation of an individual's abilities, leading to potential discrepancies between one's view of self and feedback by others. This study examined the relationship between imposter syndrome, sense of belonging (assessed as general, social, academic belonging and sense institutional support) and neural responses to social feedback in first-year college students as potential factors that significantly influence student retention.
We recruited 3940 students from the Vanderbilt undergraduate student body using the Vanderbilt SONA system. Participants completed interviews and a battery of questionnaires. We recorded continuous EEG data as participants complete the Island Getaway task, which simulates social interactions. We hypothesized the following: (1) high imposter syndrome scores would be associated with a lower reward reactivity, increased attention to negative feedback and a lower sense of general, social and academic belonging (2) the relationship between imposter scores and sense of general, social and academic belonging would be moderated by sense of institutional support.
The resultsof our study show that imposter syndrome is related to sense of general, social and academic belonging, but not sense of institutional support. In addition to this, we founda link between imposter syndrome scores and behavior inthe Island Getaway task. This current study has important implications on developing interventions promoting students' wellbeing, especially during the COVID-19 pandemic.
---
Mila Sicorsky: "Students, Clergy, and Nonviolent Direct-Action: The Forces Behind the 1960 Nashville Sit-Ins"
Presenter Bio: Mila Sicorsky is a member of the Class of 2021.
Abstract: From February to May 1960, a racially and socioeconomically diverse coalition of students and members of the clergy staged nonviolent sit-ins in downtown Nashville with the goal of desegregating public spaces in their city. In these demonstrations, the activists displayed a uniformed commitment to nonviolent direct-action, whereby they responded to physical and verbal segregationist backlash with pacifism. Although scholars have covered these events, they have not given enough credit to the organizing and planning that went into the sit-ins, which successfully desegregated much of downtown Nashville. Indeed, these scholars have provided readers with biographical histories focused more on the individual change agents rather than the avenues for change that unified them.
In other words, before the activists became full-fledged demonstrators, they began as students of nonviolent philosophy in a series of years-long workshops led by James M. Lawson. Indeed, without the workshops on the philosophy and praxis of nonviolent direct-action, the demonstrators would not have had the preparation and devotion to their cause that was seen in the sit-ins. As such, this thesis argues that the nonviolent direct-action workshops provided the necessary training and framework for the successful 1960 sit-ins. In other words, were it not for Lawson's workshops, the students and clergy would not have successfully operationalized the nonviolent direct-action that transformed Nashville and unified the diverse group of students and adults into one cohesive unit fighting the same battle with the same tactics.
---
Julian Yang: "The Birth of New Jazz: How Progressive Musical Ideas Influenced Jazz Beyond its Sonic Elements"
Presenter Bio: Julian is a member of the Class of 2024 from Chelmsford, Massachusetts. He is in the College of Arts and Sciences studying in Economics and Human and Organizational Development. Julian is a writer for the Vanderbilt Political Review, as well as a videographer for Vanderbilt Athletics. He hopes to pursue law school upon graduating.
Abstract: The 1960s marked a major turning point in jazz. The albums So What, Time Out, and Mingus Ah Um, incorporated new musical ideas in response to the wave of post-bebop musicians. At the same time, the fight for Civil Rights continued to spread its influence across America, seeping into the compositions of many jazz musicians. The previously-mentioned records were not only influenced by their sonic novelties, but also by the social change taking place.
---
Caelinn Leahy: "'Everything on Earth is in a State of Constant Flux' (55): The Roles of Imagination and Society in Pursuing Lasting Happiness"
Presenter Bio: Caelinn is a member of the Class of 2024 studying remotely from Illinois. She is currently undecided on her major, but writing has always been a passion of hers and a huge part of her life, so she is sure that she will pursue it in the future. When she's not studying, she enjoys reading, creative writing, watching the next binge-worth Netflix series, working out, playing volleyball, and riding horses in competitive show jumping.
Abstract: Rousseau's discussion of imagination is interpreted as the key to lasting happiness, both in his Reveriesand in life. Through delving deep into literary devices and the themes of emotional stability, society, and individualism, this essay attempts to shed light on how one can attain a peaceful and fulfilling state of happiness through the use of imagination.
---
6:20-7:00: 
Advanced Research Authors Spotlight Panel
Panelists: Jane Lurie and Melanie Lu
Jane Lurie: "The Effects of an Enhanced eBook on Parent Dialogic Reading Behaviors"
Presenter Bio: Jane Lurie is a member of the Class of 2021 from Los Angeles, California, double majoring in Child Development and Cognitive Studies, with a minor in Business. As an honors student in and the Lab Coordinator for The Early Development Lab, Jane has demonstrated her passion for children's media throughout her time at Vanderbilt. Additionally, she is a member of the women's club soccer team (and former tournament coordinator), was a mentor for MentorADore, and was the Vice President of Challah for Hunger.
Abstract: Children's reading experiences have changed due to the increasing use of new digital media, such as eBooks. However, it is important for parents to actively engage with child during reading no matter the medium. This can be done by prompting children to think more deeply about the content, for instance. One method to encourage active parent-child engagement that may be effective is dialogic reading. Using the mnemonics, PEER (prompt, evaluate, expand, and recall) and CROWD (completion, recall, open ended, wh-prompts, and distancing), this technique, developed by Whitehurst and colleagues, teaches parents to use open-ended questions and conversation prompts to structure their shared reading interactions and promote children's language development.
While PEERteaches parents how to structure interactions with their children during reading, CROWD teaches parents about the specific types of questions they should be asking. The current study examines how much parents learn these strategies from a dialogic readingcharacter, who modeled these strategies, in a narrated eBook over a two-week period. Results will show how much parents applied dialogic reading techniques when reading a different eBook and print book. This paper will also discuss future directions this type of research can take.
---
Melanie Lu: "Gendering the Techno-Orient: the Figure of the Asian Woman in Popular Culture"
Presenter Bio: Melanie is a member of the Class of 2021.
Abstract: This thesis explores the complicated relations between the ontology of race and its gendered aesthetic representations within the phenomenon of techno-Orientalism, the prevailing tendency in textual and visual culture to imagine Asia and Asians in hyper-technologized and/or futurized terms. Although Saidian Orientalism has pointed out the constructed nature of the dichotomies between the modern, technological west and the ancient, mystical East, techno-Orientalism takes such discourse into the context of global information capitalism, producing nuanced yet troubling narratives of race and technology that reflect changing perceptions of modern personhood and identity.
I focus specifically on the figure of the Asian woman in various works of speculative fiction, including the film Ex Machina, the animation Ghost in the Shell, and the video game Return of the Obra Dinn, to interrogate the ways in which her embodied racial identity can be represented, reimagined, and renegotiated in both western and Asian cultural spaces. Ultimately, I critique the notion that postmodernist and/or utopian portrayals typical of SF legitimize the erasure of contemporary discourses of race and gender, since emphasis on either pure aesthetic signs or posthuman ontology loses sight of the fact that race is heavily intertwined with technology and can itself constitute a form of technology.
Access Scaffold, Volume 3
The link for volume 3 of Scaffold: A Showcase of Vanderbilt First-Year Writing will be displayed here prior to the event. In the meantime, please enjoy previous volumes of the journal.
IMPORTANT: All attendees (including student presenters) must complete the Academic Writing Showcase registration form to receive the ZOOM link needed to access the virtual event.