Undergraduate Writing Symposium on Thursday, 3/31, 3-6pm
Join us on Thursday, March 31, for the Writing Studio's 14th annual celebration of Vanderbilt undergraduates' achievements as writers.
14th annual Undergraduate Writing Symposium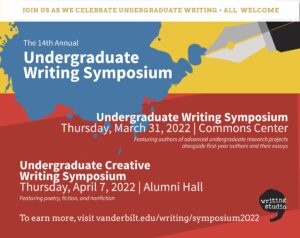 When: Thursday, March 31, 3:00-6:00 PM followed by a reception for participants
Where: The Commons Center Multipurpose Room
Who: Full schedule of presenters available on the 2022 UWS webpage
This year's first of two Undergraduate Writing Symposium events will feature first-year writers alongside students who have undertaken more advanced undergraduate research projects, fostering dialogue between student authors at both ends of their undergraduate educations.
Participants will hear from, on the one hand, a selection of first-year authors invited to share and discuss essays composed during their first semester at Vanderbilt that have been chosen for inclusion in Scaffold: A Showcase of Vanderbilt First-Year Writing, Volume 4, and, on the other, a second group of upper-division student authors who have been invited to share and reflect on their advanced research projects and the meaningful place of the projects within their undergraduate experience.