Sex Ed and Healthy Relationships Week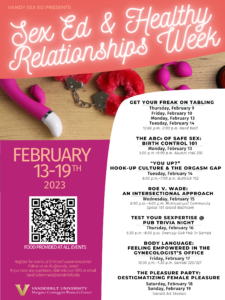 The ABCs of Safe Sex: Birth Control 101
Monday, February 13
5:00p.m.— 6:00p.m.
Alumni Hall 202
Come learn all about contraception! From natural to hormonal to barrier methods, we will cover all you need to know to avoid STIs and pregnancy!

You Up?: Hook-Up Culture & The Orgasm Gap
Tuesday, February 14
6:00p.m.— 7:00p.m.
Buttrick 102
What does "hooking up" mean to you? Is it sex? Is it kissing? If the definition of hookup wasn't murky enough, navigating hooking up culture seems even more challenging. So, let's talk about hookup culture, the orgasm gap that prevails in it, and how we can bridge it.

Roe V. Wade: An Intersectional Approach
Wednesday, February 15
8:00p.m.— 9:00p.m.
Multicultural Community Space 101 Grand Ballroom
The overturning of Roe v. Wade last year negated nearly 50 years of reproductive rights and protection. Many were impacted by this decision across the country, but especially those already facing marginalization. So, join us as we discuss and reflect on the ways in which the history of Roe v. Wade is an intersectional issue.
Test You Sexpertise @ Pub Trivia Night
Thursday, February 16
6:30p.m.— 8:00p.m.
Overcup Oak Pub in Sarratt
Join Vandy Sex Ed Peer Educators at Overcup Oak Pub in Sarratt for Pub Trivia Night. Test your knowledge on all things sex education and enter for a chance to win your team prizes!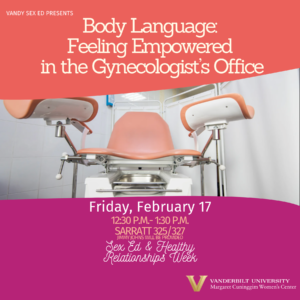 Body Language: Feeling Empowered in the Gynecologist's Office
Friday, February 17
12:30p.m.— 1:30p.m.
Sarratt 325/327
Ever been anxious or nervous headed to the gynecologist? Unsure of what to do once you get there? Join the Vandy Sex Ed interns and the Reproductive Health and Parenting Resource Coordinator on campus, to discuss Trauma-Informed and Person-Centered Care During Gynecological Visits.
The Pleasure Party: Destigmatizing Female Pleasure
Sunday, February 18
Saturday, February 19
For more information and to register, click here.
As the closing event in Sex Ed & Healthy Relationships Week, we will be hosting a create-your-own-platter art workshop, with inspiration from Judy Chicago's "The Dinner Party." This workshop is free, and you will receive your platter once it has been fired and after a gallery showing on March 21st. Come join us for some pottery-making fun and a discussion on normalizing pleasure for vulva-owners.