Vanderbilt Lactation Resources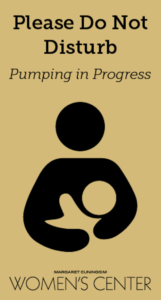 Expressing milk is an essential part of having a baby for many mothers, as is returning to work after taking FMLA. The Women's Center can provide door hangers to nursing or pumping mothers to use on their office doors or other locations when expressing milk.
Need a pump to use on campus? The Women's Center has a multi-user Medela Symphony pump that is available to the Vanderbilt community for use in our office. Please email us at womenctr@vanderbilt.edu to coordinate a time to use the pump. If you have your own Medela pump, you will need to purchase a converter kit, either here or through the Children's Hospital or Amazon.
Additionally, Vanderbilt Child and Family Center maintains a lactation space map.
Looking for other information on returning to work or lactation spaces? Visit the New Parent Resource website provided by the Vanderbilt Child and Family Center.