Home » Personnel » Yuankai (Kenny) Tao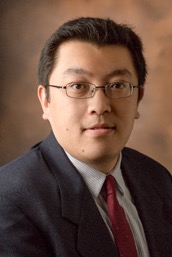 Yuankai (Kenny) Tao
Assistant Professor of Biomedical Engineering
Kenny Tao received his BSE in Biomedical Engineering and Electrical Engineering in 2006 and MS and PhD in 2010, all from Duke University. From 2010-2013 he was an NIH NRSA postdoctoral fellow in the Research Laboratory of Electronics at MIT. He joined Vanderbilt University as Assistant Professor of Biomedical Engineering in August 2016. He moved his research lab from the Cole Eye Institute at Cleveland Clinic where he had been Assistant Professor of Ophthalmology, Assistant Professor of Biomedical Engineering at the Lerner Research Institute at Cleveland Clinic, and Assistant Professor of Biomedical Engineering, secondary, at Case Western Reserve University since 2013.
His lab develops novel optical imaging systems for clinical diagnostics and therapeutic monitoring in ophthalmology, gastroenterology, and oncology. Biomedical optics enable noninvasive subcellular visualization of tissue morphology, biological dynamics, and disease pathogenesis. Ongoing research focuses on clinical translation of therapeutic tools for image-guided intraoperative feedback using modalities including optical coherence tomography and nonlinear microscopy.
His lab has also developed optical imaging techniques that exploit intrinsic functional contrast for in vivo monitoring of blood flow and oxygenation as surrogate biomarkers of cellular metabolism and early indicators of disease. Recent projects leverage "big data" to study neovascularization and neural regeneration by developing automated high-throughput imaging technologies for large-scale in vivo combinatorial drug and forward genetics assays in vertebrate animal models. The majority of his research involves multidisciplinary collaborations between investigators in engineering, basic sciences, and medicine.
Tao describes the DIIGI lab and their work developing optical imaging technologies for diagnostics and therapy guidance.
Areas of Research: Bioinstrumentation, Biomedical Imaging, Biophotonics, Surgery and Engineering