Home » Personnel » Reid Thompson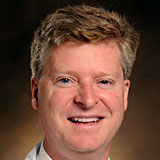 Reid Thompson
William F. Meacham Professor of Neurological Surgery
Chairman of the Department of Neurological Surgery
Director, Neurosurgical Oncology
Professor of Otolaryngology
Current Research Interests:
Time-resolved laser-induced fluorescence spectroscopy for detection of brain tumors.
Development of optical contrast agents for the detection of gliomas.
Cytokine enhanced antitumor immunotherapy for brain tumors.
Intra-operative thermal imaging of brain tumors and vascular malformations.
Molecular mechanisms of cerebral edema.
The role of the water channel aquaporin in brain edema.
Pathogenesis of cerebral vasospasm.