VISE Summer Research Fellow named lead author on journal paper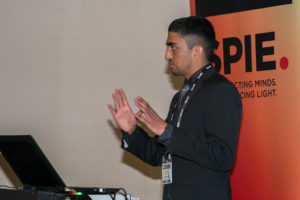 Rohan Vijayan, a biomedical engineering undergraduate student and a Vanderbilt Institute for Surgery and Engineering (VISE) Summer Research Fellow, was recently named lead author on a journal paper in the Journal of Medical Imaging. 
Vijayan presented his conference paper in a platform session at the SPIE Medical Imaging Conference in 2016. 
Vijayan works under the supervision of Mike Miga, Harvie Branscomb Professor and professor of biomedical engineering.
"In his second year as an undergraduate, Rohan was pursuing his minor in Scientific Computing and came to me asking about research. It all started there.  He has worked in the laboratory for two years and three summers," said Miga, director of the Biomedical Modeling Laboratory and co-founder of the Vanderbilt Institute for Surgery and Engineering.
"Rohan has done incredible work essentially conducting a mini-trial on an application for image guided surgery with four practicing neurosurgeons. What an incredible experience!" Miga said.
Rohan will be spending this summer in the BML and then will attend Johns Hopkins University in the Fall as a graduate student in biomedical engineering. 
Conference Paper:
R. C. Vijayan, R. H. Conley, L. W. Clements, R. C. Thompson, M. I. Miga, 'Determination of surgical variables using an android application for a brain shift correction pipeline used in image guided neurosurgery', SPIE 2016 Medical Imaging: Image-guided Procedures, Robotic Interventions, and Modeling, 2016.
Journal Paper:  R. C. Vijayan, R. C. Thompson, L. B. Chambless, P. J. Morone, L. He, L. W. Clements, R. H. Griesenauer, and M. I. Miga, 'Android application for determining surgical variables in brain-tumor resection procedures', Journal of Medical Imaging, (in press), 2017.