VISE Summer Instructional Seminar Series 6.4.20
VISE Summer Instructional Seminar Series
Date: Thursday, June 4, 2020
Time: Noon – room admittance, 12:05pm remarks, 12:10pm start
VIA Zoom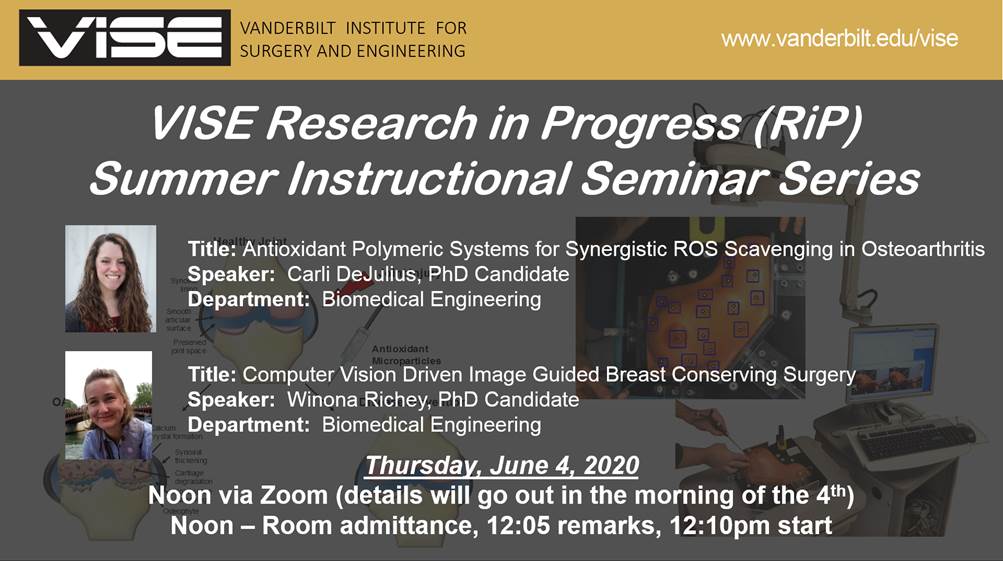 Speaker #1:  Carli DeJulius, PhD Candidate, Department of Biomedical Engineering
RiP #1: Title:  Antioxidant Polymeric Systems for Synergistic ROS Scavenging in Osteoarthritis
RIP #1 Description: Reactive oxygen species (ROS) are key drivers of inflammatory diseases including osteoarthritis, where they can exacerbate joint damage and pain. This work focuses on supplementing the body's innate antioxidant mechanisms with synthetic polymeric drug delivery systems designed for intra-articular injection in the joint. Synergistic chemical scavenging by poly(propylene sulfide) (PPS) microparticles and TEMPO copolymers is expected to calm joint inflammation for long-term disease modification.
Speaker #2:  Winona Richey, PhD Candidate, Department of Biomedical Engineering
RiP #2: Computer Vision Driven Image Guided Breast Conserving Surgery
RIP #2 Description: Breast cancer is the most common cancer in American women and the second most deadly.  About 70 – 80% of breast cancer patients are eligible for breast conserving surgery, but reoperation rates remain high at 8-27%. We present an approach that leverages the sensitivity of breast MRI with an advanced technology platform consisting of stereo cameras, ultrasound imaging, optical tracking, and patient-specific breast modeling. The goal of this work is to enhance lesion localization in real time and consequently reduce reoperation rates for breast conserving surgery.