VISE Summer Instructional Seminar 7.30.20
Date: Thursday, July 30, 2020
Time: Noon admittance, 12:05 p.m. remarks, 12:10 p.m. start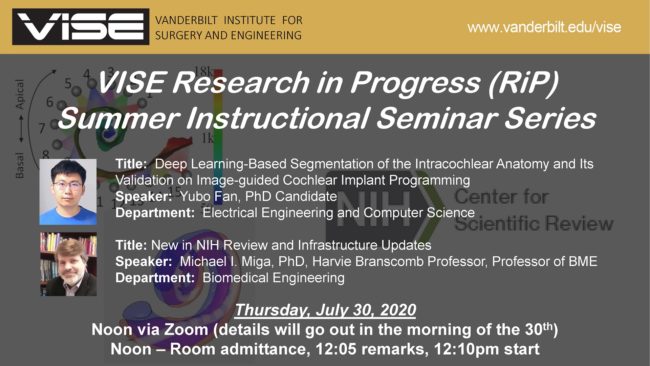 Speaker #1:
Yubo Fan, PhD Candidate, Department of Electrical Engineering and Computer Science
RiP #1 Title:
Deep Learning-Based Segmentation of the Intracochlear Anatomy and Its Validation on Image-guided Cochlear Implant Programming
RIP #1 Description:
Cochlear implants (CIs) are neuroprosthetic devices that are used to treat patients with severe-to-profound hearing loss. Our group has developed an image-guided cochlear implant programming (IGCIP) system to simplify the laborious post-programming procedure and improve hearing outcomes. IGCIP requires the segmentation of the intracochlear anatomy (ICA). In this presentation, we will show the recently proposed deep learning-based segmentation of the ICA and its validation study on the final output of the IGCIP system.
and
Speaker #2:
Michael I. Miga, PhD, Harvie Branscomb Professor, Professor of BME
Title:
New in NIH Review and Infrastructure Updates
Description:
Some of the most recent changes in NIH peer review and some information about getting clearance to take data in the clinical theatres.