VISE Spring Seminar Zachary Bercu, MD 3.3.22
VISE Spring Seminar
to be led by
Zachary Bercu, MD
Associate Professor of Radiology and Imaging Sciences
Emory University School of Medicine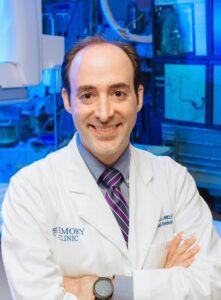 Date: Thursday, March 3, 2022
Time: 12:15 p.m. Room Opens, 12:20 p.m. start
Location: Stevenson 5326
Title:
A Futurist Viewpoint on Innovation in Image-Guided Medicine
Abstract:
Interventional radiologists (IRs) and proceduralists in image-guided medicine find themselves at the cusp of evolving technology in the service of patients and healthcare communities. Such specialists capitalize on procedural expertise, imaging expertise, and clinical expertise but are not bound by organ system or pathology. The dynamism in this clinical and procedural field is rife for clinical-needs driven innovation. Collaborative teamwork between engineers and frontline healthcare workers is needed to design appropriate solutions with particular attention to future technologies focused on: improved median overall survival, improved quality of life (an historically overlooked but critical metric), democratization of complex procedures, and novel approaches to education in the apprenticeship-style model to allow broad delivery of these novel therapies to patients even where a subspecialty care is not readily available. The "futurist viewpoint" will provide an overview of current state IR, work in our institution in endovascular and percutaneous medical robotics and its potential focus, addressing the "low-hanging fruit" clinical needs in the field, and pathways towards addressing global needs.
Bio:
Zachary L. 
Bercu
, MD RPVI, is an Associate Professor in the Department of Radiology and the Assistant Division Director for Innovation and Strategy in the Division of Interventional Radiology and Image-Guided Medicine at the Emory University School of Medicine. He is Associate Program Director for Interventional Radiology-Integrated Residency at Emory and Co-Director of the Medical Innovation Track at Emory. His activities have focused on addressing clinical needs for medical robotics including work with Professor Desai on endovascular robotics, venous sampling and advanced diagnostic and therapeutic approaches to hypertension and occult tumors, locoregional therapies including Yttrium-90 radioembolization (selective internal radiotherapy) and chemoembolization, thermal ablation of liver, renal, lung, bone, soft tissue tumors, palliative therapies including genicular nerve ablation, vertebral ablation and augmentation, transradial interventions, prostate artery embolization, uterine artery embolization, deep venous thrombosis (DVT) and central venous stenosis recanalization, transjugular intrahepatic portosystemic shunts (TIPS), balloon-occluded retrograde transvenous obliteration (BRTO), pulmonary embolism, peripheral arterial disease, advanced imaging including embolization guidance technology, workflow optimization, and endovascular simulation. He is heavily involved in fostering innovation for clinical and educational efficacy and has presented internationally. He is involved in several collaborative projects between Emory University and the Georgia Institute of Technology, including mentorship of 
bio
medical engineering and industrial and systems engineering teams and teaching of unmet needs in image-guided medicine. He received his AB in Psychology with an interdisciplinary certificate in Mind, Brain, and Behavior from Harvard University in Cambridge, Massachusetts, and his MD from the Emory University School of Medicine in Atlanta, Georgia. He completed his residency in Diagnostic Radiology and his fellowship in Vascular and Interventional Radiology at Mount Sinai Hospital in New York, New York.