VISE Spring Seminar Daniel Moyer, PhD 2.16.23
VISE Spring Seminar
to be led by
Daniel Moyer, Ph.D.
Assistant Professor, Computer Science
Vanderbilt University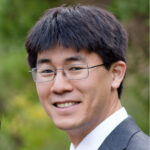 Date: Thursday, February 16, 2023
Time: 11:45 a.m. Lunch, 12:00 p.m. start
Location: Stevenson 5326
Title:
Invariance-based Harmonization and Other Information Theoretic Adventures in dMRI
Abstract:
The removal of unwanted information is a surprisingly common task. Removing potential biases in prediction problems, controlling the effects of covariates, and disentangling meaningful factors of variation all require the selective removal of information. In this talk I will describe a method for constructing such representations by minimizing mutual information between a representation and these unwanted factors, using a variational method. This path also provides insight into adversarial methods and their training schema.
We will then discuss applications in multi-site MRI, style transfer, and fair representation, and more general applications for information-optimal representations
Bio:
Daniel Moyer joined the Computer Science department at Vanderbilt University as an assistant professor in Fall 2022. He previously was a post-doc at MIT, working with Polina Golland on Fetal MR systems. He received his PhD in Computer Science in 2019 from USC under Paul Thompson and Greg ver Steeg.