VISE Spring Seminar – Chris Holsinger, MD, FACS 3.24.22
VISE Spring Seminar to be led by
Chris Holsinger, MD, FACS
Professor and Chief, Head and Neck Surgery

Stanford University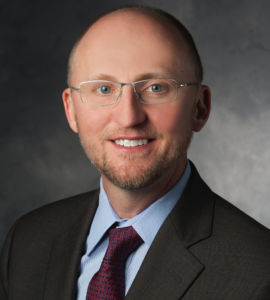 Date: Thursday, March 24, 2022
Time: 12:15 p.m. Room Opens, 12:20 p.m. start
Location: Stevenson 5326
Title:

Robotics and the Transformation of Head & Neck Surgery
Abstract:
Head and neck surgery is experiencing a renaissance and revolution, as the field evolves away from radical open procedures toward endoscopic and natural orifice (transoral) surgery. This evolving surgical paradigm is fueled by the desire to preserve function and limit surgical morbidity through minimally invasive approaches. But also, innovation has been inspired by two unexpected "epidemic": HPV-related throat cancer and the surge in small papillary thyroid cancer.   Only a robust partnership between surgeons, engineers and scientists can provide robust solutions.  In this seminar, I'll review some successes and failures highlighting how the entire research community might partner together more effectively to address new challenges in the field of head and neck oncology.
Bio:
Dr. Chris Holsinger is Professor and Chief of Head and Neck Surgery at Stanford University.
His research focuses on surgical innovation and clinical trials. He has worked for over a decade on cooperative group clinical trials, leading surgical credentialing for RTOG920 and ECOG3311.  In 2019, he published the results of an investigative device exemption clinical study to evaluate the safety and efficacy of a next-generation robotic surgical system for head and neck cancer.
His interests extend beyond robotics, however, and include new technologies for augmenting the vision of surgeons and incorporating computer vision and deep learning into routine surgical practice.    Dr Holsinger's research group aims to deliver these advantages to patients and their surgeons by providing real-time intelligence about surgical anatomy that extends beyond human vision.
Dr. Holsinger received his medical degree from Vanderbilt School of Medicine, completed his internship and residency at Baylor College of Medicine and his Fellowship in head and neck surgical oncology at The University of Texas M. D. Anderson Cancer Center. In 2003, he was awarded Fulbright Scholarship to study surgery at the University of Paris with Professor Ollivier Laccourreye and with Professor Wolfgang Steiner at the Georg-August University in Göttingen.
From 2001-2013, Dr. Holsinger worked at the Department of Head and Neck Surgery at the University of Texas M.D. Anderson Cancer Center where he co-founded and led the Program in Minimally Invasive Technology in Oncologic Surgery as the Laser Safety Committee.
In 2013, Dr. Holsinger moved to Stanford University, where at the Cancer Center led H&N Multidisciplinary Cancer Care Clinical Program for the next 5 years.  Board-certified by the American Board of Otolaryngology, Dr. Holsinger is a member of numerous societies including the American College of Surgeons, American Head and Neck Society, the American Thyroid Association, and the American Society of Clinical Oncology.