VISE affiliates awarded $1.8 million grant to improve surgical guidance during eye surgery
A team of Vanderbilt University engineers and clinicians were recently awarded a five-year $1.8 million National Eye Institute grant to develop and translate of novel intraoperative imaging technologies to the ophthalmic surgical suite to enable real-time surgical guidance.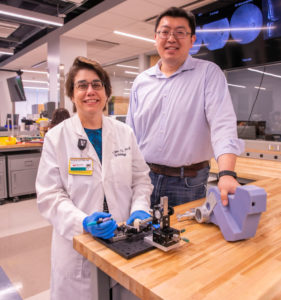 Yuankai Kenny Tao, assistant professor of Biomedical Engineering, is the principal investigator. Clinical collaborators at the Vanderbilt Eye Institute include Karen Joos, Joseph and Barbara Ellis Professor of Ophthalmology and Visual Sciences  with secondary appointment in Biomedical Engineering, Shriji Patel, assistant professor of Ophthalmology  and Visual Sciences and Christine Shieh, assistant professor of Ophthalmology and Visual Sciences.
"Our group has spent quite a few years working on developing the underlying imaging technology," Tao said. "This grant will support our translational efforts and allow us to identify ophthalmic surgeries that will directly benefit from real-time guidance and better understand how surgical maneuvers impact postoperative visual function."
Cataract, glaucoma, age-related macular degeneration, corneal dystrophy, and diabetic retinopathy are the leading causes of low vision and blindness in the United States and affect over 40 million Americans. Annual clinical diagnosis and treatment for these diseases is estimated to cost $25 billion, and the number of individuals with visual impairment is expected to increase markedly because of population aging. These diseases are progressive and usually require surgical management at advanced stages, which involves precision manipulation of delicate semi-transparent structures in the eye. Limited visualization of these tissue layers remains a critical barrier to improving clinical outcomes and developing novel surgical techniques.
While optical coherence tomography (OCT) has become the "gold standard" for ophthalmic diagnostics, OCT-integrated surgical microscopy technologies have lagged and only recently have been FDA-approved and commercially available. Although recent studies have demonstrated the utility of intraoperative OCT (iOCT) for verifying completion of surgical goals, real-time feedback for ophthalmic surgical guidance is not feasible because of several fundamental limitations of current-generation iOCT technology. We have assembled a multidisciplinary team of engineers and clinicians to develop intraoperative imaging, image-processing, and visualization technologies that address unmet needs in conventional ophthalmic microsurgery.
"Collaboration among engineers and clinicians  more efficiently enables the development of practical clinically useful devices and techniques," Joos said.
The project, R01EY030490, is administered through the National Institutes of Health and preliminary work leading up to this award was supported in part by a VISE pilot grant, VISE physician-in-training grant, and the VISE NIH/NIBIB T32EB021937 training grant.