VISE affiliate takes part in Capitol Visit Day with the OSA Foundation
An assistant professor of biomedical engineering was part of the National Photonics Initiative delegation for Capitol Visit Day.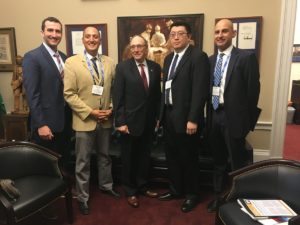 Yuankai Kenny Tao, a VISE affiliate and director of the DIIGI Lab, was invited by the Optical Society of America Foundation (OSAF).
"It was a really unique opportunity to understand the research and development funding priorities, not just in the National Institutes of Health (NIH), the National Science Foundation, (NSF) and the DOD, but also at National Institute of Standards and Technology (NIST), DOE, NASA, which are agencies I'm less familiar with," Tao said.
"Almost all of our research support comes from the federal government, so being able to engage with members of Congress and their staff to describe exactly how our research makes an impact will hopefully motivate them to keep funding research at a high level."
OSAF arranged for travel and accommodations and provided training on talking points by BGR Group and Bayer Strategic Consulting. The program was organized by the National Photonics Initiative , which is sponsored by optics and photonics professional societies APS, IEEE Photonics, LIA, OSA, and SPIE.
Tao attended a presentation from Donna Strickland, 2018 Nobel Laureate, as part of the OSAF leadership meeting as well as the STEM on the Hill Exhibit & George E. Brown, Jr. Awards Reception. On Capitol Visit Day, he was part of the Tennessee/North Carolina group that met with Congressman Phil Roe (TN).
The group also met with staffers for Sen. Thom Tillis (NC), Sen. Lamar Alexander (TN), Sen. Marsha Blackburn (TN), Rep. David Price (NC).
Congressional Visits Day allows participants to advocate for science, optics and photonics to Congressional offices and educate members of Congress about the work happening in their districts in these areas of research.