Highlighting SPIE 2018 student presentations – Winona Richey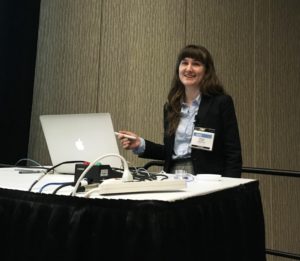 Winona Richey is a first-year biomedical engineering graduate student whose area of research includes image guidance for breast cancer surgery.
Richey, who is in the Biomedical Modeling Lab (BML), a Vanderbilt Institute of Surgery and Engineering (VISE) lab, was among the VISE students who presented work at the 2018 SPIE Medical Imaging meeting.
As lead author, Richey, who works under the direction of Michael I. Miga, PhD, Harvie Branscomb Professor of Biomedical Engineering, presented the paper titled, "A system for automatic monitoring of surgical instruments and dynamic, non-rigid surface deformations in breast cancer surgery."
"Presenting at SPIE allowed me to get to know students from other universities, and get to know my fellow Vanderbilt graduate students even better," Richey said.
The experience was stressful but rewarding, and the questions and comments were invaluable, she said.
"In preparing for my talk, I was able to improve my ability to articulate my research, and think more about the big picture," Richey said. "Hearing other perspectives and suggestions got me excited about all the new ways I can go about tackling my research problem."
This is the fourth of five short stories highlighting VISE students who presented SPIE Medical Imaging 2018
Learn more about the BML Lab