Cochlear implant team shares insights in Ireland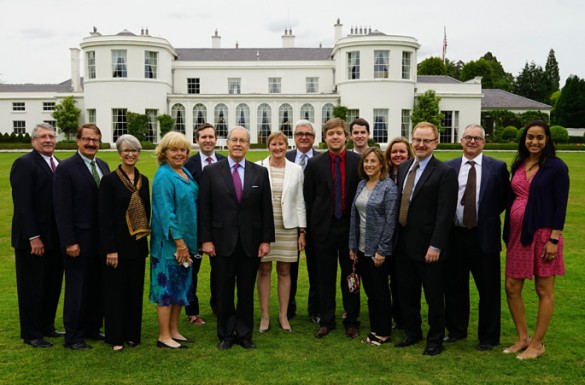 An interdisciplinary team at Vanderbilt that developed an innovative method of programming cochlear implants to help people hear better recently presented at Deerfield Residence, the U.S. Ambassador to Ireland's official residence in Dublin.
The presentation was part of Creative Minds, a series of discussions started by Ambassador Kevin O'Malley to promote cultural and scientific exchange between the two countries. President Barack Obama has credited O'Malley's program with "connecting the next generation of Irish and American leaders."
"Medicine is one of the many areas in which the creative forces in America and Ireland are linked," O'Malley said. "It was encouraging to see The Royal College of Surgeons Ireland and Vanderbilt University celebrate their connection in our Creative Minds series."
Presenting from Vanderbilt were Benoit Dawant, Ph.D., Cornelius Vanderbilt Professor of Engineering and director of the Vanderbilt Institute in Surgery and Engineering (VISE); Ron Eavey, M.D., Guy M. Maness Professor and chair of Otolaryngology and director of the Vanderbilt Bill Wilkerson Center; David Haynes, M.D., professor of Otolaryngology, Neurosurgery and Hearing and Speech Sciences and director of Vanderbilt's Cochlear Implant Program; René Gifford, Ph.D., associate professor of Hearing and Speech Sciences and co-director of Vanderbilt's Cochlear Implant Program; Robert Labadie, M.D., Ph.D., professor of Otolaryngology and Biomedical Engineering; Jack Noble, Ph.D., research assistant professor in Electrical Engineering and Computer Science; and Bob Dwyer, Au.D., research audiologist in the Cochlear Implant Research Laboratory in Hearing and Speech Sciences.
"We are honored to be the first academic group to do a Creative Minds presentation at the U.S. Ambassador's Residence," Eavey said. "This is a unique opportunity to showcase what is happening at Vanderbilt to an international audience in a most special venue."
Eavey said the unique cochlear implant research at Vanderbilt and the potential to collaborate with the implant team in Ireland attracted the attention of O'Malley, who wears hearing aids and whose daughter-in-law is an otolaryngologist.
Since 2012, the Vanderbilt team has been developing a new, customized method of programming cochlear implants, devices that provide hearing restoration to people with severe-to-profound hearing loss. The devices work by placing electrical contacts called electrodes — between 12 and 22 depending on the manufacturer — within the inner ear to stimulate auditory nerve pathways.
According to current clinical practice, all the electrodes in a cochlear implant are turned on and programmed, which generally causes interference when adjacent electrodes stimulate the same nerves, resulting in distortion or noise. As a result, patients often return repeatedly to fine-tune the programming via trial and error.
The Vanderbilt team discovered that by using post-operative CT scan to specify the neural interface between the electrodes and the nerves, they could selectively turn off sub-optimally positioned electrodes and improve patients' hearing. As a graduate student under Dawant's guidance, Noble developed a method of overlaying computer models of the auditory nerves onto patients' post-op CT scans to determine the location of the nerves not typically visible in routine scans.
"René and I were blown away when Jack showed us the initial images," said Labadie, who both performs cochlear implant surgery and is part of the research team that made the discovery.
"Jack was showing us the 'Rosetta Stone' of cochlear implant programming, but it took the entire multi-disciplinary team to recognize what we had and to clinically implement it."
Once the team could estimate where individual nerves were, they hypothesized that by turning off certain electrodes that stimulate the same groups of nerves, patients' hearing might be improved. They were correct.
"It's been such a great opportunity to collaborate with clinician-scientist colleagues to try to tackle such an important clinical problem," Noble said. "And seeing the improvement in hearing after switching patients to customized electrode sets continues to be an incredible and gratifying experience. We take great pride in our continuing work to find ways to improve hearing outcomes."
The interdisciplinary collaboration is made possible by having a world-class School of Engineering and Medical Center a short walk from each other.
"The ability to take an idea and seamlessly and rapidly apply this idea to improve patient outcomes is a credit to the culture of multidisciplinary teamwork and initiatives like VISE in place at Vanderbilt," Haynes said.
Dawant added, "The rapid translation from the laboratory to clinical practice of scientific and engineering solutions to outstanding health care problems is only possible in environments where researchers and clinicians can seamlessly interact, exchange ideas and evaluate solutions. VISE's mission is to facilitate this interaction, and this project is a great example of what can be achieved when barriers to multi-disciplinary collaborations are eliminated."
The team is working with Laura Viani, another presenter and director of the National Cochlear Implant program at Beaumont Hospital in Dublin, to bring the technology to Ireland.
Gifford said, "Aside from the honor of presenting at the residence of the U.S. Ambassador to Ireland, I was most touched by a group of women in attendance that evening. These women are mothers of children with cochlear implants and they founded an advocacy organization called 'Our New Ears.' They travel all around as a group and are always seeking new and innovative research that might help their children hear better. They are the perfect example of why we do this."
Media Inquiries:
Matt Batcheldor, (615) 322-4747
matt.batcheldor@vanderbilt.edu