2020 VISE Physicians-in-Residence selected
Alexander Langerman, MD, SM, FACS, and Rohan Chitale, MD, have been selected as the 2020 Vanderbilt Institute for Surgery and Engineering (VISE) Physicians-in-Residence.
The six-month program provides an opportunity for physicians to collaborate with engineering colleagues in developing technologies that can advance surgery and other procedures.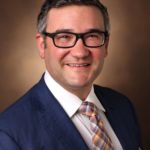 Langerman will continue his work on the "Cleopatra" wearable surgical camera. He will also collaborate with Cornelius Vanderbilt Professor of Engineering Benoit Dawant to develop deep learning algorithms for analyzing open surgical video.
Their research goal is automated detection of surgical activity for safety, quality improvement and documentation.
"It's exciting not only to have the time and facilities to work in-depth on my project but also to have the opportunity to cohabitate with other surgeon researchers and engineers in the VISE space," Langerman said. "It's the spontaneous interactions we have on a day-to-day basis that lead to new ideas and research avenues."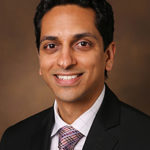 Chitale will work with Nabil Simaan, Ph.D., Professor of Mechanical Engineering, and his team to develop intelligent assistive technologies to enable semi-autonomous, image-guided navigation of endovascular catheters. Their work also aims to provide the surgeon with sensory augmentation during neuro-endovascular procedures.
Such advancements would lower technical difficulty and improve the safety and efficacy of neurovascular procedures, including mechanical thrombectomy for stroke.
"This VISE support is critical for the early success of our joint research program," Chitale said. "I am grateful for the honor and hopeful that our participation will lead towards future funding and exciting technological advancements."
Past program participants include Fabian Maldonado, MD, associate professor of medicine and thoracic surgery; Shriji Patel, MD, BA, assistant professor; Filip Banovack, MD, associate professor of radiology and radiological sciences; and Ryan Hsi, MD, assistant professor, department of urologic surgery.
The teams collect preliminary data, craft a scope of research and submit a federal grant requests to fund development of a new technology for translation to the procedural or surgical theater.
The program was implemented by the Vanderbilt University School of Engineering.