$2.3 million NIH grant allows collaborators to focus on advancing liver cancer surgical care
A multi-year collective effort between engineers, surgeons and scientists has resulted in a $2.3 million, four-year grant awarded by the National Institute of Biomedical Imaging and Bioengineering of the National Institutes of Health to improve laparoscopic liver surgery and liver cancer ablation therapy.
The grant, "Deformation Corrected Image Guided Laparoscopic Liver Surgery," supports a next-generation guidance system that embeds sophisticated 3D computer models within image navigation systems to more accurately guide physicians to surgically remove or apply thermal energy to eliminate liver cancer tumors.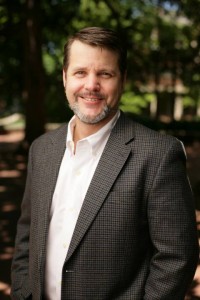 "The work is quite exciting.  We are essentially embedding computer models in surgery systems to give physicians all new 'smart targeting' capabilities that will lead to better outcomes and less downtime for patients," said biomedical engineer Michael Miga, Harvie Branscomb Professor and lead investigator.
"Not only are we enhancing targeting, in the future we also will be able to use computer models to predict individual patient response to therapy and make real time adjustments. The overall outcome would be an important advance in procedural medicine," Miga said.
While the main focus of this project is advancing surgical care for liver cancer patients, the science being developed shifts the paradigm for how computer models are used in the delivery of surgical and interventional procedures, Miga said.
"The work uses the language of mathematics to create a scaffold that absorbs all the incredible but different data coming from the operating room, combines it all 'smartly' and then enhances care," Miga said.
Miga, project director and co-principal investigator, is joined on the project by co-principal investigator William R. Jarnagin, MD, Chief of Hepatopancreatobiliary Service and Leslie Blumgart Professor of Surgery at Memorial Sloan Kettering Cancer Center.  The research team is comprised of co-investigators Brett Byram, assistant professor of biomedical engineering; Vanderbilt University Medical Center colleagues Sunil Geevarghese, MD, program director, Vanderbilt-American Society of Transplant Surgeons' Transplant Surgery Fellowship; and Assistant Professor of Biostatistics Hakmook Kang; and Peter Kingham, MD, Assistant Attending Surgeon in Division of Hepatopancreatobiliary Surgery, Memorial Sloan Kettering Cancer Center.
This research is supported by National Institute of Biomedical Imaging and Bioengineering of the National Institutes of Health (R01-EB027498)