The Evolution of Carmichael Towers West
---
"Vanderbilt, not unlike the rest of Nashville, is evolving. This project—quite tangibly—exemplifies the monumental shift from a traditional housing experience for our undergraduates to immersing them in living-learning environments that encompass our values as a university. These diverse communities, rooted in scholarly pursuits, are an amazing experience for our students and our faculty." – Chancellor Nicholas S. Zeppos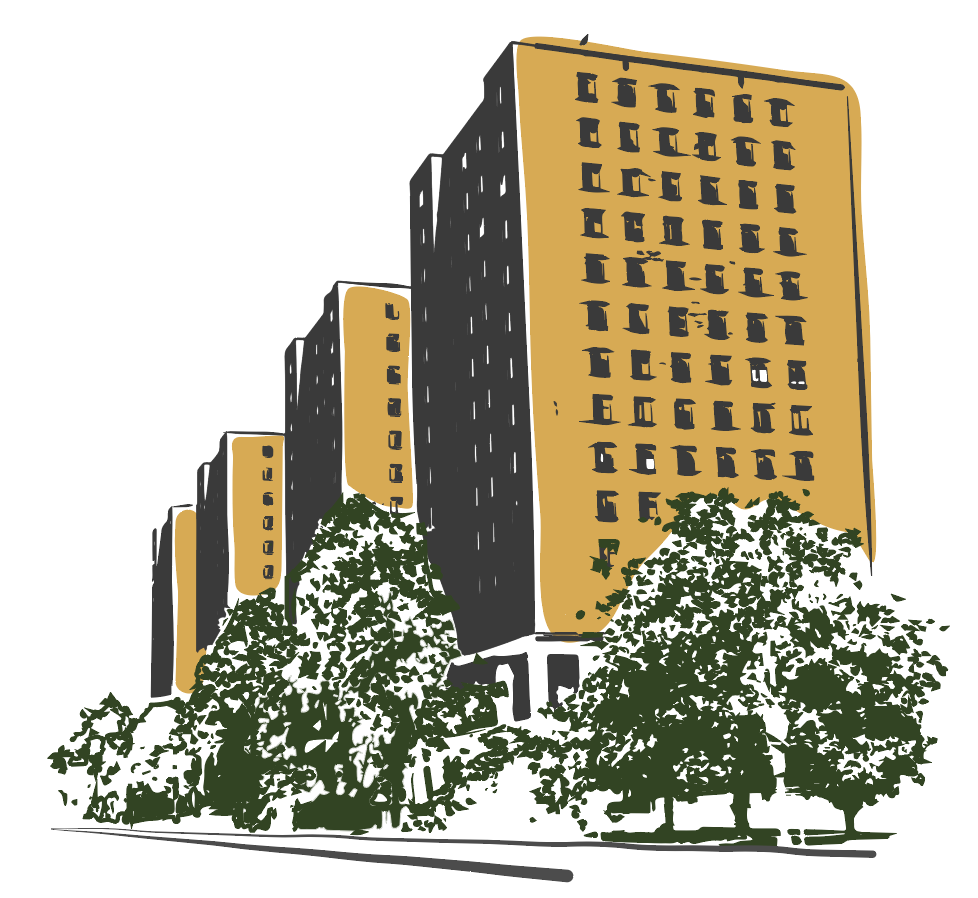 The demolition of Carmichael Tower 3 and 4 this summer will make way for three new residential colleges in the West End Neighborhood to align with Vanderbilt's Academic Strategic Plan, a key pillar of which is to strengthen the undergraduate residential experience, as well as FutureVU, the university's initiative to enhance the places on campus where community members live, work and learn.
Implosion Logistics: Saturday, July 27, 2019
Video livestream – Will be available on this website beginning at 8:30 a.m.
9 a.m. – Implosion scheduled
8 a.m. – West End Avenue will close from 23rd Ave to 25th Avenue.
9:45 a.m. (approximately) – Roads will re-open following the implosion and site-check completion.
---
Show your support to celebrate the implosion of Carmichael Towers West in our online store. Towers-themed items will be on sale from July 10-27.
All proceeds and support will directly benefit our new residential colleges, designed to immerse students in a holistic approach to education, ultimately advancing Vanderbilt's mission: to create engaged citizens who can change the world for the better.
---
Carmichael Towers West and Carmichael Towers East are the university's tallest buildings and were home to 1,200 undergraduate students at their peak capacity. The towers were named in memory of Oliver C. Carmichael, who served as Vanderbilt's third chancellor from 1937 to 1946. The east towers were completed in 1966, and the west towers in 1970.
The 14-story Carmichael Towers West saw its final residents depart at the end of the spring 2019 semester. Carmichael Towers East will remain open to residents through the 2019-20 academic year.
"We have world-class faculty who share their expertise and knowledge in the classroom, but including them in the residential colleges allows for truly unique ways to further enrich the teaching and scholarship experiences of both our students and faculty. Combining the learning and discovery missions of our university with our whole-person educational philosophy has created a one-of-a-kind experience for our students and faculty members, exactly as envisioned in the Academic Strategic Plan." – Provost and Vice Chancellor for Academic Affairs Susan R. Wente
"FutureVU has really allowed us to take a deeper look at how we are using our land and what we can be doing for the people that live, learn and work on it. The new residential colleges, as well as the entire transformation of the West End Neighborhood, will support our current community as well as future generations." – Vice Chancellor for Administration Eric Kopstain
Give Now to Support Residential Colleges
For more information about construction in the West End Neighborhood, visit the FutureVU website or Laytonconstruction.com/Vanderbilt.