October is LGBTQI History Month
#BeYouAtVU
First observed in 1994, LGBTQI History Month takes place in October because it coincides with National Coming Out Day on October 11, and because it is the month of the first March on Washington for Lesbian and Gay Rights in 1979. Over the years, more LGBTQI-specific days have been added to recognize and celebrate all members of the LGBTQIA2S+ community. 
LGBTQI History is important for a plethora of reasons such as highlighting queer leaders, politicians, activists, scientists, etc. who made a significant impact on society and the world around them, but who are excluded from textbooks and curriculum. In addition to highlighting the queer trailblazers that came before, LGBT history allows queer youth to see themselves reflected back to them which can be a source of motivation and inspiration to continue to change the world for the better. Lastly, we want to emphasize that LGBTQI History Month is for everyone, as learning about the contributions and experiences of people with different identities and from different backgrounds promotes empathy and aids in one's growth and learning. LGBTQI History is US and world history.
This LGBTQI History Month, we would like to especially highlight the history of healthcare providers who have delivered gender-affirming care to improve the quality of life for transgender people. Exemplary pioneers include researchers such as Dr. Harry Benjamin whose work helped shift America's new medical paradigm in 1966 to address transgender health care needs and led to the first gender-affirming program at John Hopkins University Medical School. These advancements further galvanized LGBTQIA2S+ communities across the nation to assert themselves as citizens with legitimate needs and rights. Susan Stryker's Transgender History draws parallels to the new medical paradigm and the collective resilience that spurred many of the trans femme BIPOC activist leaders in San Francisco's Tenderloin district. 
In the same spirit of that resilience and pride, we're celebrating LGBTQIA2S+ History Month at Vanderbilt through a number of events that celebrate, educate, advocate, and uplift. Find out about all LGBTQI History Month Events below and here.
Finally, one of our goals as the Office of LGBTQI Life is to advance equity to ensure the most marginalized members of the LGBTQIA2S+ community get connected to resources, services, and support they need to thrive. As such, we will be strengthening our existing relationships with LGBTQ organizations and campus partners to increase donation, volunteer, wellbeing, education, and safety efforts, such as supporting Oasis Center by organizing non-perishable food care packages throughout October. We also have Safety Advocates to accompany you to/from locations on campus. To request a Safety Advocate, sign-up here; to volunteer, contact lgbtqi@vanderbilt.edu.
Happy LGBTQI History Month, and we look forward to celebrating with you.
–Office of LGBTQI Life
---
LGBTQI LIFE UPDATES
---
UCC and LGBTQI Life Processing Session
In partnership with the University Counseling Center, we will hold an in-person processing space from 3-4pm on Monday, October 3rd. We want our VU LGBTQIA+ community to know we value their safety and will honor the different ways people will need to take space to process the current events. Click here to RSVP.
Book a P.R.I.D.E. or Straight Facts Training
Your whole office, classroom or unit can book a 1-hour Straight Facts workshop and/or 3-hour P.R.I.D.E training Click here to request.
---
LGBTQI LIFE EVENTS: HISTORY MONTH OCTOBER 2022: Digital Advocacy & Activism
---
10/3 LGBTQI History Month Kick-Off Event
Stop by the K.C. Potter Center from 12-2pm to celebrate the start of LGBTQI History month! Contribute to a sidewalk chalk mural, enjoy food inside and games outside, and get registered to vote with Vandy Votes and Vanderbilt, Let's Vote as well as pick-up collectable buttons and other swag giveaways.
---
10/3 Faith and Politics: LGBTQIA+ Social Justice and Reproductive Rights
Stick around to hear from Michigan Senator Mallory McMorrow about her viral response later in the day from 5-6pm, an event in collaboration with the Carpenter Center, Religious Studies, LGBTQ Policy Lab, GSS, Divinity, and Office of LGBTQI Life. Register to attend here.
---
10/4 Dating Apps & Digital Consent
In partnership with Project Safe, the Margaret Cuningimm Women Center's Vandy Sex Ed, and the University Counseling Center, we are hosting a panel and discussion around Dating Apps & Digital Consent: A Conversation About Safety and Sex Online from 5:30-7:30 in Buttrick Hall 101.
---
10/5 Banned Book Initiative October Reading Group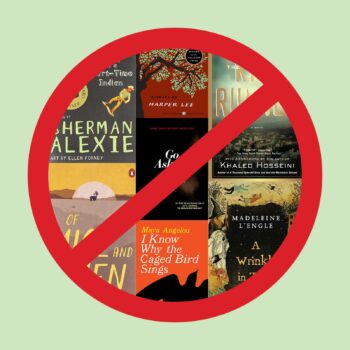 As part of the Banned Book Initiative, October's Reading Group on "Me, Earl, and the Dying Girl" by Jesse Andrews is facilitated by the Vanderbilt Libraries. Sign up for the reading group by Oct. 5 or contact Melinda.brown@vanderbilt.edu for more info.
---
10/6 and 10/27 Wiki-edit-a-thon Part 1 and 2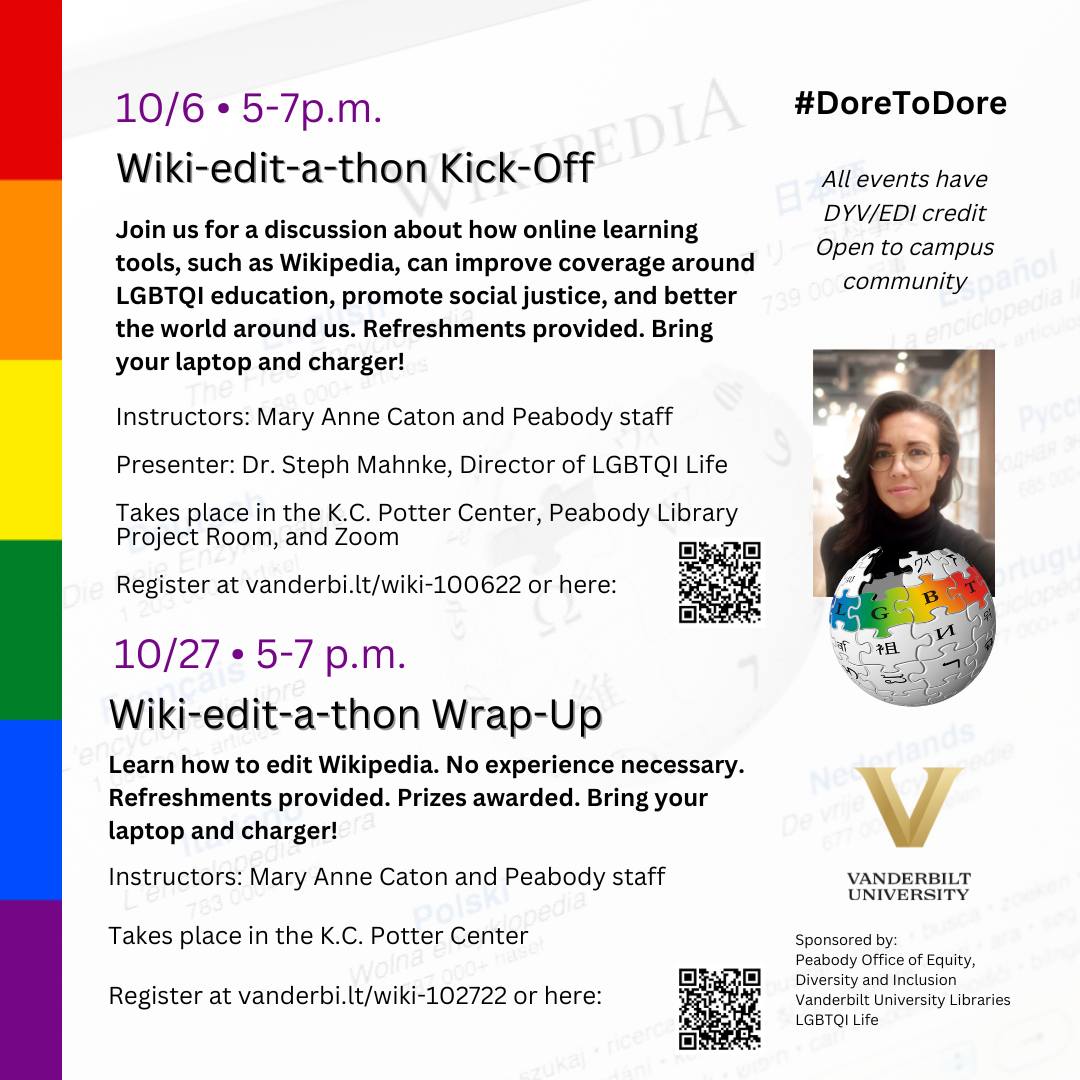 Both hybrid events, the Wiki-edit-a-thon Kick-Off will be 10/6 from 5-7pm while the Wrap-Up will be 10/27 from 5-7pm. With the help of experts and librarians, all are invited to learn about democratizing online sites of knowledge by contributing content related to LGBTQI+ histories. Teams will have access to historical and informational materials in order to update or create Wikipedia pages throughout the month. Prizes will be given out at the Wrap-Up Event. Food provided.
---
10/7 Alumni Reunion Reception and Celebration
In conjunction with the Alumni Reunion, the KCPC will host a reception and feature LGBTQI Vandy Alumn through videos, pictures, and mini-bios on the TV in the lounge from 4-5pm. Alumni wishing to be featured can submit information here.
---
10/11 National Coming Out Day Celebration & Keynote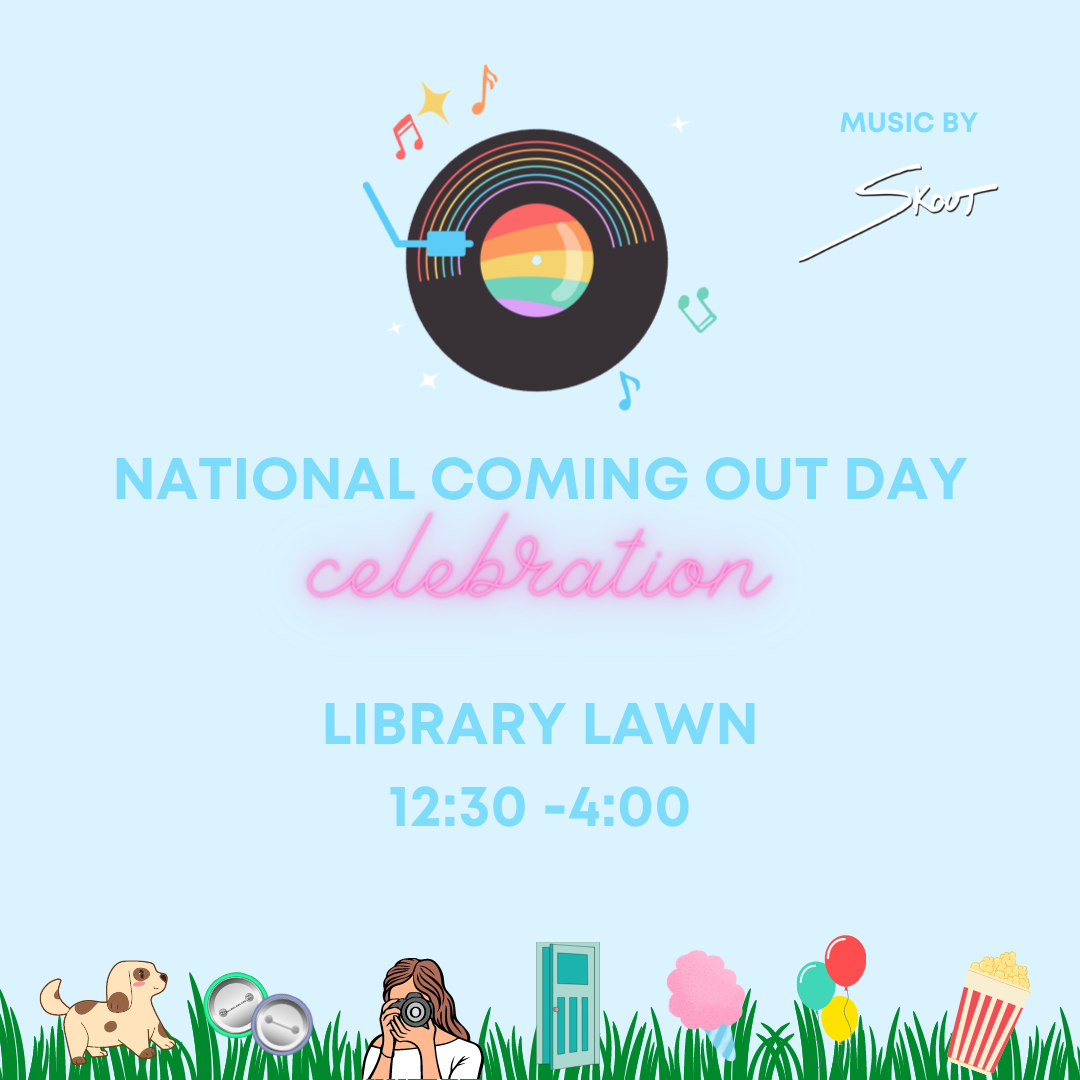 To celebrate National Coming Out Day, we invite all to stop by Library Lawn from 12:30-4pm to enjoy a puppy petting party, cartoon caricatures, button-making, pictures taken by a local queer photographer, and more. Students can pick up this year's swag items, including socks, rainbow notebooks, and more.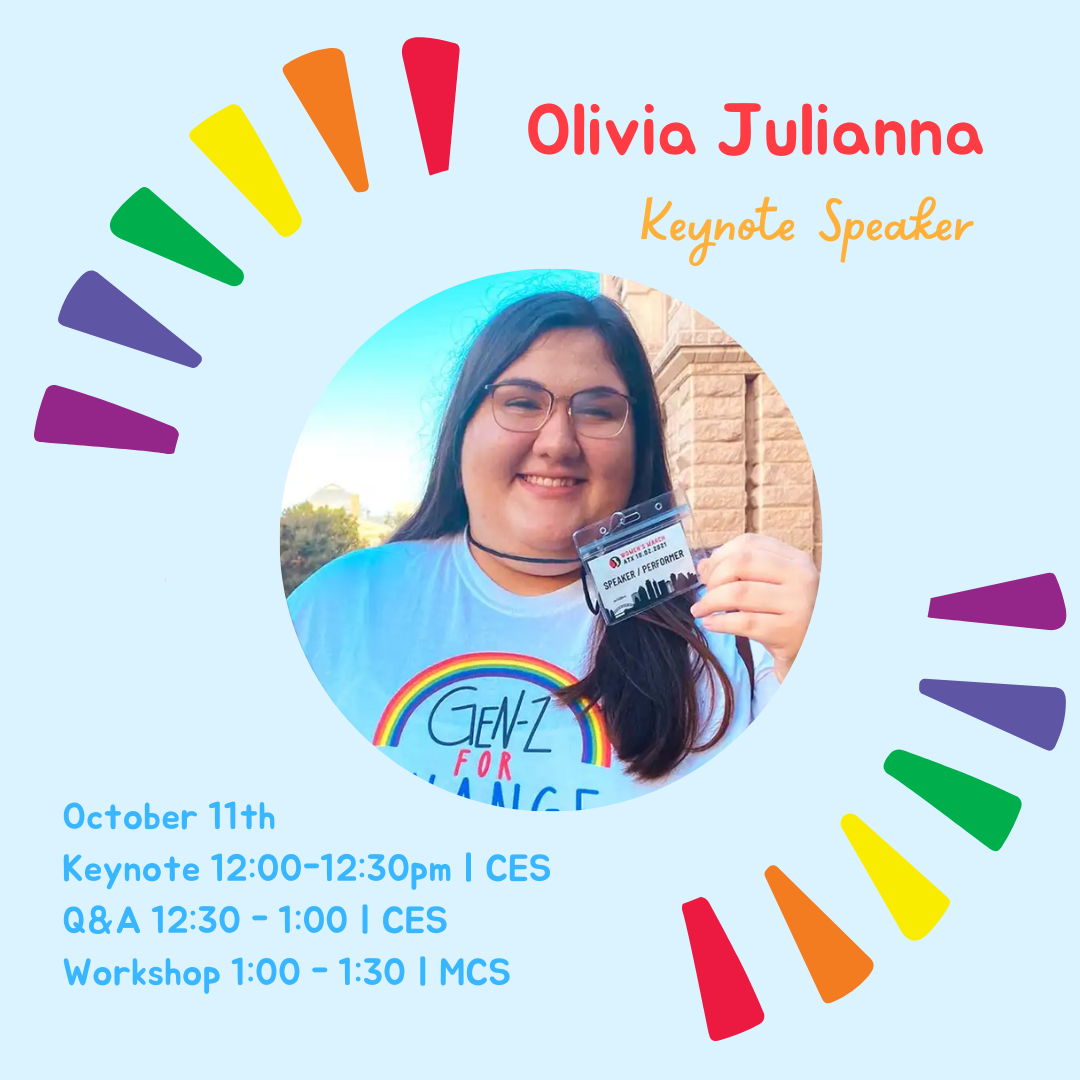 Olivia Julianna, a queer Mexican-American activist from Southeast Texas and political media strategist for Gen-Z for Change, will deliver our keynote address, answer questions in a Q&A, and lead a workshop with student leadership. If you have questions for Olivia, submit them here.
---
10/18 For The Culture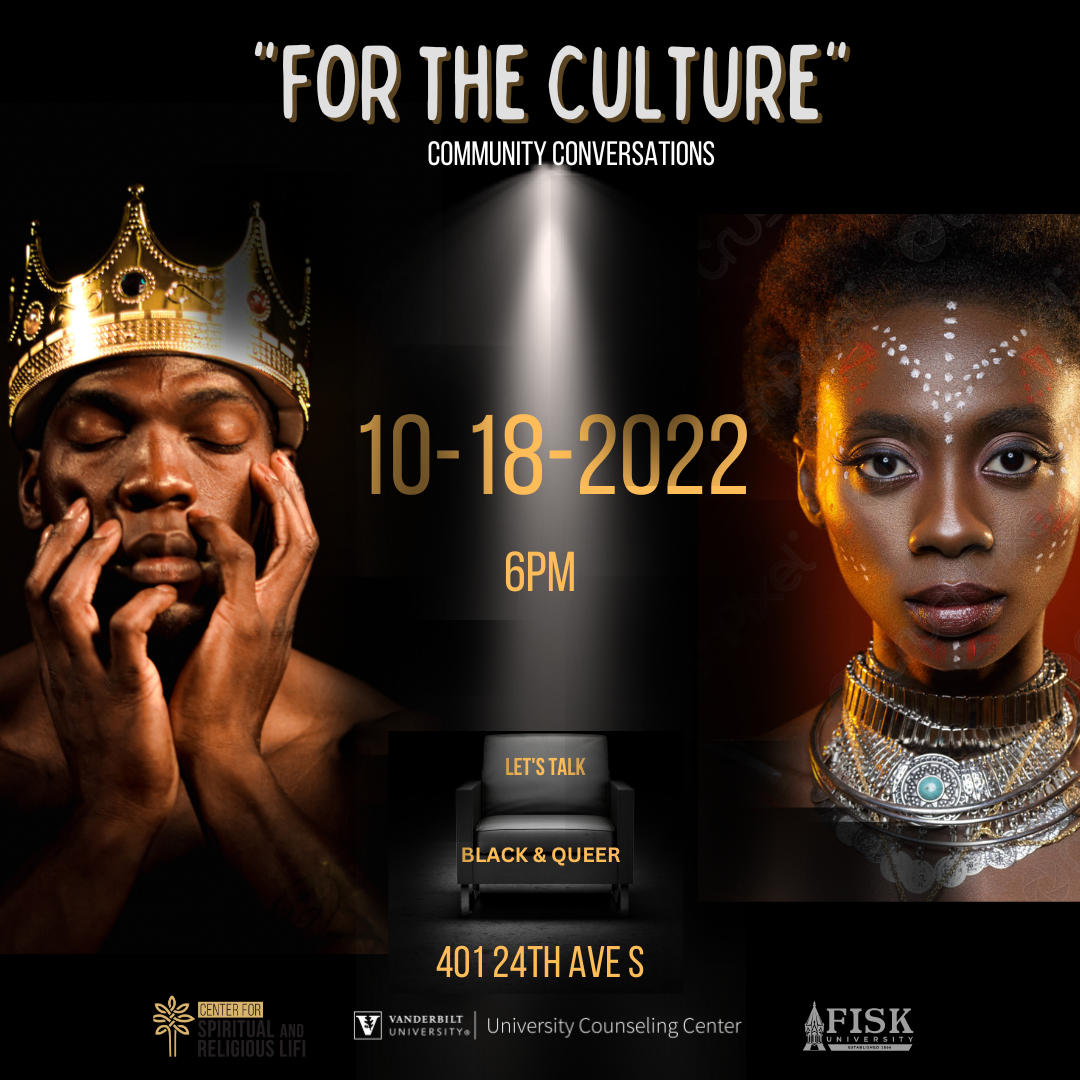 As part of the For the Culture workshop series with VU and Fisk hosted by the Center for Religious and Spiritual Life, Black LGBTQI students, faculty, and staff are invited to join this event. Time and location TBD.
---
10/19 Binatay: Journey of a Filipino Adoptee Screening & Panel Discussion
Queer documentarian James Beni Wilson will screen his documentary Binatay: Journey of a Filipino Adoptee and participate in a panel discussion about what it means to be a queer, Filipino, trans-racial adoptee from 6:00-9:00pm at Sarratt Cinema.
---
10/24 Spoken Word Night
In collaboration with the Bishop Joseph Johnson Black Cultural Center, we will host a spoken word event focused on the theme of resiliency, emceed by the Assistant Director of the BCC, ReChard Peel, starting at 6pm at the BCC. We invite students to interpret and perform the theme however they like and other creative outlets beyond poetry are also welcome. Students interested in participating in this event can indicate their interest here.
---
10/26 Intersex Awareness Day Panel
An Intersex Awareness Day panel will be hosted online from 7-8:30pm. Experts and members of the intersex community will discuss the experiences of being intersex and how to challenge harmful medical and legal practices and narratives, as well as access resources for support across faith communities.
---
10/28 Wellness Week Wrap-Up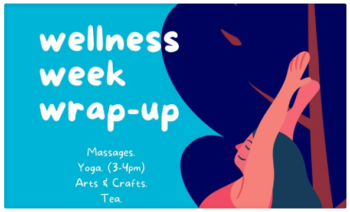 To acknowledge the importance of self-care during advocacy and activism, we are partnering with the Center for Student Wellbeing and others to host a Wellness Week Wrap-Up event from 3-5pm that will include mindfulness activities, massages, and yoga (3:00-4:00pm.)
---
10/31 Halloween Costume Social and Trick-or-Treating
LGBTQI students are invited to join our Halloween Costume Social to meet other queer and trans students, enjoy refreshments, trick-or-treat along West Side Row, and win a prize for Best Costume. Those unable to attend in person are welcome to join our Discord, an online platform for connecting with friends.
---
CAMPUS EVENTS AND OPPORTUNITIES
---
The Inclusive Connector

To learn about news, events, and happenings related to Equity, Diversity, and Inclusion, sign up for the Inclusive Connector. Please sign up here.
---
Vandy Meets the Street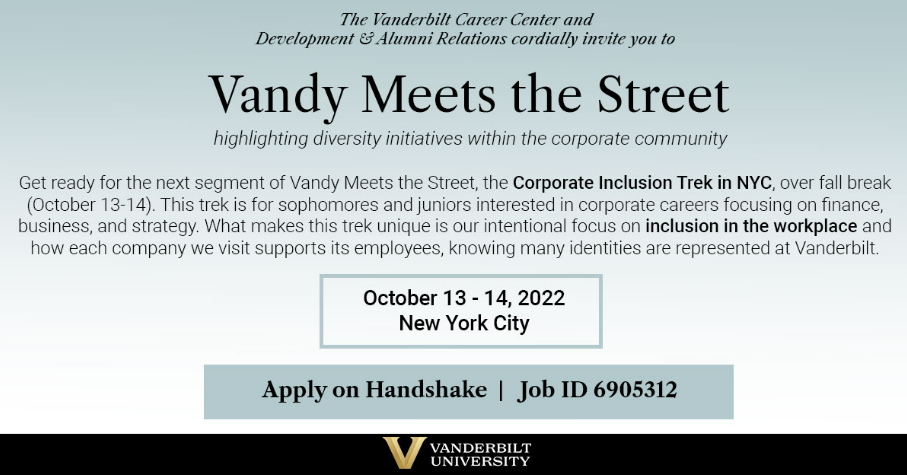 Get ready for the next segment of Vandy Meets the Street, the Corporate Inclusion Trek in NYC, over fall break (October 13-14). This trek is for sophomores and juniors interested in corporate careers focusing on finance, business, and strategy. What makes this trek unique is our intentional focus on inclusion in the workplace and how each company we visit supports its employees, knowing many identities are represented at Vanderbilt. Apply on Handshake. To learn more and/or get involved, email Foy at grace.foy@vanderbilt.edu. 
---
Hillel Atzmi LGBTQI+ October Events
Oct 5, 2:30 p.m., Hillel Lounge — Text Study: Join Hillel in a text study on the Leviticus texts that are often used as a basis for homophobia on Yom Kippur.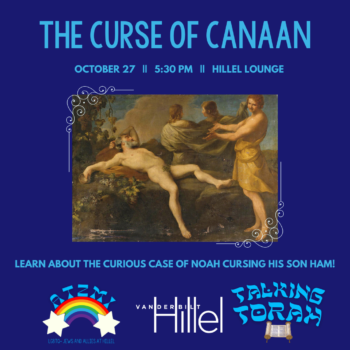 Oct. 27, 5:30 p.m., Hillel Lounge
"Text Study: The Curse of Canaan" : Join Atzmi in a text study of the biblical text about Noah and his son Ham during the week of October 23 — which is the week of reading that story in the yearly Torah cycle.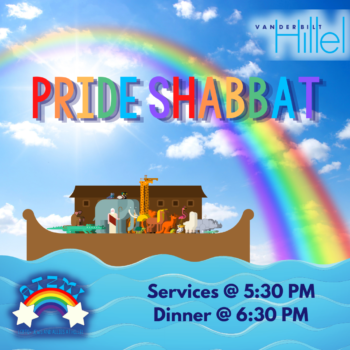 Oct 28, Services at 5:30 p.m., Dinner at 6:30 p.m., Upstairs Hillel
Celebrate Pride Shabbat! Our Shabbat service (5:30) will be Pride themed, with dinner to follow at 6:30.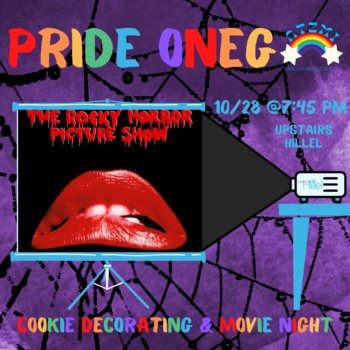 Oct 28, Services at 5:30 p.m., Dinner at 6:30 p.m., and Rocky Horror Picture Show at 7:45 p.m. Upstairs Hillel
After dinner, we will have an "Oneg Shabbat" a "Shabbat Celebration" – it will be movie night and cookie decorating. We are planning to watch Rocky Horror since it's Halloweekend.
---
10/6 OutLaw Workshop: Gender-Inclusive Language in the Law School Class (and Beyond)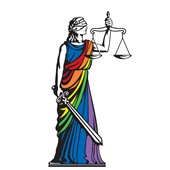 Students, faculty, and staff are invited to participate in a workshop on using gender-inclusive language from 12:30-1:30pm in Vanderbilt Law School's Moore Room. Participants will unpack gendered biases encoded in language, learn best practices around pronouns and other terminology relating to sexuality and gender identity, and develop practical skills for inclusive communication.
This workshop will be led by Jack Crawford (she/her) who is a Lecturer in the History of Art & Architecture at Vanderbilt and a trained facilitator. As an academic, she teaches primarily twentieth-century art and writes on strategies of queer performance in the postwar period. She has also worked as a training coordinator and staff supervisor at the California-based youth performing arts program Camp Winnarainbow, for which she has conducted similar inclusive language workshops for staff working with LGBTQ+ youth.
Open to the public. Lunch served. RSVP here.
---
TEDxVanderbiltUniversity Applications Due 10/12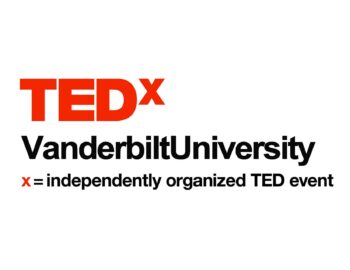 Vanderbilt Human Resources Employee Learning and Engagement team is excited to announce that speaker applications are now open for TEDxVanderbiltUniversity 2023. Applications are due on October 12, 2022. The event will be hosted on April 18, 2023, on-campus, in person. Eligible applicants include Vanderbilt University students, staff, faculty, postdocs, alumni, and VUMC employees. Interested speakers can apply here.
---
10/17 InclusAbility Meet n' Greet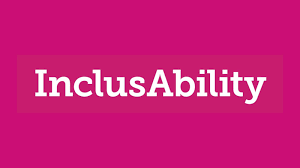 Our first InclusAbility Meet n' Greet event is scheduled from 4-6pm at Commons 235 with campus partners and student leaders who are highly actively involved in this community. Join us to create a campus network with all student leaders, staff and faculty who identify with, care about or actively engage with the rich dimensions of the disability community.
---
10/18 Queer Existence in Historically Straight Spaces
A panel featuring Nashville attorneys centered on the experiences of queer people in historically straight spaces will take place from 12:30-1:30pm in Vanderbilt Law School's Hyatt Room. How has being out in the profession changed over time and what can students expect as they enter the profession. Students will have the opportunity to contribute questions. RSVP here.
---
Sign-Up Open for 28th Annual Lambda Drag Show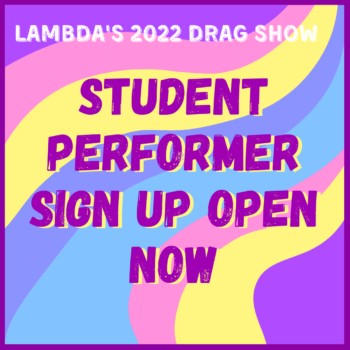 Hello Vanderbilt! Do you like performing? Do you like cultural showcases? Do you like meeting local celebrities? Well, we have an opportunity for you! Sign up to perform in the 28th annual Lambda drag show: Alien Superstar! This show is based on Beyonce's latest album, Renaissance, so songs and performances are encouraged to be from that album, another Beyonce project, or any 70s, 80s, 90s funk, soul, disco, or house song. Performances do not have to be in drag so if that is not something you are comfortable with, you can still perform in this showcase. Student performers will also receive a 100-dollar stipend for costumes or other supplies for their performance. Student performer tips will go to a local charity supporting those with HIV/AIDS in the Nashville area. Sign up today!
---
10/25 'Dores in Dialogue: Economic Cost of Injustice

'Dores in Dialogue: A conversation on the economic cost of injustice is presented by the Vanderbilt Alumni Association in partnership with the LGBTQIA+ Association of Vanderbilt Alumni (LAVA). This next installment of the 'Dores in Dialogue series will explore how injustice impacts the overall economy as well as individuals within the LGBTQIA+ community. This panel is introduced by LAVA president Bryann DaSilva, BA'12 and moderated by Dr. Steph Mahnke. Panelists include Drs. Kitt Carpenter and Masha Titova. Register here to view the video on 10/25.
---
10/31 Stigmatized Medical Rhetoric: Monkeypox and the AIDS Epidemic in Queer Communities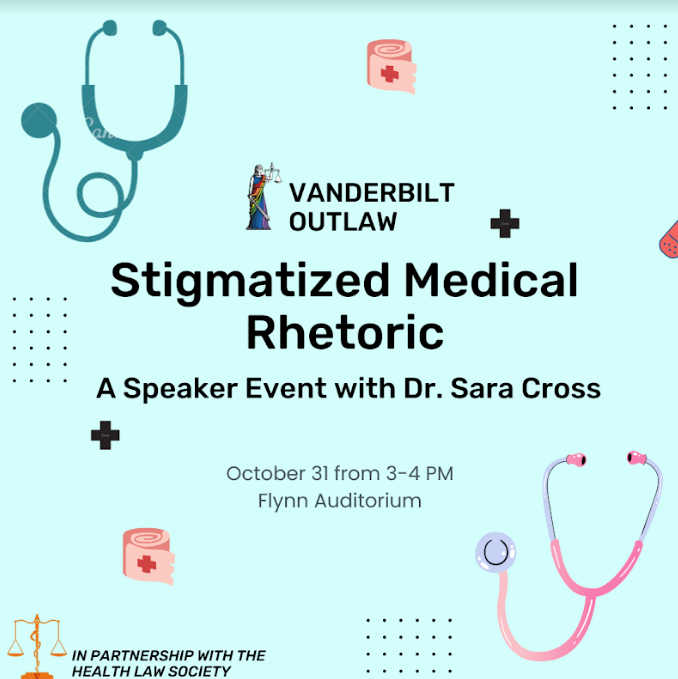 How can we, recognizing the historical patterns of stigmatization in health care against the LGBTQ+ community, most effectively spread awareness of health crises, while avoiding harmful stereotypes and reductionist rhetoric used by officials in the 1980s and early 1990s that continues to present itself?
In this event, students have the opportunity to learn about and explore the parallels that exist between public perception and government reaction to the AIDS epidemic and the monkeypox outbreak; how government action during these outbreaks has furthered stigmatization of the gay community in the public eye. RSVP here.
---
UPCOMING COMMUNITY EVENTS
---
10/24 All Kinds of Ace at Cafe Coco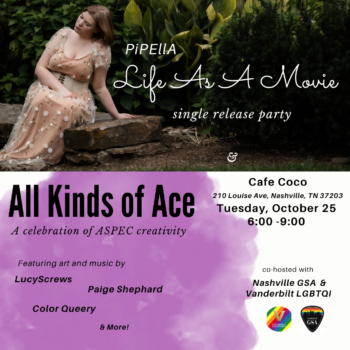 All Kinds of Ace was created to be a celebration of ASPEC (Asexual/Aromantic/Agender spectrum) creativity as well as an awareness event for anyone who would like to learn more about our community. The night will double as a single release party for Asexual Advocate and Cinematic Rock artist, PiPEllA, and her new song 'Life As A Movie'. There will be performances and art by ASPEC and ASPEC-allied artists! Free to the public with food and drinks for purchase.
---
10/22 Launch Pad's Biscuits for Beds Breakfast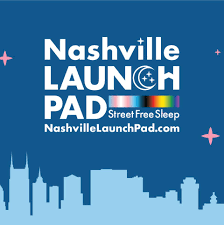 Join community partners on Saturday, October 22 from 9-11am for a celebration of the work of Nashville Launch Pad and their return to a  community-based winter shelter for 2022-2023. Find out more about the Biscuits for Beds fundraiser event and information about sponsorships here.
---
10/1 31st Annual Nashville AIDS Walk

Organized to raise awareness and financial support for ending the HIV epidemic, the 31st Annual Nashville AIDS Walk by Nashville Cares is Tennessee's oldest continuously running HIV/AIDS fundraiser and advocacy event. The 2022 Nashville AIDS Walk takes place at One Public Square from 8:00am-2:00pm. Register, donate, or support a team or fundraiser here. Vanderbilt Lambda Association, our undergraduate LGBTQI+ student group, will sponsor a check-point to cheer on walkers.
---
10/4 Nashville Queer History Open House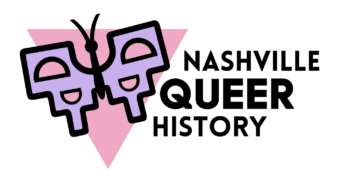 Join Nashville Queer History founder, Sarah Calise, in an Open House informational session about the origins of the NQH project and upcoming volunteer opportunities at the Green Hills Branch Library from 6-7:30pm. There will also be a discussion period where attendees can share ideas for future NQH projects. This meeting is especially important for anyone wanting to volunteer. A separate Zoom version of this open house will take place in October, specific date and time TBD.
---
10/15 Community Digitization Day
In collaboration with Nashville Sites, Nashville Queer History, and Vanderbilt's Center for Digital Humanities, Digital Commons, and LGBTQI Life, the greater Nashville community is celebrating it's first Community Digitization Day. From 10:00am to 4:00pm at the Digital Humanities Center (1101 19th Ave S.), we invite all to stop by to learn more about the project, take a look at the digital archive, scan your own items into the archive, or schedule an oral history sharing of your own story about Nashville's LGBTQ history! Participants wanting to get material scanned please fill out this form before October 15.
---
10/14-10/16 Southern Festival of Books
Join us for an event during the 34th Annual Southern Festival of Books on 10/16 from 1:30 – 2:30 p.m. at the Nashville Public Library Auditorium (615 Church St.), where Dr. Stephanie Mahnke will be moderating an LGBTQIA+ literature panel with authors Lydia Conklin (Rainbow, Rainbow: Stories) Z. Zane McNeill (Y'all Means All: The Emerging Voices Queering Appalachia) and Casey Parks (Diary of a Misfit: A Memoir and a Mystery).
---
10/19 WorkFair 2022 Virtual Job Fair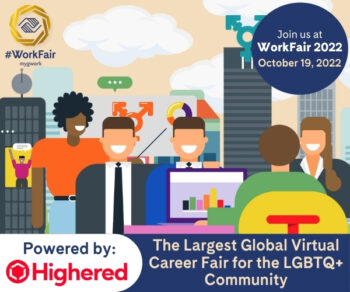 WorkFair 2022 is the only free global virtual event providing LGBTQI+ graduates and professionals direct access to inclusive employers across all industries who are ready and waiting to hire. Job seekers will get the opportunity to connect live with recruitment teams to chat about existing opportunities and internships, and even book interviews with participating companies they want to join. Find out more and register here.
---
10/29 World Bi+ Meetup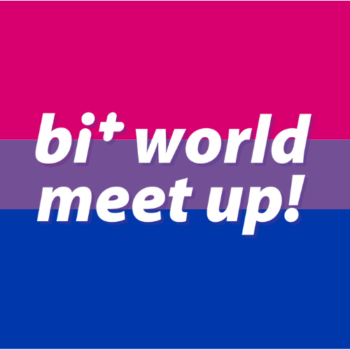 The World Bi+ Meetup begins at 3am CST/ 4am EST/10am CEST. Bi+ people everywhere are invited to join either or both meetups on Zoom. They will be using breakout rooms to give folks an opportunity to meet each other in a friendly and free setting. The meeting is in English and is organized by Barbara Oud (Netherlands) and Robyn Ochs (U.S.). Pre-registration is required.
---
Register to vote with Vanderbilt, Let's Vote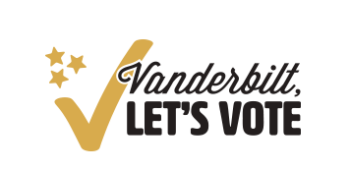 The focus of Vanderbilt, Let's Vote is to encourage every member of the university community—students, staff and faculty—to participate in the democratic process and exercise their right to register and vote in elections held in their districts of residence, whether they be at the federal, state or local level. Sign up for 2022 primary and general election reminders as well as register to vote in the general November election here.