Review: North Nashville Murals Exhibit at the Frist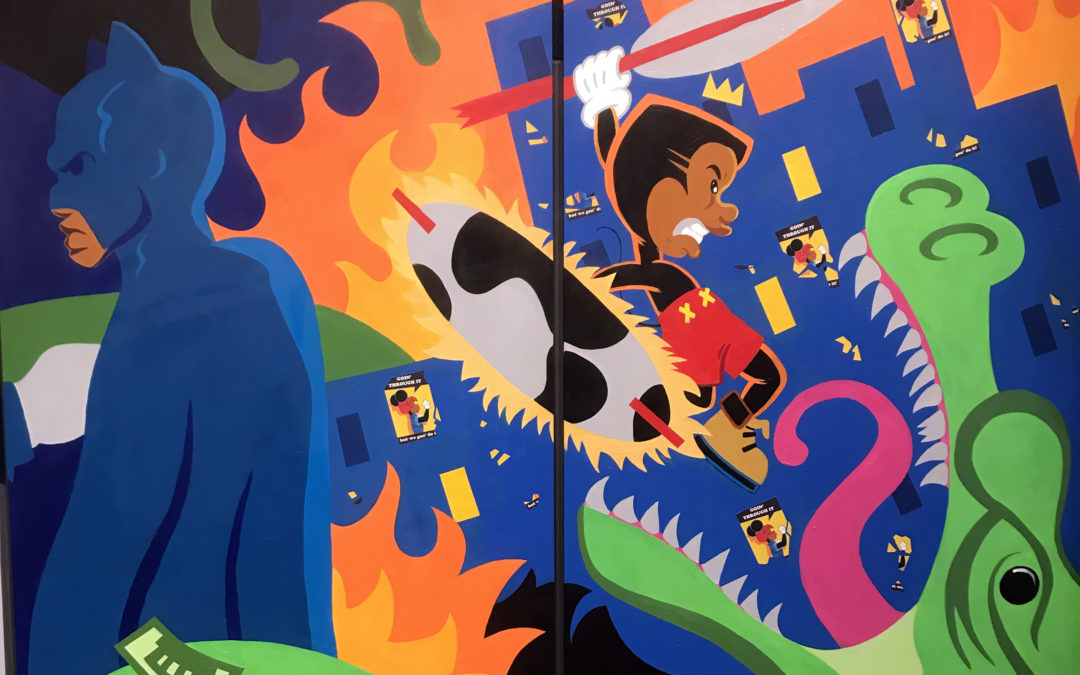 Nashville's myriad murals often tell pieces of the story of the city's rapid transformation—tourists wait in line to snap selfies within the angel wings in the Gulch, and the "I Believe in Nashville" mural in 12 South has become an icon of the new development in that area. Meanwhile, artists in historically black North Nashville are telling the story of their neighborhood's transformation and its legacy through the murals themselves. The Frist Art Museum's exhibition "Murals of North Nashville Now," on display in the free Conte Community Art Gallery, features eight murals that reflect and refract the neighborhood's history and present, paying tribute to its storied past and engaging with the social issues facing its residents in today's changing Nashville.
As a relative newcomer to city, I am always learning about the city and catching up with its kaleidoscopic, complex history. In addition to being a hub for the city's black businesses, churches, and community, North Nashville has long been a center of art and culture. In the 1870s, it bore witness to some of the earliest performances by the legendary Fisk Jubilee Singers. In the '50s and '60s, before I-40 was built across Jefferson Street, its clubs and venues played host to rock and R&B greats like Jimi Hendrix and Otis Redding and gave rise to local stars such as Robert Knight and Bobby Hebb. During the civil rights era, it was host to protests and some of the first sit-ins in the South. The murals on display at the Frist reflect and refract some of this history through the lens of the neighborhood's thriving contemporary art scene.
Twelve Nashville-based artists—Nuveen Barwari, Omari Booker, LeXander Bryant, Brandon J. Donahue, Marlos E'van, Courtney Adair Johnson, Elisheba Israel Mrozik, and the members of the Norf Art Collective—contributed work to the exhibition, and children from the North Nashville community collaborated on certain murals. The murals will be on display through January 5, when they will be relocated to the walls and halls of North Nashville's public schools. Those wishing to learn more about these artists and the thriving contemporary art community they've helped build should also stop by the Jefferson Street Art Crawl, which takes place on the fourth Saturday of every month.
Written by John Shakespear
Posted on September 12, 2019