Curb Public Scholars Program
The Public Scholars Program is on hiatus for the 2023-2024 Academic Year
Because public policies reflect the values and aspirations of a city, community, or national culture, we strongly advocate for rigorous academic scholarship to advance the standing of creative and cultural expression in generating innovative approaches to real-world problems,
The Curb Public Scholars program supports graduate students who are interested in finding ways that their research can have an impact beyond the academy. The program facilitates initiatives that explore creative ways to implement research findings, develop evidence-based public policies, and transform academic work into publicly available resources.
Each fall, graduate students are invited to propose projects that apply creative expression to an issue raised by their dissertation or other research involving the broader community. We typically select 4-8 applications each year for these two year appointments.
Our current scholars are exploring how the arts can be used for adults with Aphasia, neighborhood design as envisioned by Nashville middle and high school aged students, using drone technology as a tool to study emergency response and recovery times after natural disasters occur, exploring pandemic literature to create poetry during Covid-19, and using photography as a way for women experiencing homelessness in Nashville to tell their stories.  Learn more about the types of Public Scholar projects we support here.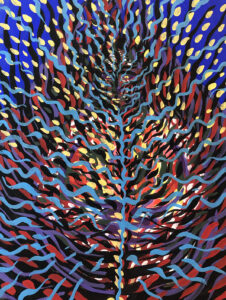 She Who Abides
Deanie French
Acrylic on Paper (2020)
The Art of Healing Exposition