Overview
The Curb Center for Art, Enterprise & Public Policy at Vanderbilt University is committed to research and learning which challenges education, policy, and arts leaders to rethink creative and cultural expression in contemporary society.
Working at the intersection of research, policy, and practice, the Curb Center seeks to:
build capacity and knowledge for policy-makers, cultural producers, administrators, funders, and researchers.
inform debates around the challenges and opportunities facing creative and cultural expression in matters of public policy, civic engagement, and enterprise.
advance public dialogue on issues, policies, and organizational structures affecting artists, creative endeavors, and individuals' expressive lives.
Our work can be divided into two main pillars of focus.
The Creative Campus Initiative promotes creative expression through co-curricular learning opportunities and trans-disciplinary programs integrating creativity and cultural engagement into the experience of Vanderbilt University, including:
Undergraduate Curb Scholars Program, works to develop creative leaders through resources and mentoring for projects which apply creative and entrepreneurial methodologies to problems, challenges, and opportunities on campus and beyond.

Undergraduate

and graduate student, staff and faculty Creative Catalyst Awards, for the implementation of original ideas using creativity as a force for innovation and community engagement while challenging conventional thinking
Campus and community special events, including film, music, theater, dance, and other interactive creative experiences
The second signature platform is our Public Policy Initiative. We believe the content and character of America's cultural life is of vital importance to the future of our students, our larger university and civic community, and our national polity.  
In all we do, we seek to answer the driving question of how the arts can best serve the public interest  through support of the following:
Local, regional and national arts policy research and publications
Graduate student

Public Scholars

awards, which provide support for initiatives which explore creative ways to implement research findings, develop evidence-based public policies, and transform academic work into publicly available resources
Faculty Fellow in Arts Policy awards made for projects devoted to any aspect of arts policy or the role of creative expression in society.
Visit the other pages on our site to learn more about what we do at The Curb Center and the people who help to bring our mission to life each day.
Contact us directly for more information.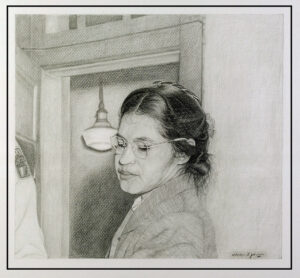 Rosa Parks (R. Johnson) pencil drawing
'Form of Reform: Art from Death Row' installation