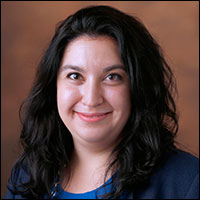 Ipek Oguz
VISE Steering Committee Member and Co-chair VISE Seminar Series
Assistant Professor of Computer Science
Degrees:
PhD – 2009 – Computer Science – University of North Carolina at Chapel Hill – Chapel Hill – NC
MS – 2007 – Computer Science – University of North Carolina at Chapel Hill – Chapel Hill – NC
BS – 2004 – Computer Engineering – Middle East Technical University – Ankara – Turkey
Research Interest:
I work on creating new methods for medical image analysis. My technical expertise and interests are focused on graph theoretic techniques for structural image analysis with particular emphasis on longitudinal imaging studies and machine learning. My method development work in these areas is driven by biological problems in three application domains: neuroimaging, ophthalmic imaging, and obstetric imaging.
Project:
* Early detection of Huntington's Disease: Longitudinal analysis of basal ganglia and cortical thickness
* Characterizing cortical gray matter atrophy in Multiple Sclerosis
* Developing a multi-modality, paradigm-shifting approach for in vivo assessment of the human placenta and the impact of maternal nutrition on its development and function
Lab:
Medical Image Computing Laboratory (MedICL)
Description:
The goal of the Medical Image Computing Lab is to develop novel algorithms for better leveraging the wealth of data available in medical imagery. We are interested in a wide variety of methods including image segmentation, image registration, image prediction/synthesis, and machine learning. One of our current clinical applications is Huntington's disease, where we are interested in improving the prediction of clinical disease onset through longitudinal segmentation of subcortical and cortical anatomy from brain MRI's. We are also interested in multiple sclerosis, where we work on improving our understanding of both the inflammatory disease process through lesion quantification and a potential complementary neurodegenerative component through cortical thickness studies. Additional application areas include retinal OCTs and diffusion MRI in Aicardi-Goutières syndrome.
Areas of Research: Big Data, Biomedical Imaging, Biophotonics, Image Processing