VISE affiliates secure $3 million NIH grant to study sustained attention in epilepsy patients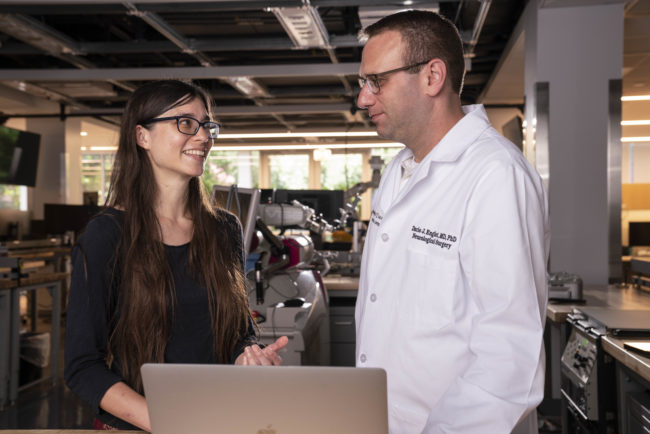 A team led by a neurosurgeon-scientist and an engineering professor who specializes in techniques for analyzing functional neuroimaging data has received a $3 million basic research grant (R01) from the NIH to study disturbances in brain networks related to attention lapses and cognitive deficits in patients with temporal lobe epilepsy (TLE).
Dr. Dario Englot and Catie Chang, both VISE affiliates, hope understanding these brain network problems may lead to new surgical or behavioral interventions to improve the quality of life for epilepsy patients. Englot, surgical director of epilepsy at VUMC, is an assistant professor of neurological surgery, electrical engineering, radiology and radiological sciences, and biomedical engineering. Chang is an assistant professor of computer science, electrical engineering, computer engineering, and biomedical engineering.
Using a novel approach that integrates multi-modal imaging with in-depth neurocognitive assessments, the project aims to identify specific areas of brain connectivity where vigilance, or sustained attention, is disturbed and may contribute to neurocognitive decline.
"We hope to fill a critical gap in our understanding of the brain network mechanisms underlying neurocognitive problems in TLE," Englot said. "The results will also inform clinical treatment decisions in TLE, and may help us find new targets for brain stimulation therapies."
About 1 percent of the population has temporal lobe epilepsy, the most common type of epilepsy.  A devastating neurological disorder, TLE causes patients to have frequent consciousness-impairing seizures, broad neurocognitive deficits, and a diminished quality of life. These seizures originate in the hippocampus or amygdala, yet TLE patients show cognitive deficits not associated with temporal lobe function, including declines in executive function, cognitive processing speed, and attention.
The team believes consciousness-impairing seizures in TLE may cause functional connectivity disturbances between subcortical vigilance centers and the cortex. The project will involve neuroimaging studies that relate vigilance to brain connectivity, cognition to vigilance, and connectivity to cognition.
"By integrating these neuroimaging and cognitive measurements, we will be able to deeply investigate the links between them and gain a more complete understanding of human brain networks involved in vigilance," Chang said.
Chang's expertise is in multi-modal imaging of dynamic brain states; time-resolved analysis of functional networks; neural and physiological basis of fMRI signals/networks; and methods for improving the quality of fMRI data. The research will include using simultaneous fMRI-EEG and compare measures of healthy control patients with those of patients who have TLE.