Faculty Funding Opportunity:
Provost's Faculty Immersion Grant
All Vanderbilt faculty are invited to apply now through December 3, 2023 for the Provost's Faculty Immersion Grant!
Funds support faculty who are mentoring immersive experiences and advising final culminating projects that qualify for Immersion Vanderbilt.
Details can be found on the application page.
Questions can be directed to experiential.learning@vanderbilt.edu.
For more information on funding dedicated to faculty, please visit the Faculty Adviser Resources Page.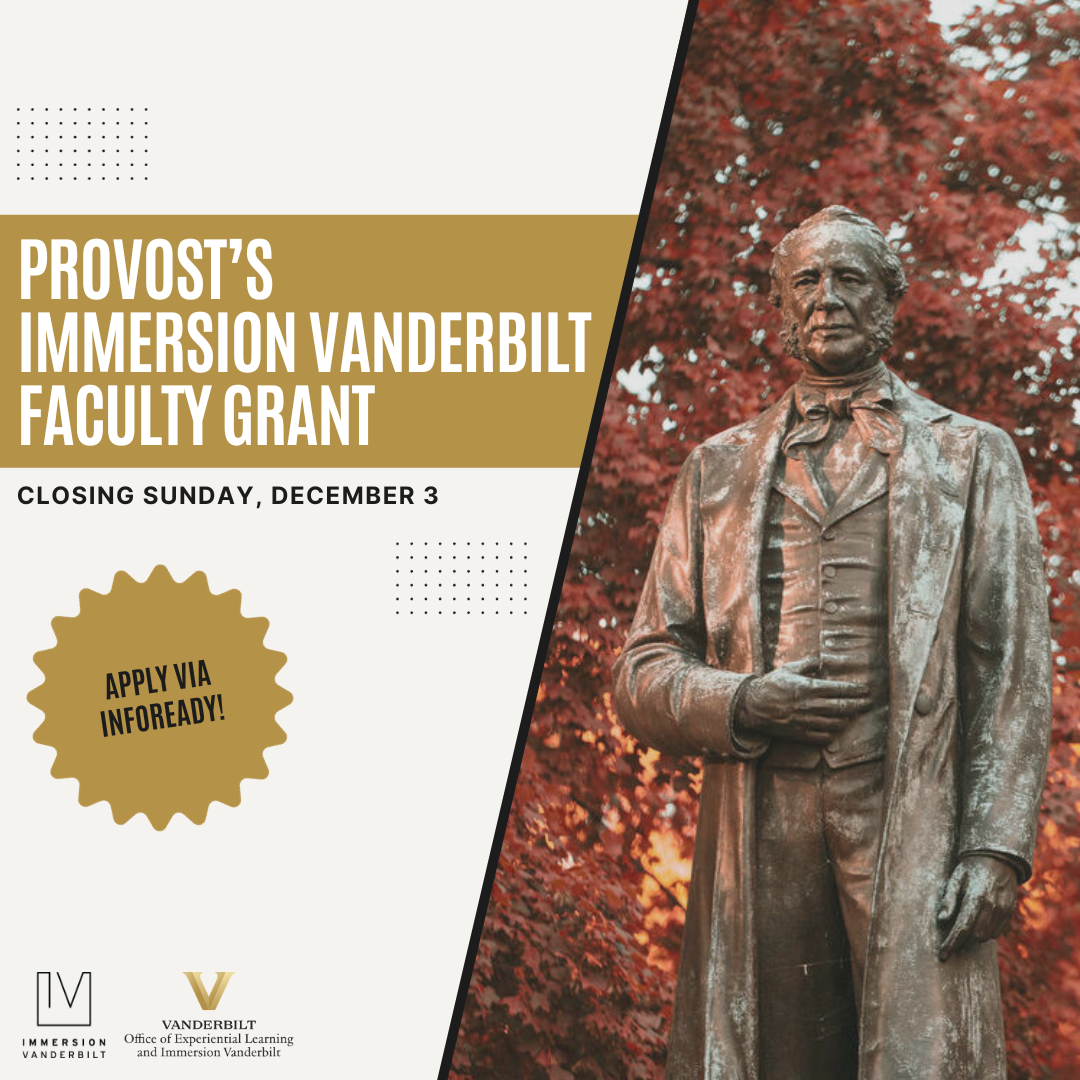 Undergraduate Funding Opportunities
There are numerous funding sources available to support immersive experiences and culminating projects for Immersion Vanderbilt. Refer to the list below for more information about these opportunities.
Priority for awards are made to those students who have not yet received funding.
For detailed information about specific funds, visit the respective award application page.
Please note that guidelines are subject to change.
Program
How to Apply
Application Dates*
Eligibility & Program Information
Award/Stipend Amount
Contact Information
Ingram, Cornelius Vanderbilt, & Chancellor's Scholars
Learn More About Merit Scholarships
Eligible candidates identified by OSFA
• Ingram Scholars will conduct a summer service project for 8 weeks following their sophomore year aided by a summer stipend.
• CV and Chancellor's Scholars may apply to use their summer stipend for any qualifying immersive experience during the summer months preceding their senior year.
Ingram:
$7,000

CV & Chancellor's:
$6,000
Ingram:
Email Kelly King
CV and Chancellor's:
Email Experiential Learning
Crescere Aude Scholarship
Contact EL&IV for more info.
Eligible candidates identified by OSFA
• A select number of incoming first year students are chosen to receive the Crescere Aude stipend.
• Recipients may apply to use their summer stipend for any qualifying immersive experience during the summer months preceding their senior year.
• Contact EL&IV for more information on qualifying immersive experiences.
$6,000
Email Experiential Learning
Additional Merit Scholarship Opportunities
Learn More About Additional Merit Scholarships
Eligible candidates identified by OSFA
• Please see OSFA's website for additional information for each scholarship.
Varies by scholarship
Email Scholarships
Vanderbilt Undergraduate Summer Research Program (VUSRP)
Apply for VUSRP
Opens: Oct
Closes: Jan/Feb
• Must be an enrolled Vanderbilt student during program dates.
• Must engage in 10-weeks of fulltime research with a VU faculty member from any discipline or subject area.
• Must present at the undergraduate research fair.
$5,000 with some $6,000 stipends available for exceptional applications.
Email Experiential Learning
Nichols Humanitarian Fund
Apply for Nichols Humanitarian Fund
Opens: Oct
Closes: Jan
• Students must demonstrate financial need.
• Must be an enrolled Vanderbilt student during program dates.
• Projects must be service-based but may focus on any area of work (e.g. education, women's rights, poverty, healthcare, etc.)
• Projects should be a minimum of two weeks in length and program locations are subject to review and approval by Office of Global Safety.
Varies by need and budget
Email Experiential Learning
Education Enhancement Fund
Apply for the Education Enhancement Fund
Opens: Sept 1
Closes: May 31, or while funds last
• Open to undergraduate students completing immersive experiences and/or projects.
• No restriction on location or type of experience.
• Students must demonstrate financial need.
Varies by need and submitted budget. Not to exceed $5,000. Full awards are not guaranteed with partial awards commonly made.
Email Experiential Learning
Joe C. Davis Fund
Apply for the Joe C. Davis Fund
Opens: Late Fall
Closes: May 31, or while funds last
• Open to undergraduate students completing immersive experiences and/or projects in the Nashville or Middle TN area that benefits a community or organization.
• Preference given to civic engagement, community engagement, and professional development and engagement.
Varies by submitted budget. Not to exceed $5,000. Full awards are not guaranteed with partial awards commonly made.
Email Experiential Learning
A&S Immersion Micro-grants
Apply for the A&S Immersion Microgrant
Opens: Sept 5
Closes: May 31, or while funds last
• Open to undergraduate students who are enrolled in a primary or secondary A&S major who need financial assistance with their immersive experience and/or project.
Varies by submitted budget. Not to exceed $3,000. Full awards are not guaranteed with partial awards commonly made.
Email Experiential Learning
Global Summer Fellows
Apply for Global Summer Fellows
Opens: Nov
Closes: Jan
• Provides financial support to Vanderbilt undergraduate students participating in Vanderbilt-approved credit-bearing Summer and Maymester programs abroad.
• All awarded scholarships are need-based.
• Minimum GPA of 2.7 required.
Varies by need and program
Email Experiential Learning
Summer Keegan Traveling Fellowship
Apply for the Summer Keegan Traveling Fellowship
Opens: Nov. 1
Closes: Jan. 17
• The Summer Keegan allows for rising juniors and seniors to travel to at least three countries on no more than two continents, learning everything they can about a topic of their choosing.
$5,000
Email Christina Cunningham
Vanderbilt Summer Science Academy (VSSA)
Apply for VSSA
Opens: Oct
Closes: Feb
• Open to undergraduate students pursuing 4-year degrees from all universities.
• Students apply for summer positions in biomedical research labs in the VU School of Medicine.
Varies by research program/lab.
Email VSSA
Vanderbilt Undergraduate School of Engineering Summer Research Program (VUSE)
Apply for VUSE
Opens: Jan
Closes: Feb
• Open to undergraduate students pursuing 4-year degrees from all universities.
• Not limited to engineering majors.
• 3.5 or above GPA strongly recommended.
• Engage in 10-weeks of on-campus research with a VU faculty member and a poster presentation.
$6,000
Email VUSE Summer Research
Data Science Institute - Summer Research Program
Apply for Data Science Institute Summer Research Program
Opens: Nov
Closes: Feb
• Must be an enrolled Vanderbilt student during program dates.
• Must engage in 10-weeks of fulltime data science-focused research with a VU faculty member.
• Must present at the undergraduate research fair.
$6,000
Email Data Science
Data Science for Social Good
Apply for Data Science for Social Good Program
Opens: Nov
Closes: Feb
• Must be an enrolled Vanderbilt student during program dates.
• Participants engage in a ten-week fulltime experience as part of a data science team on a pre-selected project for a not-for-profit organization, Vanderbilt group, or government organization.
• Preference given to applicants with at least a 3.0 GPA
$6,000
Email Data Science
Biomedical Informatics Summer Research Internship
Apply for Biomedical Informatics Summer Research Internship
Opens: Dec
Closes: Feb
• No limitations on academic level or institution; open to graduate, undergraduate, and high school students.
• Must be a U.S. citizen or permanent resident.
• Must engage in 10-weeks of fulltime research.
• A background in programming and a moderate understanding of using computer technology is an advantage. Varies by research mentor.
Varies by program
Email Kim Unertl
SyBBURE Undergraduate Research Program
Apply for SyBBURE Undergraduate Research Program
Opens: Oct
Closes: Nov
• Open to first and second-year undergraduate students at Vanderbilt University.
• Able to participate in the program for at least the entire calendar year following acceptance
• Eligible to work 8 hrs/week during the academic year and 40 hrs/week during the summer in a scientific research lab.
Up to $1,000 a week each semester with a $6,000 stipend plus $1,000 cost of living allowance in the summer.
Email SyBBURE
Career Center Levy Internship Fund
Apply for the Levy Internship Fund
Opens: Oct/Jan
Closes: Nov/Feb
• Undergraduate first-year through junior students who receive or who are eligible to receive need-based financial aid are eligible to receive the Levy Internship Fund.
• Qualifying internships include a minimum of 8-week summer unpaid or underpaid internship experiences.
$6,000
Email Career Center Financial Support
Career Center Lovinger Family Internship Fund
Apply for the Lovinger Family Internship Fund
Opens: Oct/Jan
Closes: Nov/Feb
• Open to undergraduate students who are completing low or no-pay internships in media-related careers, regardless of location.
• Award amounts are determined by several factors, including financial need, location, hours per week, and anticipated graduation date.
Up to $5,000
Email Career Center Financial Support
Career Center Vandy-in-Hollywood Internship Fund
Apply for the ViH Internship Fund
Opens: Dec
Closes: Jan
• Open to undergraduate students who have been accepted into the Vandy-in-Hollywood Internship program to help offset costs of low or no-pay internships.
• Award amounts are determined by several factors, including financial need, location, hours per week, and anticipated graduation date.
$1,500 - $3,000
Email Career Center Financial Support
Career Center Commodore Closet for Professional Attire
Apply for the Commodore Closet
Opens: Fall
Closes: While funds last
• Open to current undergraduate or graduate student in good academic standing.
• Qualifies for financial aid.
$350 Macy's Gift Card
Email Career Center Financial Support
Peabody Honors Scholars Summer Experience
Apply for Peabody Honors Scholars Summer Experience
Opens: Early Fall
Closes: Nov
• Open to first year student who achieve academic distinction during their first semester at Vanderbilt.
• Summer stipends are provided to participants in the summer between sophomore and junior years to support engagement in a service-learning project.
Contact
Professor Megan Saylor for more info.
The Wond'ry Sullivan Family Ideator
Apply for the Sullivan Family Ideator
Opens: Various program applications on a rolling basis
• The Sullivan Family Ideator assists university innovators (student, faculty, staff members or alumni) across the Southeastern U.S. who want to take the ideas and learn an evidence-based approach to idea evaluation.
Limited number of microgrants
Email The Wondry
The Wond'ry Builder Program
Apply for the Builder Program
Opens: New program sessions begin each semester
• Builder provides a step-by-step guide for aspiring entrepreneurs (faculty, staff, students, and alumni) across the Southeastern U.S. with a viable early stage idea to actually launch a new venture. Builder is the perfect next step for graduates of the Wond'ry Ideator program.
Limited number of microgrants
Email The Wondry
The Wond'ry Founder Program
Apply for the Founder Program
Opens: Applications open year-round.
• Applicants should have completed the Wond'ry's Sullivan Family Ideator Program and/or the Builder Programs, NSF I-Corps, or have clear evidence to show customer discovery has been undertaken.
Contact the Wond'ry for more Info
Email The Wondry
The Wond'ry Innovation Opportunities
Apply for the Innovation Opportunities
Opens: Applications open year-round.
• The Wond'ry offers a variety of different programs for undergraduate, graduate, staff and faculty. Program eligibility varies by program.
Varies by program
Email The Wondry
The Wond'ry General Sponsorship Requests
Contact the Wond'ry for More Info
Opens: Requests accepted year-round.
• Funding may be available for student experiences and projects with relevance to ongoing Wond'ry programs, such as entrepreneurship, innovation, design, and social innovation.
Contact the Wond'ry for more Info
Email The Wondry