Study Abroad in the Fall
While Vanderbilt students are studying abroad in increasing numbers, fall study abroad is an option that many students do not take full advantage of. The fall semester provides a wonderful opportunity to embark on your study abroad experience and we encourage students to consider the potential benefits of studying abroad in the fall—including a special early registration benefit for your return in the spring!
Early Registration (Fall Study Abroad Only!)
Career Resources
Program Competition
More Relaxed Preparation
Timed to Give You More Freedom
Better Weather
Heightened Cultural Immersion
Lower Costs
Please note that the monetary incentives for studying abroad that were previously available from our study abroad partners are no longer being offered.
Early Registration for the Spring Term
We understand that for students abroad in the fall, time zone differences make registering for on-campus courses a pain. However, when you study abroad in the fall on a GEO-administered program, you will be able to enroll early for your spring courses back at VU. Prior to going abroad, you will receive information indicating your early registration window date, so you can register before your stateside peers. This special benefit is available only to students abroad in the fall.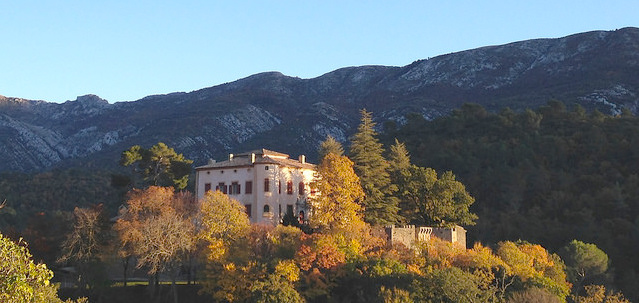 Picasso's Château, Vauvenargues, France. Courtesy of Olivia Snow Gilmore
Career Resources
Connect with a Career Coach to discuss how studying abroad might benefit and intersect with your job or internship search. Recruiting for internships and post-grad jobs takes place year-round, and most organizations are open to distance recruiting through Skype or other platforms. You can meet virtually with recruiters and prospective employers throughout the year, regardless of when you study abroad. See more regarding how the Career Center supports study abroad students.
Also be aware that many study abroad programs offer internship, volunteer/service learning, and/or research experiences that provide valuable skills for the workplace and future graduate study. You can also use your study abroad time to develop connections and network with potential internship or employment sites. When you return from fall study abroad you will have many opportunities to participate in Career Center offerings including the spring SLAMs, networking events, employer information sessions, on-campus interviews, and receive coaching on how to leverage your international experience to improve your career prospects. More on the timing of career counseling and career search.
Program Competition
Some popular VU abroad programs have capacity issues in the spring. This is not usually a concern in the fall, as lower fall enrollments nationwide mean a greater likelihood that you'll get into your top-choice program! At many programs lower enrollments also equate to smaller class sizes and greater access to professors, especially in programs that utilize the study center model of instruction. Speak with a GEO advisor to see how this might play out at your destination.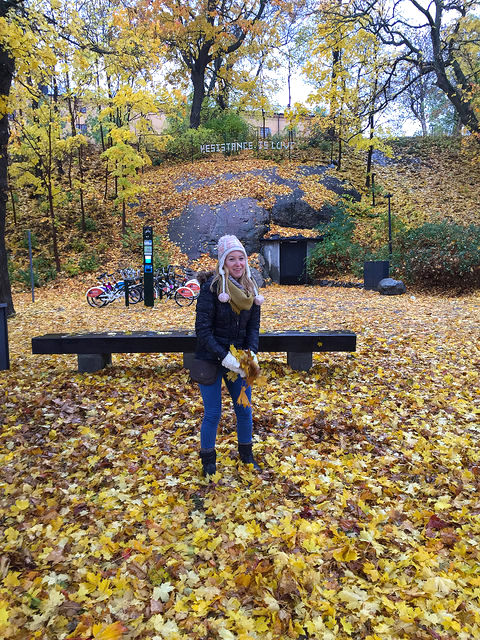 More Relaxed Preparation
Spring study abroad often requires a scramble to get all your preparations in order in the month or so after you've been accepted. Fall study abroad allows you to use the summer months to obtain passports and travel visas, shop, and pack in less of a frenzy.
Timed to Give You More Freedom
Most international universities run their spring semesters into late May or June, which can conflict with summer work opportunities. Returning from a fall abroad to a spring semester in the US will allow you to fully prepare for and participate in internships, research positions, and jobs during the summer.
Additionally, spending the spring semester at Vanderbilt allows you to participate in Rites of Spring, join spring break service trips, experience our arboretum in bloom, and be with family for spring holidays.
Better Weather
Remember that "spring semester" is a bit of a misnomer. The weather doesn't really turn until mid-April in Nashville. This is true in other northern hemisphere countries as well. Spending August through December abroad is often a much more pleasant experience than January through May, especially if you prefer warm weather and avoiding snow/rain. Check the average monthly high/low temperatures of your destination city to verify.
Heightened Cultural Immersion
With fewer Americans participating in study abroad programs and engaging in tourism in the fall, the opportunity for meaningful cultural immersion with local people is significantly increased. Smaller cohort sizes also increase the likelihood that you'll snag your first choice in immersive international learning experiences such as internships, service opportunities, and research placements.
Lower Costs
Some study abroad programs, especially in Europe, are longer—and thus more costly—in the spring semester than the fall. April, May, and June also see increased tourist traffic, meaning hotel, airfare, food, and incidental costs may be significantly higher. Fall study abroad can be a lower-cost option overall.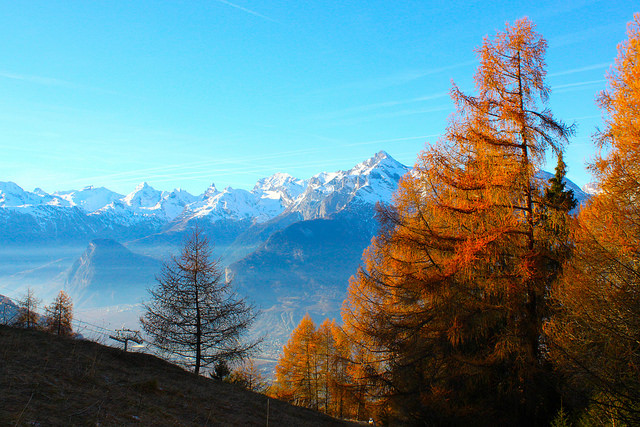 Fall colors in December with a view of the Alps, Vessoynaz, Switzerland. Courtesy of Amanda Polhemus.