Unearthing New Discoveries: Mapping Nacimiento through Soil Samples with Machine Learning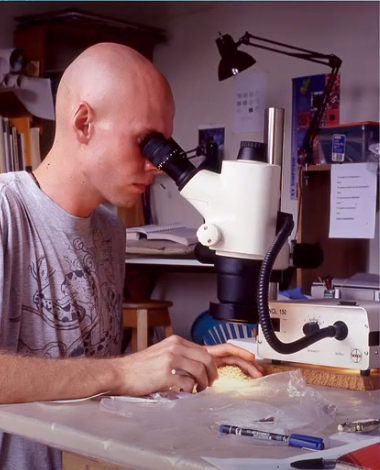 What was life like for ordinary citizens in ancient civilizations?  What were their activities in their daily lives – walking the same ground that we walk today?  Archaeologist and Associate Professor of Anthropology Dr. Markus Eberl seeks to answer these questions for the the small Mayan site of Nacimiento in the Petexbatun region of Guatemala during the 7th and 8th centuries.
This collaborative effort between the Department of Anthropology and the Data Science Institute (DSI) focuses on identifying the locations of ancient stone tool manufacturing areas by determining the concentration of lithic microdebitage (small debris of ancient stone tool-making) within soil samples collected from the village. Dr. Eberl's procurement of the PartAn 3D analyzer, which provides measurements and images of each particle, provided an avenue to perform automated classification of a vast number of particles based on their dimensions and characteristics rather than by manual inspection by microscope.
In Spring 2021, a hybrid team of undergraduates with backgrounds including economics, archaeology, and cognitive studies – graduate and doctoral students – and DSI data scientists dove into this project alongside Dr. Eberl to make this automation a reality.  The team created predictive models based on the measurements from the analyzer, resulting in models with strong performance in classification.  Armed with the skills gathered through this fruitful endeavor, Dr. Eberl's team continued and expanded the work during the summer and with a DSI Summer Research Program participant by using the particle images for classification.  The team also expanded particle types to include other labels (i.e., sand, chert) for enhanced insight into the composition of the soil.  The engagement led to new collaborations within the Archaeology department, and Dr. Eberl's team is in the midst of arranging the work into both a publication and shareable code for other PartAn users.
To learn more, watch Dr. Eberl's video on his work on Youtube!