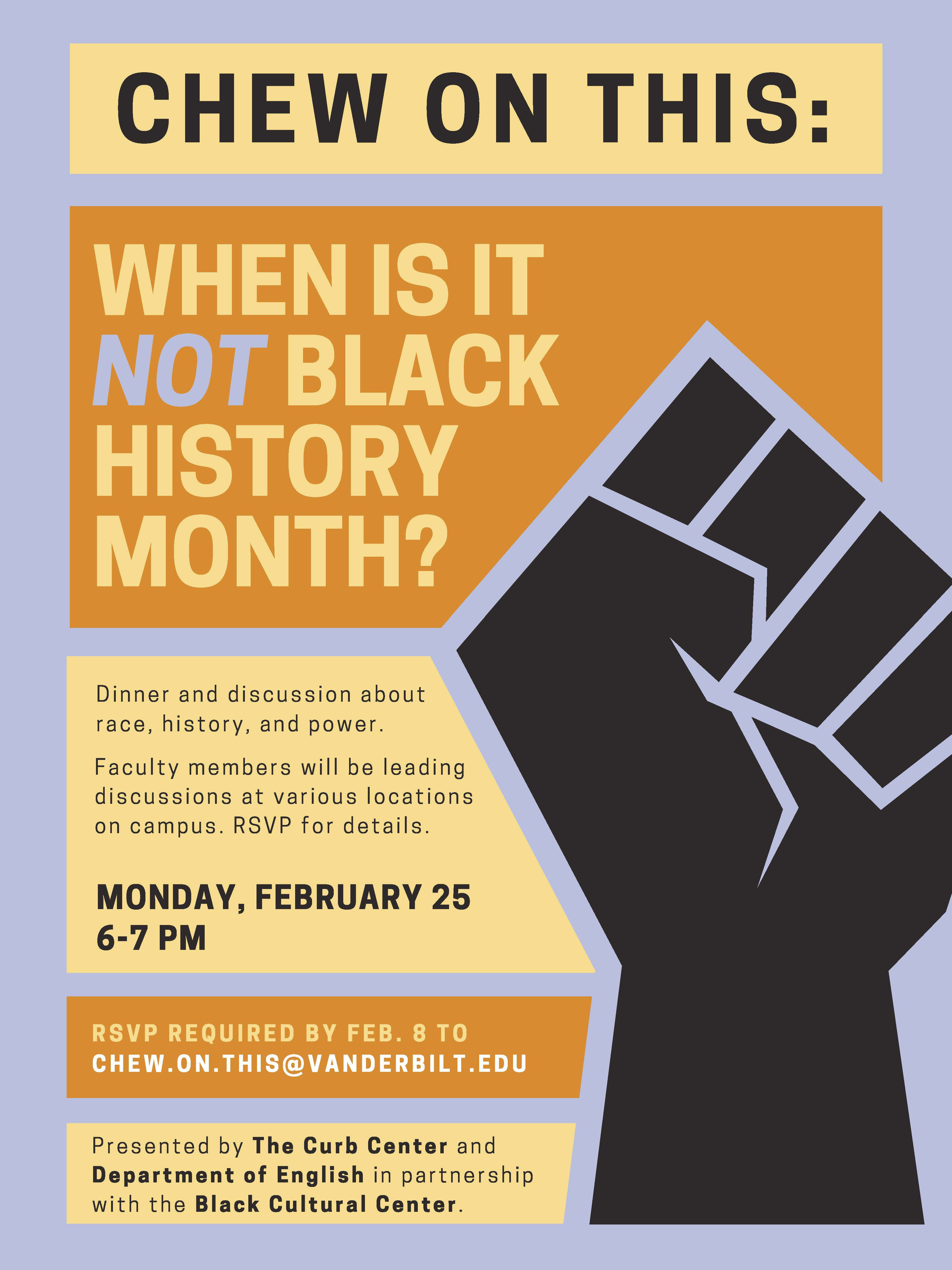 Chew on This: When is it Not Black History Month?
Monday – 6:00 – 7:00 pm
Dinner and discussion about race, history, and power.
Faculty members will be leading discussions at various locations on campus. RSVP by Feb 8 for more details
Presented by the Curb Center for Arts, Enterprise and Public Policy and the Department of English in partnership with the Black Cultural Center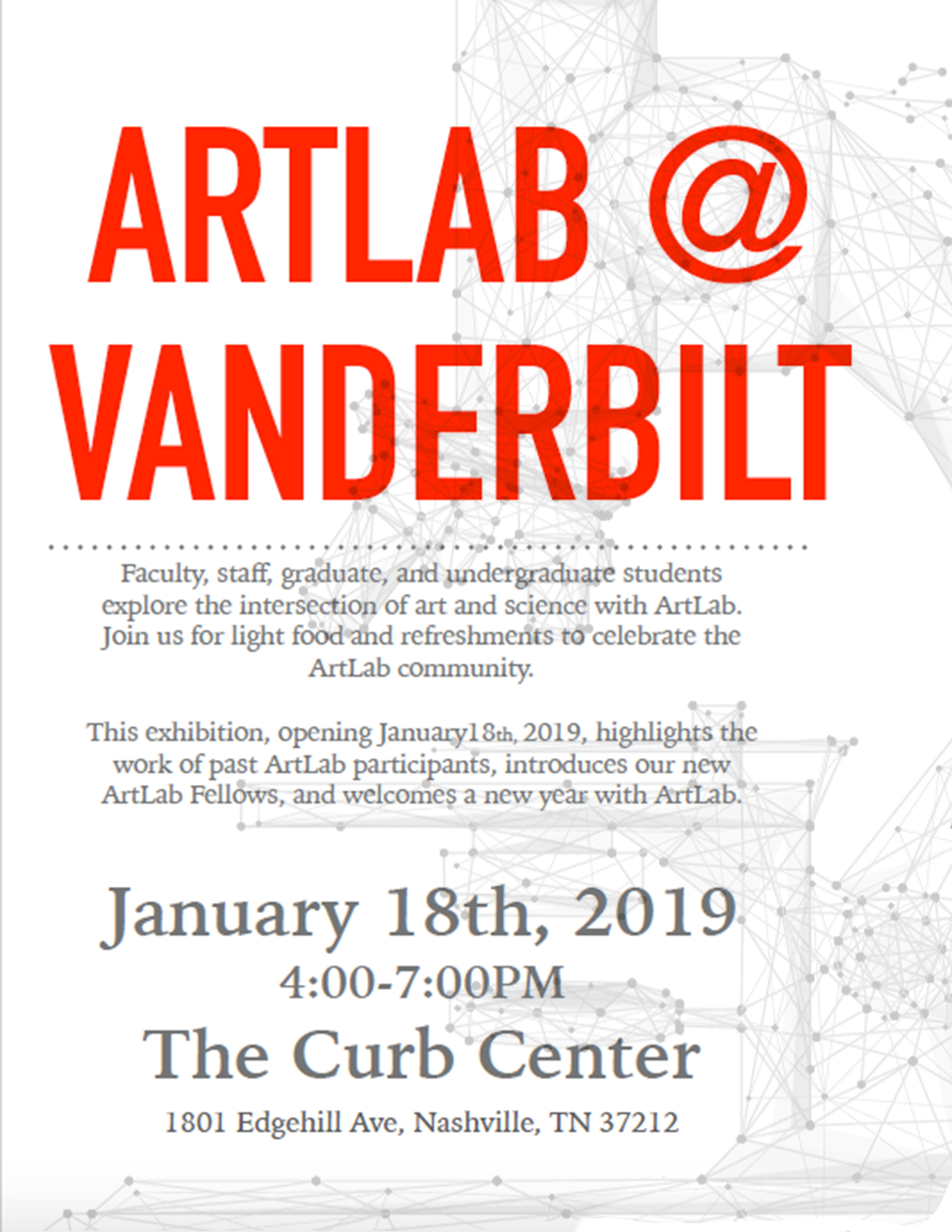 ArtLab @ Vanderbilt 'Connecting the Dots'
Curb Gallery Art Exhibition
Monday – Friday, 9:00 am – 5:00 pm at The Curb Center
Free and Open to the public
"Connecting the Dots" opens on January 18 at The Curb Center (1801 Edgehill Ave). The exhibit will remain on display until March 15. This event is free and open to the Vanderbilt Community.
The ArtLab aims to connect artists and scientists within the Vanderbilt community. Participants gain experience in artistic and scientific processes and contribute to a piece of work that will be shown during the final exhibition. This exhibition is a show to highlight ArtLab at Vanderbilt. Featuring the work of a number of artists and scientists, the show will bring together members of the ArtLab community, expand the programs reach, and highlight a few key ArtLab fellows who have made a particular impact. Featured artists include Jamie Wenke, Jacob L. Steenwyk, Eve Moll, Marilyn Murphy, and Kendra Oliver.
For more information on ArtLab @ Vanderbilt go to the ArtLab website.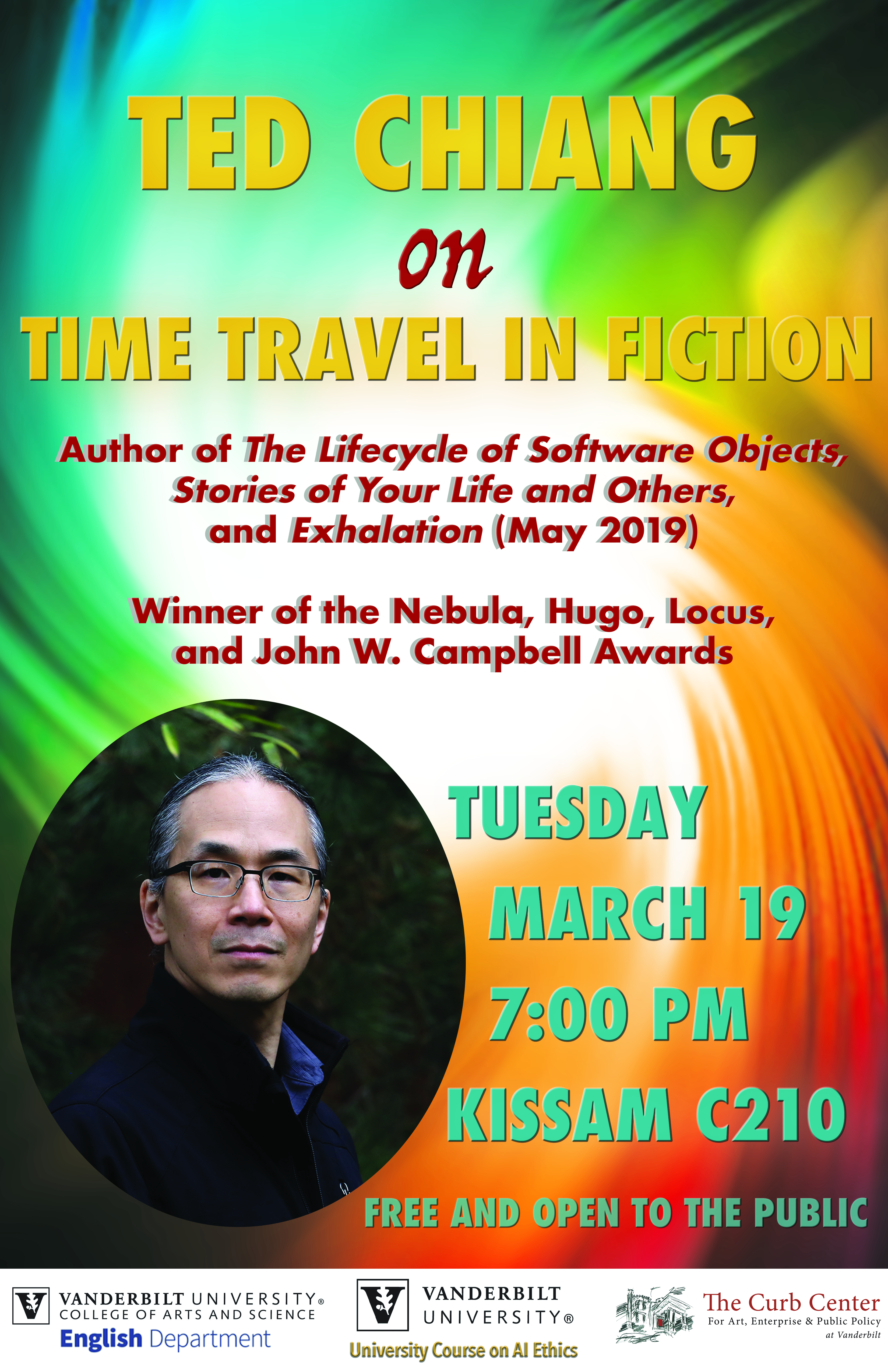 Ted Chiang on Time Travel in Fiction

Tuesday, 7:00 pm at Kissam C210
Free and Open to the public
Ted Chiang will lecture on the idea and literature of time travel. Ted Chiang is the author of "The Lifecycle of Software Objects", "Stories of Your Life and Others", and "Exhalation". Chiang has won numerous awards including four Nebula awards, four Hugo awards, the John W. Campbell Award for Best New Writer, and four Locus awards. His short story "Story of Your Life and Others" was the basis of the film Arrival (2016).
This event is sponsored by the Vanderbilt University English Department, University Course <Ethics of Artificial Intelligence> and the Curb Center for Arts, Enterprise and Public Policy.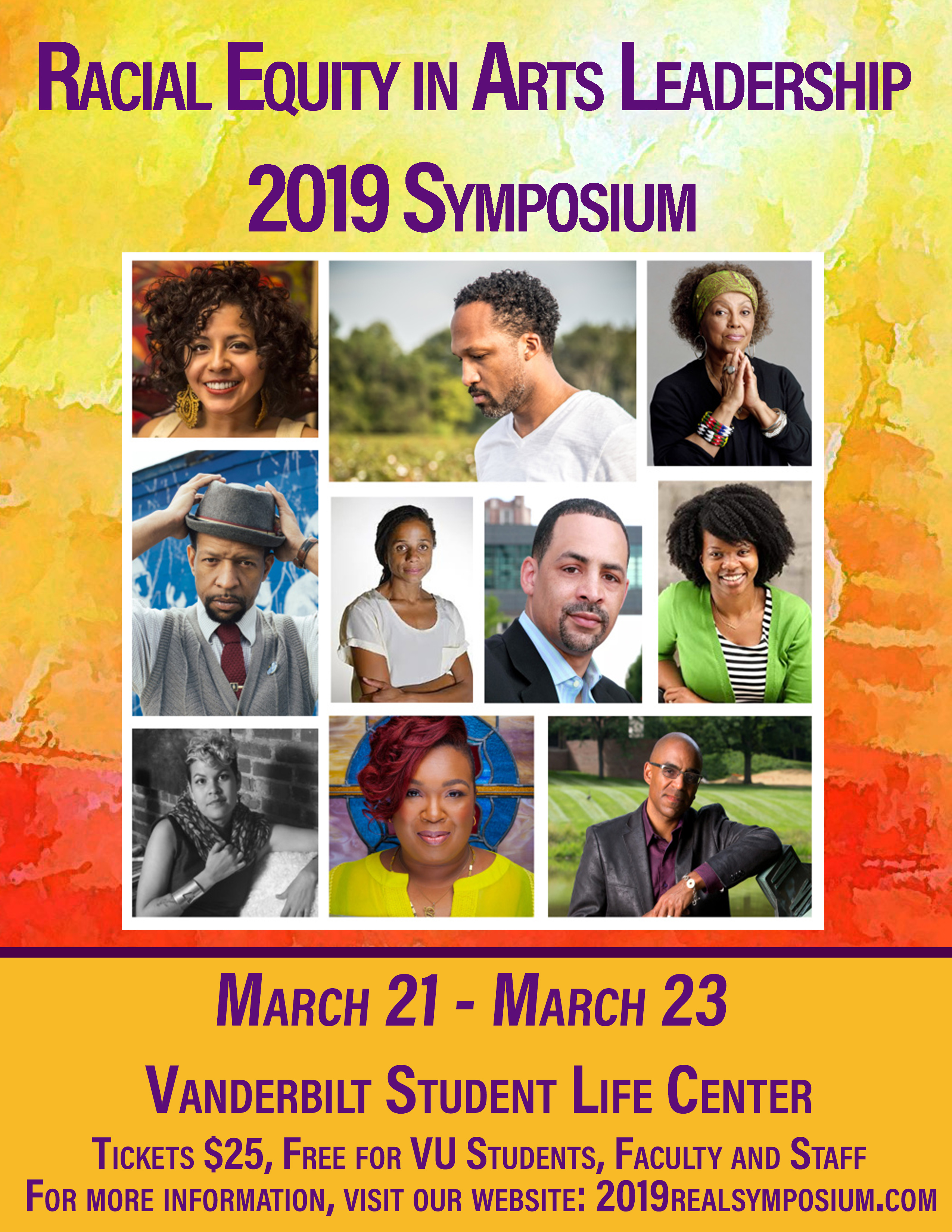 March 21 – 23
Racial Equity in Arts Leadership Symposium
Visions of REAL in Practice: Transforming the World through Art & Culture
Thursday, March 21 – Saturday, March 23 at the Vanderbilt Student Life Center
Registration $25 includes all 3 days of programing.
Vanderbilt University's Curb Center for Art, Enterprise & Pubic Policy has partnered with the Metro Nashville Arts Commission in the Racial Equity in Arts Leadership (REAL) Program to develop insight into how institutional practices around arts programming, artists development, and funding and hiring processes can advance racial equity in our community.
Curb Center and Metro Arts believes it is time to broaden the conversation through a national symposium, convening arts policy leaders, arts administrators, cultural equity organizations, individual artists, and grantmakers to discuss challenges and share best practices as we work to build more equitable practices into arts institutions at all levels.
We invite you to join us this March as we work towards an arts-based, participatory action/research approach to uncover the next layers of meaning, exploration and best practices in the critical work of building the capacity of cultural and creative institutions in driving racial equity and civic engagement for all.
Please visit our website for more information: https://2019realsymposium.com/
Throughout the year the Curb Center graciously hosts a variety of events open to students, faculty, and staff. Our workshops, seminars, and panels strive to educate the public and enrich the arts at Vanderbilt and the community at large.