Destination Vanderbilt
Launched in September 2020, Destination Vanderbilt is a $100 million university excellence initiative to recruit new faculty. Over the next two to four years, the university will leverage the investment to recruit approximately 60 faculty who are leaders and rising stars in their fields.
At a pivotal time for leading research universities and higher education, the university is stepping up to attract the world's top scholars to join Vanderbilt in our mission of providing an empowering education and advancing critical research breakthroughs.
The approximately 60 new faculty hires will represent an increase of approximately 50 percent above the usual hiring rate over the past three years. The new hires will be in addition to existing faculty hiring plans for each Vanderbilt school and college.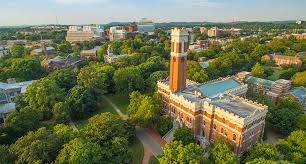 To recruit new faculty who bring high levels of expertise and a broad range of viewpoints, individual schools and colleges will provide proposals and strategies to address their specific context and needs. While many components of the search authorization and launch will follow standard faculty recruiting processes, the specifics of this initiative will be discussed in more detail and addressed collaboratively across campus.
Vanderbilt is in a unique position to build on and accelerate inclusive excellence strategies, and the investment will help ensure continued momentum toward making Vanderbilt University the destination of choice for faculty, staff and students.
Read the launch announcement here.