ESI Group Visits Coon Creek Science Center
On Saturday, 3/26/22, a handful of members of the Evolutionary Studies Initiative took a field trip to Coon Creek Science Center (CCSC) to dig for fossils. It was a beautiful day where many trainees that have never studied paleontology got to get out and do some field work.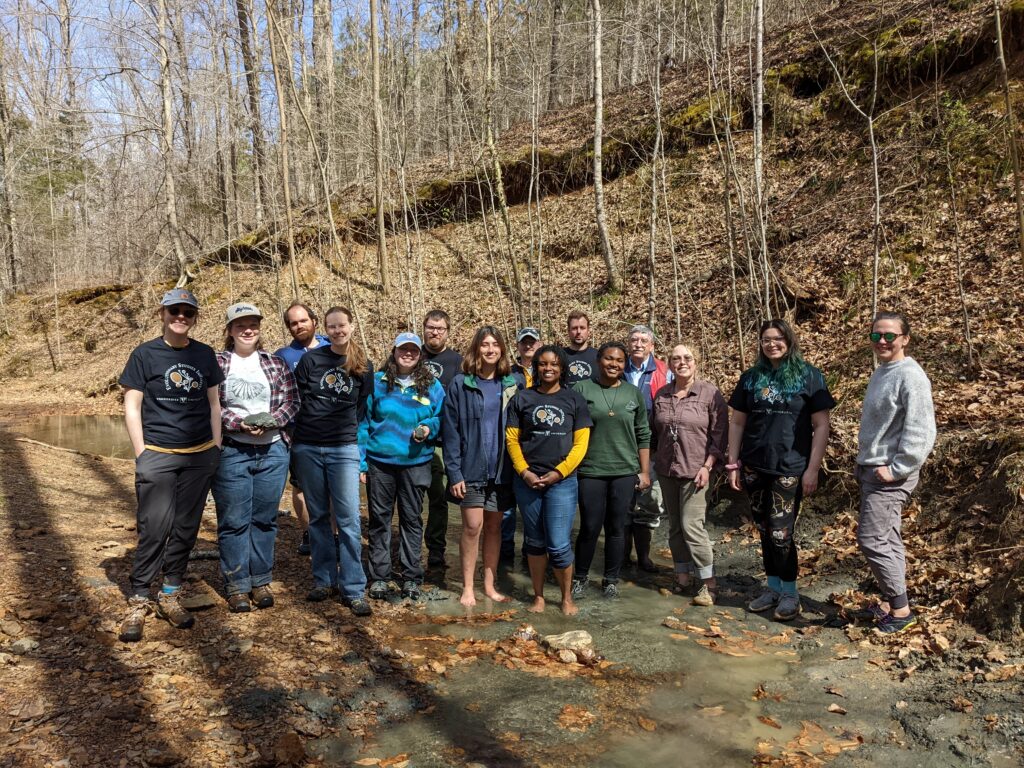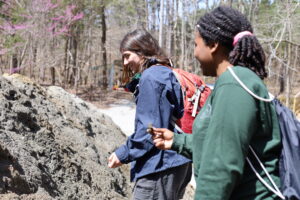 Michael Gibson, a faculty at the University of Tennessee, Martin, runs the CCSC. He provided expert guidance as the group took a trip back in time to the Late Cretaceous epoch. ESI reseearchers present included Simon Darroch (EES), Rachel Racicot (BSCI), and Larisa DeSantis (BSCI). The trainees consisted of undergraduates, graduate students, and postdoctoral researchers. While several trainees in attendance are in the Earth and Environmental Studies program (Paleontology) at Vanderbilt, others joined from a variety of non-paleontology labs, including those that study fungal pathogens, neurobiology, and mathematical models of disease.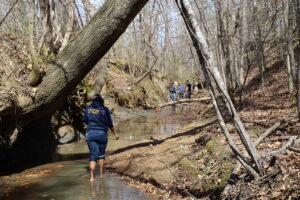 Gibson led the group in an hour-long information session about the fossils, how old they are, and where they came from. After a break for lunch around an open flame grill, the group broke to go fossil hunting.
The site features two areas to explore for those seeking a fun day trip (reservations required). In one spot, an earthmover comes along every couple of years to dig up some of the ground and deposit in a hill for easy access. The weather helps strip away some of the material surrounding the fossils. From this area, Darroch was excited to find and show the group the Tennessee state fossil straight away, a bivalve called Pterotrigonia thoracica.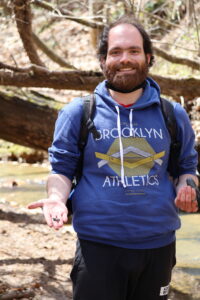 The second area is in the creek itself, where slightly acidic water flows through and degrades any exposed shells. The shells are calcium-based and break down in the water. The area of creek available to explore is about a half mile in length and has twists and turns through water never much deeper than a foot. Students found 70-million-year-old shrimp claws, oyster shells, and plenty of beautiful mother of pearl – though no mother of pearl were successfully retrieved without being damaged.
When one of the trainees asked about the dirt surrounding the fossils, Gibson explained that what the group was removing was not dirt at all, it was actually seafloor. The fossils were left behind as the Gulf of Mexico seceded that once covered this part of Tennessee. Learn more about the CCSC following this link or find them on Facebook. Images credited to Tatum Lyles Flick.
This slideshow requires JavaScript.