Grade 12: Advanced Research
Grade 12: Advanced Research
The goal of this course is to challenge students to improve their written and oral communication skills regarding their project and its outcomes to the scientific community. Students continue to work in their labs for
approximately 5 hours per week to further their research project and in addition, they meet for 2 hours per week as a group to learn both written and oral scientific communication skills. Students work closely with an advisor to prepare a written scientific report of their project and subsequently submit it to national science competitions (e.g., Regeneron Science Talent Search) as well as prepare an oral presentation of this project.
In their final semester at the School for Science and Math, students utilize the research skills that they have learned to tackle local issues in the Nashville community. Students work with various community and academic research groups including the Nashville Metro Health Department, the Vanderbilt Institute for Energy and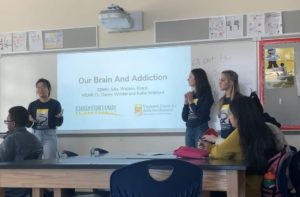 the Environment, and the Center for Translational Research to develop and explore questions surrounding the Nas
hville community. Projects that students work on include looking at childhood obesity, the effects of fertilizer application on greenhouse gas emissions, and how natural disasters affect the treatment of chronic illnesses. At the end of this semester, students write up their findings and present what they have found in a public forum of their choosing.
CONNECT WITH SSMV