Prospective Students
Hear what students, faculty, and alumni are saying about the SSMV!
Are you up for the challenge?
We live in a fast-paced world that requires a society and workforce with strong science and technology backgrounds. The School for Science and Math at Vanderbilt (the SSMV) seeks highly-competent and motivated 8th grade Metro Nashville Public Schools (MNPS) high school students who are: 
passionate about science and math,

 

ready to apply themselves as today's problem solvers, and 

 

interested in becoming tomorrow's leaders. 

 
*Per MNPS policy, students must attend district-operated high schools in order to be eligible for the SSMV. Applicants who attend charter, homeschool, or out-of-district middle schools when applying must indicate that they intend to enroll or apply for a lottery position in a district-funded high school. If selected or wait listed, students must report their intended district-operated high school to the SSMV by May 13, 2022 of the current application year to remain eligible to participate. 
The SSMV will prepare students to successfully engage in college studies at an accelerated rate, promote pursuit of graduate, postgraduate and professional study, and provide the strong foundation crucial for career success. This unique program is limited to 26 students per grade, and only those attending an MNPS school are eligible. To ensure every qualified student who is chosen can participate, there is no charge for the program. 
What Do Students Study at the SSMV?
Students pursue a curriculum that connects sciences, technology, engineering, and mathematics through meaningful and engaging hands-on exploration with increasing depth and independence.
The curriculum integrates cutting-edge, real-world content such as:
Conducting water quality evaluation of local waterways using research tools such as multiprobes, student-built velocity meters, and chemistry tests,

Visiting Vanderbilt facilities such as the LASIR lab, then

building and testing devices using engineering principles and materials (Arduinos, concrete composites) in class,
Examining the microbiology of our food, our bodies, and our surrounding environment through laboratory experiments that analyze genetics and diversity of life.
In the summer, students will build critical thinking skills through completion of research projects and internships. Numerous Vanderbilt faculty, postdoctoral fellows, and graduate students contribute instructional time as well.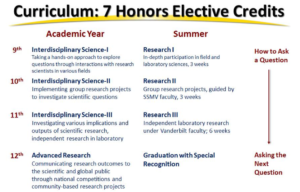 Beyond the fast-paced and exciting curriculum, a student at the School for Science and Math: 
will commit to the program for the entire four years including  

academic year and summer courses

;

 

will attend the SSMV on Vanderbilt's campus one full day per week in 9th and 10th grade

 
will attend* SSMV classes and work in an assigned laboratory on Vanderbilt's campus to fulfill 11th and 12th grade requirements;

 

must make up all work missed at their zoned (regular) school;

 

must maintain excellent standing in both the SSMV and their zoned school.

 
How Does the SSMV Work?
Each week, SSMV students attend class one day on the Vanderbilt campus and their regular high schools the other four days. SSMV students also complete all missed work at their high schools.
SSMV class runs from 8:00 a.m. to 2:00 p.m. with an optional three-hour study period from 2:00 to 4:30 p.m. MTA bus access is provided to all students. SSMV is free of charge to MNPS students.
SSMV Class Days on Vanderbilt's Campus: 
Freshmen – Mondays
Sophomores –  Wednesdays
Juniors – Thursdays
Seniors – Tuesdays
Visit our Frequently Asked Questions page to find out more about the SSMV.
Beyond the SSMV
Students publish papers in research journals, including Young Scientist.
Every SSMV graduate who has applied has been accepted to a four-year college or university.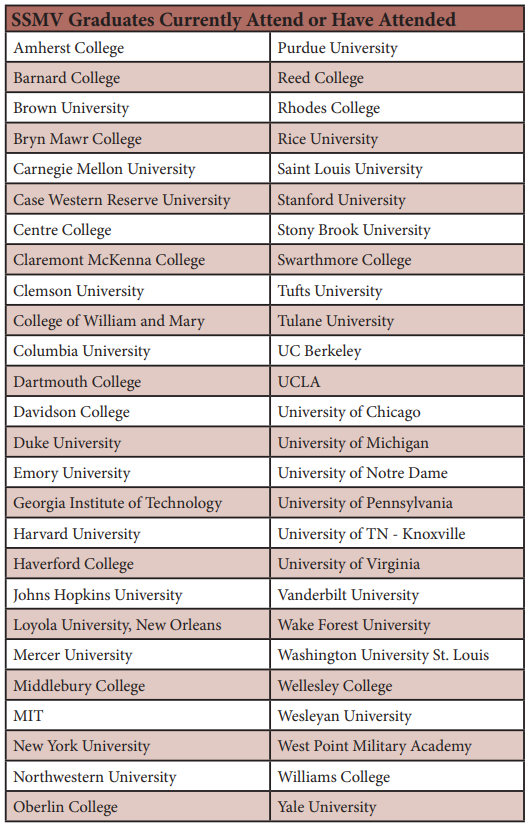 If you –
Are currently in 8th grade and will turn 13 by the end of the school year;
Plan to attend, or are applying to, an MNPS-operated school (https://www.mnps.org/learn/schools, filter on High School to see the list of eligible schools);
Have read about this advanced credit, free, four-year program that includes three summers;
Have all of your questions answered here or by emailing amanda.dixon@vanderbilt.edu;
Sign up here for reminders about the due date.
Then, you are ready to take the next step!
Applications are due on Friday, February 10, 2023.
Apply now by clicking HERE.
Teacher recommendations are due February 17, 2023.
Keep up with our program:
CONNECT WITH SSMV