Community Engaged Research Projects
Throughout their first three-and-a-half years in the program, students at the School for Science and Math at Vanderbilt have the opportunity to interact with numerous research-based organizations to tackle local questions in a didactic and experiential manner. In the final semester, the Community Engaged Research Projects (CERPs) provide a way for students to apply the unique scientific skill set that they have acquired during their tenure at Vanderbilt to a problem or project with their partner community organization.
CERPs are student-led and output-driven, are facilitated by the SSMV faculty and Community Partners that include members of the Vanderbilt community as well as local and regional partners. Students work in consultant roles on projects with varying scopes and goals. The aim of all the projects is to deliver outputs that have a positive impact.
Examples of projects include:
Working with Vanderbilt Pediatrics to tackle childhood obesity in Nashville
Working with the Vanderbilt Institute for Energy and the Environment to quantify nitrate leaching in residential lawns
Working with Nashville Health Department to evaluate the effectiveness of their bike share, community gardens and animal wellness programs.
Students have presented their results at many different types of public forums including scientific conferences, Metro Nashville School Board meetings, and the Nashville Earth Day Festival.
Past projects have received accolades at research competitions, have been the foundation for larger-scale research projects, and have informed legislation and decision-making by the Metro Nashville government. Several projects are ongoing with the same partners and each year new partners are added as well.
You can read about our most recent CERPs below.
Class of 2023 Projects
SOCKET – Nashville's Sustainability Outlet * (New Partner)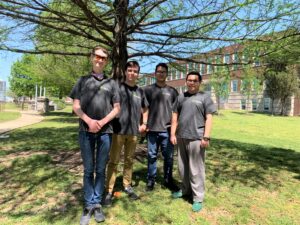 Socket is a sustainability outreach program run by the Department of General Services at the Metro Government of Nashville and Davidson County. Socket provides the public a view into the sustainability measures that the Government of Nashville is taking, such as designing and maintaining LEED® certified buildings.
Additionally, Socket's website and social media accounts provide tips and blogs that encourage the residents of Nashville to be more sustainable and protect the environment that surrounds them. In collaboration with Socket and the Department of General Services, students from School for Science and Math at Vanderbilt's (SSMV) class of 2023 worked to establish a basic tree inventory, a count of trees, at high profile Metro sites to inform the best management practices and allow quantification of tree-derived benefits to the city.
Four students conducted a count of the present trees at six government buildings, libraries and community centers maintained by the Department of General Services within Nashville's metropolitan area. In each location, a diameter measuring tape (D-Tape) was used to record the diameters and maturity of the trees at a standard 4.5 feet off of the ground.
Landscape plans in combination with various plant identification apps were used to determine the species of the trees. In addition, the location of each tree measured and identified was noted, and informative images were collected pertaining to each tree. All this information collected was then recorded and uploaded to a database using a mobile tree survey app. Upon completing the data collection of the final location, the students wrote a blog post on their experiences, detailing their work and skills gained while surveying the multiple campuses.
The database included information of over 1,000 trees across the six locations. The map created from the geolocation of the trees combined with their species and maturity will facilitate the work of Department of General Services to determine the public spaces in need of more foliage and therefore coordinate the planting of additional trees with assistance with Root Nashville. This additional planting of trees will help offset the rapid decay of the tree population in Nashville, allowing us to still have access to the important benefits those trees provide. For instance, the trees' ability to absorb CO2 and pollutants help clear the city's air and reduce the city's overall carbon footprint. In the summer, they provide shelter and shade that helps cool off people, cars and even buildings. In the winter, the trees lose their leaves, allowing sunlight through, which heats up nearby cars and buildings. During storm events, tree roots absorb some of the precipitation, slowing the rate at which the soil becomes saturated with rain water and reducing the risk of flooding. The latter is especially important for the Metro Water Services, who will use the tree database to assess the flood risk of each location and improve storm water treatment. Determining this information, in turn, will help create a flood protection plan for future public green spaces. Finally, this collaboration hopes to improve current public spaces in the city and bring more public awareness to the impact that trees have on Nashville.
Susan Gray School * (New Partner)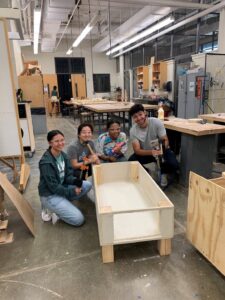 This semester, students at the School for Science and Math at Vanderbilt (SSMV) designed an interactive STEM classroom for the Susan Gray school, a preschool on Vanderbilt's campus that prioritizes early childhood development and is inclusive of neurodiverse students. The preschool acquired a building grant to renovate an unused room into a learning space for their students. The room, originally a cafeteria for the school and currently a storage space, will be transformed into a space designed by the SSMV students that can promote social and motor skills, as well as to teach the STEM curriculum through hands-on learning.
First, the students met with the director of the Susan Gray school, Katherine Newman, to establish the priorities for the room. The students measured the room and created a 3D model of the space on the Formit modeling software from AutoDesk (pictured above) that incorporates the different elements that were going to be in the room, such as a water table, garden box, sensory board, interactive tree, and magnet board. The design also included a mural, storage spaces, and a sink for conventional use of the students and teachers. Based on the preschool curriculum, the students proposed elements in the room that could teach preschoolers about nature, seasonal changes, plant growth and cause-and-effect relationships and presented their ideas to the Susan Gray School director and Vanderbilt University construction leadership.
SSMV students coordinated with the Susan Gray School's curriculum to create ways for the students to interact with the space. The first curriculum was The Creative Curriculum for Preschool Teaching Guide featuring the Trees Study. This study explored the way kids view trees and how to use literacy, math, technology, and the arts to broaden their knowledge of trees. To harness this, the SSMV students suggested creating an interactive tree and a garden box for the space. The interactive tree is designed to help visualize and utilize the tree curriculum. Students would be able to create leaves/fruits to put on the tree for different seasons and create different animals that live in trees as an arts and crafts project. The SSMV students also created a garden box to help the preschoolers learn about how plants grow. The garden box was constructed in partnership with studio technician Lauren Baechel at the Vanderbilt Ingram Arts Studio. The SSMV students spent three weeks measuring and constructing the table. They used plywood and plexiglass so the kids would be able to see the growth of plants, not only from the top of the soil, but also from the bottom as the roots grew.
This project has taught the students how to communicate with collaborators, design 3D models, work within a budget, and implement a self-directed plan. The construction of the STEM classroom at the Susan Gray school will begin in summer of 2023. Future directions include constructing the other features of the room. Once completed, the STEM classroom will be an integral part of the Susan Gray school to teach natural science curriculum elements.
The SSMV students would like to thank Katherine Newman at the Susan Gray School for her guidance; Ben Bedock, the project manager at Vanderbilt University, for his expertise; Lauren Baechel from the Ingram Arts Studio for her assistance in constructing the garden box; and Dr. Angela Eeds and Dr. Menton Deweese for their mentorship throughout the project.
The Ape Initiative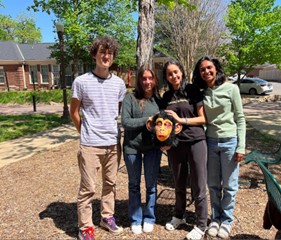 The Ape Initiative is a non-profit organization focusing on bonobo conservation and research. Being the only certified research facility in the world that solely focuses on bonobos, their mission is to raise awareness about these endangered primates and to study their behavior in order to protect them better. Despite the fact that bonobos share over 98% of their DNA with humans, they are not widely known to the public. This makes it even more essential to raise awareness about this species and the ways we can help conserve them.
In collaboration with the Ape Initiative, students from the School for Science and Math at Vanderbilt (SSMV) worked on creating educational stations for visitors at the research facility. These stations focused on teaching visitors about bonobo behavior, intelligence, and conservation efforts. The team worked on developing interactive and engaging activities, within the 4 stations, that allow visitors to experience bonobo behavior firsthand. The grooming station gave participants an opportunity to mimic bonobo grooming on a model mannequin head and served as a segway to educate about bonobo social behaviors. Similarly, the foraging station gave participants an insight into the bonobo diet and feeding routines- which may encourage investment in conservation and research efforts. Additionally, the team created a research station with touchscreens where visitors could participate in research activities given to the bonobos at the Ape Initiative, furthering the understanding of bonobo behavior and in comparison to human behavior. Lastly, the conservation station provided information via video about the dangers to bonobos and ways that we can help save this species.
Through their hard work, the SSMV team was able to create an educational and interactive experience for visitors at the Ape Initiative. The creation of the stations at the Ape Initiative served to pique interest in the bonobo and help others learn about this endangered species. By sharing their knowledge and passion for bonobo conservation, they were able to increase awareness about these amazing primates and inspire others to take action to protect them. This team would like to thank their group advisor Dr. Stanton and the Ape Initiative team including Dr. Huneycutt, Dr. Taglialatela, and the Ape Initiative staff for their support, cooperation, and affluent help throughout this project.
Environmental Justice Project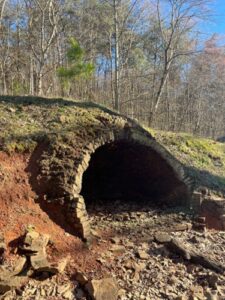 The Grundy County Environmental Justice Project (EJP) started as a collaborative initiative between the residents of Grundy County, Tennessee – a rural county in eastern Middle Tennessee–and Vanderbilt University.  This project seeks to identify potential connections between environmental problems and the cancer clusters the area has been experiencing.
This project has been a multi-year endeavor of four School for Science and Math at Vanderbilt (SSMV) classes. This was the fourth year of the project. This year, the team's goals focused on revising and refining the website that past groups had made and edited. A refined story map was created to display water violations since the EPA began recording them in Grundy County. The violations are plotted on the map by location and frequency. Violating chemicals, bacteria, and radiation were selected for inclusion by prevalence and hazard level. Pollutants included Arsenic, Cadmium, Coliform, Cryptosporidium Bacteria, and Haloacetic Acids and several others. The area serviced by each Grundy County water system is shown on the map, varying in color by the amount of violations of each specific pollutant. The team also helped prepare 200 water testing kits for Grundy County High School students to test their water and return them to Vanderbilt for further testing. This is a continuation of previous efforts to gather data from residents of the area to see if water pollutants are a possible cause of increased cancer pockets.
This year's team conducted literary reviews of several historical sources via the Vanderbilt Libraries, the Tennessee State Library and Archives, and the University of Tennessee Libraries. The team also contacted resources within Grundy County, such as the Grundy County Historical Society and Tracy City Public Utilities. Specifically, they reviewed the topics of specific social events in Grundy County relating to industry, mining history in the region and county, ecological effects of mountaintop removal and strip mining, locational information, and other public health concerns in the area. Through these sources, they obtained important historical context for the events seen on the timeline and Story Map. The website was updated with a concise historical timeline describing Grundy County's mining history from 1845 to the present day using the information. Finally, this year's group created a labeled paper map of Grundy County to map out the locations of mines, settlements, water utility sites, and geographical and environmental landmarks.
This project would not have been possible without the work of Dr. Brooke Ackerly, Dr. Stacy Curry-Johnson, Kayla Anderson, and our SSMV advisor Dr. Menton Deweese. Although it is waiting for IRB approval for current changes, the website currently is available at grundycancerresearch.org. We hope that as soon as we get approval for our changes to the website both the timeline and map and publish them to the website for public awareness.
The Tennessee Environmental Council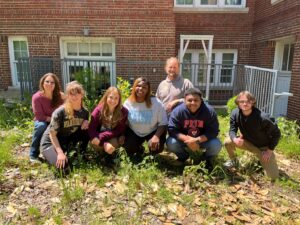 This year a group of students from the School for Science and Math at Vanderbilt (SSMV) partnered with the Tennessee Environmental Council (TEC), focusing on their Generate Some Buzz Initiative: a project to increase pollinator habitats statewide through planting pollinator gardens. Pollinator gardens contain flowers and grasses native to the local environment and are designed to attract native pollinators with their pollen and nectar. These gardens are beneficial because they help to remediate the problems that many pollinator species currently face: invasive species, habitat destruction, and the use of chemicals. It is essential to protect native pollinators because they are needed for plant reproduction, especially regarding food production. Our project goals were to update the pollinator garden guidebook that was created by last year's SSMV-TEC group, plant pollinator gardens at our respective high schools, and create an interactive app that has information about TEC's programs and connects the volunteer community.
The guidebook previously created was aimed towards people who want to create a pollinator garden, and highlights seasonal upkeep of the gardens, garden maintenance, materials needed, and important information regarding the Generate Some Buzz Initiative. As a part of our project goals, we revised portions of the guidebook and made format changes to make the guidebook more accessible.
Our second project goal was to build pollinator gardens at several local high schools. We proposed gardens at Martin Luther King Jr. Magnet High School (MLK), Antioch High School, and the upcoming James Lawson High School. Unfortunately, the proposed gardens for Antioch and James Lawson were not able to be completed due to administrative issues. However, these locations have been approved by TEC and parts of school staff, therefore, the work that has already been done will hopefully lead to future planting. We were able to plant a 1,500 feet2 garden at MLK! The garden was broken up into two sections: a main garden near the soccer field and smaller garden beds along the side of the school. To install the garden at MLK, we recruited MLK student volunteers that helped us dig up the garden site, wheel the soil, and rake the soil. The process took three days over a span of three weeks, and with all the support from TEC and our volunteers, the garden has been successfully completed! We even re-soiled parts of existing raised garden beds and were able to plant more seeds than initially planned.
Lastly, we created an interactive app for TEC use. To start, we made a wireframe of the app utilizing Canva and note cards. Then, we created the application using a codeless database known as Passion.io. Specifically, we have been working closely on the segment of the app highlighting the Generate Some Buzz program, leaving the rest of the app "under construction." Not only does the app provide information for users, but also connects them with others interested in the programs, has volunteer opportunities, and a space to log the progress of individual pollinator gardens. The app will soon be made available to those using Android or IOS products.
As this year's students from the School for Science and Math at Vanderbilt, Gwendolyn Johnson, Ella Daugherty, Parker Buchanan, Eben Negasi, and Carson Wright, we would like to extend sincere gratitude to the Tennessee Environmental Council for cooperating with us in furthering the Generate some Buzz initiative, as well as Dr. Angela Eeds and Dr. Rebekah Stanton for assisting us through this entire project!
Vanderbilt Center for Addiction Research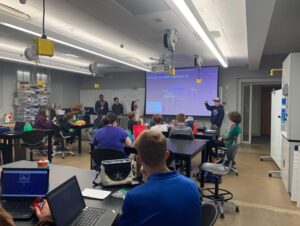 The Vanderbilt Center for Addiction Research (VCAR) is dedicated to furthering the field of addiction research and outreach. They place a major emphasis on identifying addiction as a brain disease to help reduce the stigmatization surrounding substance use disorders. Since 2017, VCAR has partnered with students from the School for Science and Math at Vanderbilt (SSMV) to teach middle school students about addiction neuroscience and to spread awareness about the physiological changes to the brain that come with addiction. The rationale behind this teaching strategy is that students will be more inclined to engage with their peers, making SSMV students ideal to present this information to middle school aged students.  In collaboration with VCAR, we used this near-peer strategy to inform middle school classes about relevant information pertaining to addiction. We had the opportunity to present to classes at Isaac Litton (n=25), Donelson (n=13), and the Day of Discovery (n=15).
In collaboration with the VCAR team, we created an informational and engaging presentation on the neurobiology of addiction. Topics that were covered included dopamine, the reward system, neuroplasticity, the physical and neurobiological effects of drugs, and how to communicate about addiction. We also emphasized the importance of treating addiction as a brain disease and treating people with a substance use disorder with respect. Moreover, we incorporated interactive activities such as a Mentimeter (a web-based application where students could anonymously answer addiction-related questions in real-time), a Kahoot (an online quiz game that allows students to compete with their classmates), and a BINGO board with neuroscience/addiction related vocabulary words as a way to keep students engaged. Furthermore, to encourage participation, we were able to 3D print mini anatomical brains as prizes for engaged students, BINGO winners, and the top three Kahoot players. Lastly, we created a small online accessible deck of flashcards related to the neurobiology of addiction.
To gauge the effectiveness of our near-peer presentation, we handed out pre-presentation and post-presentation surveys with 10 addiction and neuroscience-related questions each. Both anonymous surveys had the same questions and responses were recorded on a Likert scale (strongly disagree, disagree, neutral, agree, strongly agree). Additionally, a Kahoot was used to test knowledge from our presentation. We saw more than 75%  of students understood the definition of neuroplasticity and their brain development after the presentation. Furthermore, on average students achieved about 70% accuracy on the Kahoot quiz. The survey results suggest that the presentation increased the students' knowledge of addiction. A greater number of students strongly agreed that addiction is a disease (p<0.001) and understood the definition of neuroplasticity (p<0.001) after our presentation. These results align with the Kahoot results. In summary, the near-peer strategy used in this project could be replicated for future classroom environments to effectively teach and communicate the cause and effects of addiction.
Please click this link to download the "What is Addiction" presentation.
Please click this link to download the Teacher Lesson Plan.
Please click this link to download Neurobiology of Flashcards.
Class of 2022 Projects
The Ape Initiative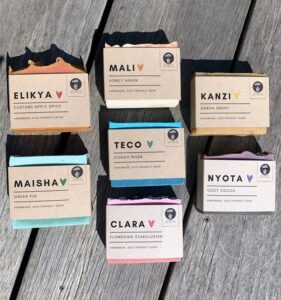 The Ape Initiative is a non-profit bonobo conservation and research facility; in fact, they are the only research facility in the world specifically dedicated to bonobos. Despite the fact that bonobos are one of humans' two closest living relatives, the endangered bonobo is relatively unknown to the general public. In a collaboration with the Ape Initiative, students from the School for Science and Math at Vanderbilt (SSMV) created middle school lessons aimed at educating students about STEM topics. These lessons had a focus on the Ape Initiative's research and bonobo conservation.  Students also created soaps that both raise money for the Ape Initiative and educate consumers about the challenges bonobos face in the wild.
The students created a total of five educational and interactive lessons that align with Next Generation Science Standards (NGSS). These lessons cover an array of topics, including the AZA accreditation process, the science conducted at the Ape Initiative, animal enrichment, animal husbandry, and the scientific method. To encourage the participation of the students, each lesson is paired with a fun, interactive activity that emphasizes the main points of each lesson. Also, there are teacher guides for each lesson to make the teaching process easier. The SSMV students taught the lessons at local Day of Discovery middle school classes, and then released the lessons and all appropriate handouts and materials for free on the Ape Initiative website for any curious student or teacher to access. These lessons were created in the hope that the bonobos at the Ape Initiative could inspire STEM learning and primate conservation and in turn, students and educators could learn more about these wonderful creatures.
The second foundational goal of the CERP project was to create eco-friendly soaps that raise money to support their conservation efforts. To do this, they developed concepts for and made seven different types of soap, totaling around 500 bars, that were based on the personalities each of the bonobos housed at the Ape Initiative. Students created the soaps using palm oil-free oils, eco-friendly ingredients, post-consumer recycled paper labels, and fully plantable seed-paper box filling to ensure the sustainability of the products. The branding and packaging items focus on conservation education, which aim to inspire buyers to take further action and make sustainable choices. The soaps will be sold through the Ape Initiative website and at local farmers markets in the Nashville area. 100% of all proceeds will be donated to the Ape Initiative to aid in future bonobo care and conservation efforts.
The students' collaboration with the Ape Initiative has allowed them to aid in the Ape Initiative's core principle of education outreach while raising money to support their efforts. These lessons make the process of teaching scientific topics easier to middle school educators and allows students to learn about STEM in an interactive manner. All of the goals of this project were made possible by the support of this group's advisor Dr. Stanton, the guidance of Dr. Taglialatela and the carestaff at the Ape Initiative, and the generous help of Dr. Huneycutt.
Environmental Justice Project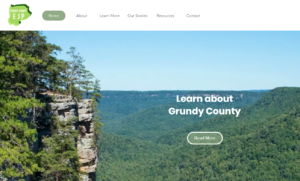 The Grundy County Environmental Justice Project started as a collaborative initiative between the residents of Grundy County, Tennessee – a rural county in Eastern Tennessee–and Vanderbilt University. This project aimed to explain the cancer clusters the community was experiencing and find possible links to environmental issues.
This project has been a multi-year endeavor of three School for Science and Math at Vanderbilt (SSMV) classes. This year's deliverables consisted of two parts: an updated website and an informative StoryMap.
The website was completely redesigned to better fit the new direction of the project. Updates include:
The

"Home" page was updated to serve as a hub for the rest of the website.

"About" page was rewritten to reflect the new goals of the project.
The "Get Involved" page was reworded to be "Learn More" and included the newly made StoryMap.
"The new "Our Stories" page (previously "News") now hosted an interview from one of the leading community members. The interview gave further insight into some of the personal concerns held by the community.
The "Resources" page was reformatted to be more intuitive and allocated room for further link additions.
A contact page was added with emails/phone numbers of project leaders.
Along with the redesign came a StoryMap explaining the life cycle and future direction of possible pollution in their county. Geographical Information Systems, a software used to create and analyze maps, was used to create maps of the geography and hydrology of the area. A digital ground elevation model was developed to examine the terrain and map the surface water flow and accumulation in Grundy County. Possible environmental contaminants, including plant nurseries, tree farms, dumps, mining, and chicken farms, were also plotted.
Additionally, the block-level population data were mapped and used in the StoryMap to support suggestions for where to conduct water testing based on how the water flow and potential environmental contaminants interact. Links to articles containing more information about each industry were also included in the StoryMap.
This project would not have been possible without the tireless work of Dr. Brooke Ackerly, Dr. Stacy Curry-Johnson, Dr. Chris Vanags and our SSMV advisor Dr. Menton Deweese. The website is available at grundycancerresearch.org.
Inclusivity in Science Technology Engineering and Math (STEM) Edutainment Series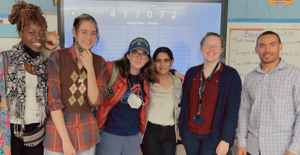 The Inclusivity in STEM Edutainment Series (ELM Productions on YouTube) intends to create fun STEM education videos to supplement the lesson plans of local middle school teachers. The project was started by the graduating class of 2022 high school students working with Dr. Letimicia Fears and the School for Science and Math at Vanderbilt (SSMV). In addition to providing supplemental learning materials, this project aims to foster an interest in science in students of marginalized and disenfranchised demographics, including, but not limited to, women, queer/LGBTQIA+ people, black indigenous people of color, other POC—especially women of color—and disabled individuals. All of these are groups that don't mesh with the stereotypical image of a scientist: a white, able-bodied, neurotypical, cisgender, heterosexual man in a lab coat. Through inclusive lessons that make an effort to welcome students that may not have always felt as if they belonged in a scientific environment, sharing the unsung stories of diverse scientists, and discussing times in which science has been used to further discrimination, this project aims to diversify the popular image of a "typical" scientist
Mr. Kordell Hunter teaches eighth grade science at Moses McKissack Middle School and very generously agreed to collaborate with the project researchers. During late March and early April, Mr. Hunter planned to teach the Tennessee Fossils and Natural Selection unit, covering five standards from chapter 8, lesson 4: "Biological Change: Unity and Diversity." The researchers combined the standards into three videos: "A Changing Planet" (standard 1), "The Theory of Evolution" (standards 2 and 3 ), and "Survival of the Fittest" (standards 4 and 5). Each episode begins by introducing the given standard(s) in a fun and creative way and includes a related, engaging, hands-on activity. The second half of each episode is a STEM inclusivity lesson that diversifies the subject materials by discussing STEM identity, lesser-known, marginalized scientists in the field, and how the subject materials were used to justify discrimination. The videos are forty minutes long, but to present the first episode within Mr. Hunter's specific class period, a shorter version of about thirty minutes was created and presented to the class on April 5th, 2022. A pre- and post-video   attempted to assess student opinions of their science identity, and of the project. All episodes (short and long versions) will be uploaded on YouTube (by ELM Studios). By uploading the videos on YouTube, the project is expanding its accessibility from merely one eighth grade science class to more students across the nation.
Stem Art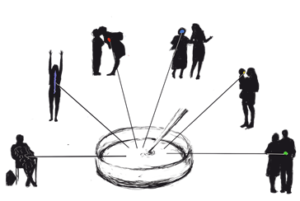 Building off the previous classes' work, this year Stem Art students from the School for Science and Math at Vanderbilt (SSMV), artist Noah Saterstrom, and Dr. Lippmann and the Lippmann Lab continued to work together to spread awareness regarding the importance of stem cell research and its potential for modern medicine. Students worked to not only inform the public on stem cells, but also destigmatize the current climate surrounding stem cell research and relay such information in an accessible and easy-to-understand form of media.
In order to do this in an effective manner, three sets of Instagram slides were designed to define and explain stem cells to viewers. The first revolves around the story of a man who experiences a skiing accident and follows his full recovery using stem cells. This storyline, fully developed by this year's Stem Art group, easily defines stem cells, explains their potential implications for modern medicine, and most importantly, destigmatizes stem cell research. Compared to previous years, this year's Stem Art group chose to use multiple simple drawings paired with storytelling to communicate their main deliverable of Instagram slides. The second and third slideshows utilize effective art mediums designed by previous classes to discuss how stem cells could be used to cure Parkinson's disease, as well as the parallels between the processing of Induced Pluripotent Stem Cells (iPSCs) items that are thrown in the recycling. Similar to the first set of slides, both these slides also contained explanations as to what stem cells are and worked to remove the negative connotation around them. The final slide on each set contains a QR code that would take any viewer to a webpage on the Lippmann Lab's website dedicated to more in depth research regarding stem cells, which was another contribution of this year's SSMV class to the project.
To gauge how effective the slides were at informing the intended age group (middle and high school students) on stem cells, the SSMV students formally presented the paralysis slides to their fellow classmates at the SSMV, as well as Day of Discovery students at the zoo. Both classes were given pre- and post-surveys to assess their knowledge of stem cells before and after the presentation, and analysis was run on both classes to determine the slides' efficacy. Overall, students were shown to have a significant increase in the understanding of stem cells based on the survey data. Their knowledge of what a stem cell is, the basics of stem cells, their positive and negative implications, the difference between embryonic stem cells and iPSCs, how they are currently used, and most importantly, their outlook on stem cells and their potential for regenerative medicine showed drastic improvement.
This year's Stem Art group, Jed Jenner Comia, Paul George, and Hamza Yousef, would like to thank Dr. Ethan Lippmann, Mr. Noah Saterstrom, Dr. Menton Deweese, the Day Of Discovery program at the Nashville Zoo, and the SSMV for providing the group with the opportunity to continue this project.
The Tennessee Environmental Council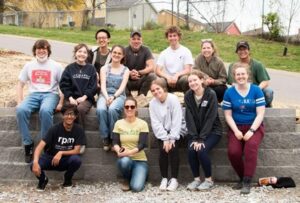 The Tennessee Environmental Council (TEC) is a non-profit organization that supports  Tennessee's environment by promoting community involvement and volunteerism. The School for Science and Math at Vanderbilt (SSMV) partnered with the TEC this year to install and promote wildflower gardens. The project's aim was to create pollinator gardens and write a handbook to instruct environmentally conscious Tennesseeans to build their own gardens. We hoped that our partnership would lead to the transformation of otherwise unused land into pollinator habitats.
First, we needed to learn how to construct a garden according to TEC instructions and guidelines. We began by identifying ecological deserts that could be reinvented as pollinator gardens and contacting the owners of these locations to understand the process of collaborating with them. We secured two plots of land: one in Vanderbilt's Native Meadow and one on the property of a carpentry business in Berry Hill.
The Vanderbilt plot is a part of the Native Meadow right outside the SSMV classroom. Its close proximity to us and the support of the Vanderbilt landscaping team made it simple to begin work. Vanderbilt had most of the necessary supplies (soil knives, compost, rocks, and wheelbarrows) on hand. Because of transportation difficulties magnified by Vanderbilt and Metro Nashville Public School's Covid guidelines, it was significantly harder to work on the second site. We solved this problem by hosting a weekend volunteer event for high school students to help transmogrify the plot of land into a pollinator garden.
We used our recent experience to create a garden-building guide for the TEC to post on their website and distribute around the state. The guide is an amalgamation of the information we learned as we built our gardens. It covers the garden-building process from finding pieces of land to the long-term maintenance of the newly built gardens. The handbook is written to be informative for Tennessee residents as they build their own gardens. We hope that this handbook will help to inform and empower Tennesseans interested in conservation as they contribute to the betterment of their state's ecological landscape by building wildflower gardens!
Vanderbilt Center for Addiction Research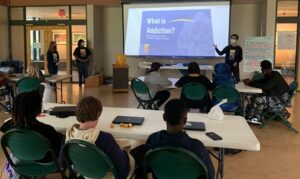 The Vanderbilt Center for Addiction Research (VCAR) researches the neuroscience of addiction to develop treatments. One of their main goals is to decrease the stigmatization of addiction by highlighting that addiction is a brain-centered disease. In recent years, spreading awareness about the effects of addiction on the brain has become more important as nicotine vaping has remained prevalent among adolescents. In fact, around 17.2% of middle schoolers reported vaping nicotine in 2021 [1].  We worked with VCAR to further advance our goal of destigmatizing addiction by creating Mentimeter questions, a Kahoot game, and a Google Slides presentation that discussed the neurobiology of addiction aimed at a middle school audience. The presentation was given in-person to two eighth grade classrooms, one to Rose Park Middle School and the other to Day of Discovery at the Nashville Zoo.
Topics covered in the presentation included the development of the brain in adolescents, the reward system, and the effect of addiction on the reward system. By the end of the presentation, students were able to identify parts of the brain including the amygdala, the hippocampus, and the prefrontal cortex, understand how the reward system reinforces pleasurable behaviors, and recognize that adolescents are more susceptible to addiction than adults. To maximize the amount of content the students learned, the presentation contained several interactive elements. First, the presentation incorporated Mentimeter, which is a web-based application where students answered questions posed by the presenter in real-time using their electronic devices. Using this application, students were able to anonymously see their peers' responses to multiple addiction-related questions. Additionally, we ended the lesson with a Kahoot, a game where students race to answer questions and gain the most points. The questions incorporated information addressed in the Slides and were a fun opportunity for students to demonstrate what they learned during the presentation and engage in friendly competition.
To measure the effectiveness of the presentation on the students' perception of addiction, a short survey was administered to the Day of Discovery students before and after the presentation. We used this survey to quantify how students' comprehension of addiction changed in response to our lesson. Data analysis revealed that the students' overall understanding of addiction as a brain disease and of neuroplasticity significantly increased. Students also indicated that they felt more comfortable talking about addiction with their peers after the presentation. This work has the potential to serve as a model for how middle school educators should address the topic of addiction within their classrooms.
Please click this link to download the "What is Addiction" presentation.
Please click this link to download the Teacher Lesson Plan.
Class of 2021 Projects
Biomedical Research Awareness Day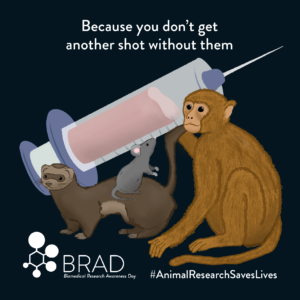 Biomedical Research Awareness Day (BRAD) is an initiative devoted to educating students and the public about the importance of biomedical research and the humane use of animals. The initiative was created by laboratory veterinarian Dr. Logan France as apart of Americans for Medical Progress (AMP). High school students from the School for Science and Math at Vanderbilt (SSMV) created new materials for the public and a presentation on biomedical research with an emphasis on COVID-19 research. The students' target audience was high school students with an interest in pursuing a career in STEM or the medical field. They hosted a presentation through Zoom to celebrate Virtual BRAD. Over 50 students from Hume-Fogg, KIPP collegiate, Hillsboro, Martin Luther King, Valor, homeschool, and STEM Prep high school attended.The exigency of the COVID-19 pandemic inspired the students to spotlight the key role of animals in creating vaccines. Students designed the sticker shown above with the timely message that animal research saves lives and is essential to developing safe and effective vaccines. The design was adapted into a coloring page as well, and it can be found on BRAD's website along with other material.The students began the presentation by sharing background information about the field of biomedical research, animal research, and BRAD's purpose. They elaborated on the animals' contributions to medicine by playing a game of "Diagnose This" where the audience diagnosed a case of smallpox and polio. They learned about Edward Jenner's research with cows and Jonas Salk's work with rhesus monkeys to create the smallpox and polio vaccine. Then, the audience members submitted their personal stories about how animal research had impacted their lives to BRAD connected their stories about health and survival with the animals that helped create the medical advancements, and on April 15th, BRAD shared the stories on their social media. Following this activity, the students began a discussion on the ethics of animal research and addressed the misinformation spread by anti-animal research organizations. This was important because disapproval can cause the end of animal research. The students also highlighted the Institutional Animal Care and Use Committee (IACUC) and theirlegal oversight to protect animals involved in biomedical research. At the end, the audience played an online trivia game of Kahoot that tested their understanding from the presentation, and the top winners earned prizes. Animal research is an important topic to discuss with the general public because it is fundamental to medical advancements. The students' BRAD presentation and illustration engaged the STEM oriented high school audience and educated them on the impact of animals
Grundy County Environmental Justice Project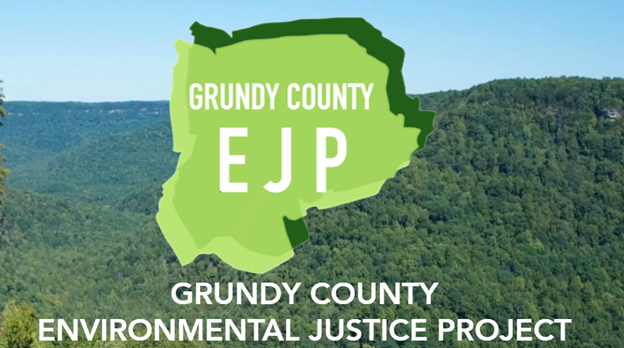 The Grundy County Environmental Justice Project is a community-driven initiative originally started by residents of Grundy County, Tennessee, a rural East Tennessee countyoutside of Chattanooga. The project aims to help raise awareness about cancer prevalence in Grundy County and possible links to environmental issues. This project is now affiliated with Vanderbilt University, and as such, engaged with a group of students from the School for Science and Math at Vanderbilt (SSMV) program.
As part of the collaboration with SSMV from 2020 to 2021, two deliverables were set as goals. The first goal was to develop a set of surveys that would eventually allow Grundy County residents to report any health or environmental concerns. Five surveys, ranging from basic health information to a more detailed Cancer Report, were created using Vanderbilt's RedCap tool. User accessibility and functionality were a major goal for both the surveys and the website. Because of this, features such as larger buttons, audio-based questions, and field notes were incorporated into the surveys. It also adapts branching and piping, techniques that help the surveys flow, to enhance the survey taker's experience. Additionally, a logo was created, as shown in Figure 1. The logo is shaped as the outline of Grundy County, set over a backdrop of a local state park. This logo aims to bring familiarity to the project and promote participation. Currently, residents would be able to register for the surveys using our email list.
The second deliverable was the WIX-based website. We successfully constructed a website that will house the information for the project as well as the different ways to get involved. The website is navigated through the menu bar which has 5 different items. The first is the "About Us" item which contains a summary of how the project began. The "Get Involved" item contains information about how to start answering surveys to help by registering for a mailing list. The third item is "Resources", which is used to educate the community on possible hazards such as radon or lead. The "News" section highlights local news and personal testimonials relevant to the project. Finally, the "Coming…" area is a temporary section to show what is in store for the future of the project, including future mapping of reported concerns. The website is currently under Dr. Brooke Ackerly's ownership.
Overall, the partnership with the SSMV, under the tutelage of Dr.Brooke Ackerly and Dr. Chris Vanags, was able to complete a set of surveys and a website that will aid in the collection of data from community members. After communicating our progress with community members from Grundy County, we have successfully implemented pertinent involvement from future community members who wish to contribute, paving a way for collaborative research.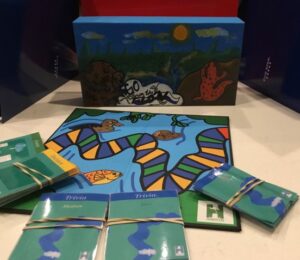 Harpeth Conservancy (formerly known as the Harpeth River Watershed Association) is an organization that promotes community awareness and action to maintain clean and healthy river ecosystems throughout Middle Tennessee. The Conservancy, much like the School for Science and Math at Vanderbilt (SSMV), has a mission of not only protecting Middle Tennessean rivers, but to educate and inform the public about our waterways in the hopes of preserving them for the next generation to enjoy. To fulfill this mission, we designed an educational and engaging board game that allows children and families to learn about the Harpeth River in a fun and informative way. 
We worked closely with Harpeth Conservancy to develop the game to be accessible for all ages, teach players about the rivers in the Greater Nashville Area, and communicate to our audience how their everyday decisions can affect our waterways, all under ten minutes. Through strategic planning and coordinated discussions, we sought to design a game that fulfilled all four of these requirements. The result is a game that has players progressing around the board answering trivia questions and making decisions that impact the health of the river. 
We developed our game to have three primary components: a game board, playing cards, and a slider to determine river health. The game board is designed to be played in a linear fashion and is shaped like the Harpeth River. Spaces have designated trivia, decision, and event card titles. To adapt the game for Harpeth Conservancy educational events and to satisfy the Conservancy's time requirements, we designed the game so that it can be played by a single person. Additionally, our game includes "basic" or "advanced" options, which allows seamless mobility from playing solo to a multiplayer experience. There are three types of cards: trivia cards, which include questions based on facts and history surrounding rivers in the Greater Nashville Area; decision cards, which consist of choices based on real life situations people face on a daily basis that have an effect on the well being of rivers and streams; and event cards, which present scenarios that can impact the river depending on the decisions chosen prior to the event. Lastly, our game features a 3D printed moveable slider that helps visually convey the river's health based on past decisions and the impact of events that the river has endured. These three elements all come together to form an educational game for all ages to be used by the Conservancy. 
Our collaboration with Harpeth Conservancy has led to a completed and playable board game for the whole family, focused on and made with the Harpeth River in mind. By creating a game that is easy and engaging to play, children and their families can learn about their local rivers, understand the impact of their decisions on the environment, and have the opportunity to get to know Harpeth Conservancy a little bit better.
Stem Cell Visual Art Project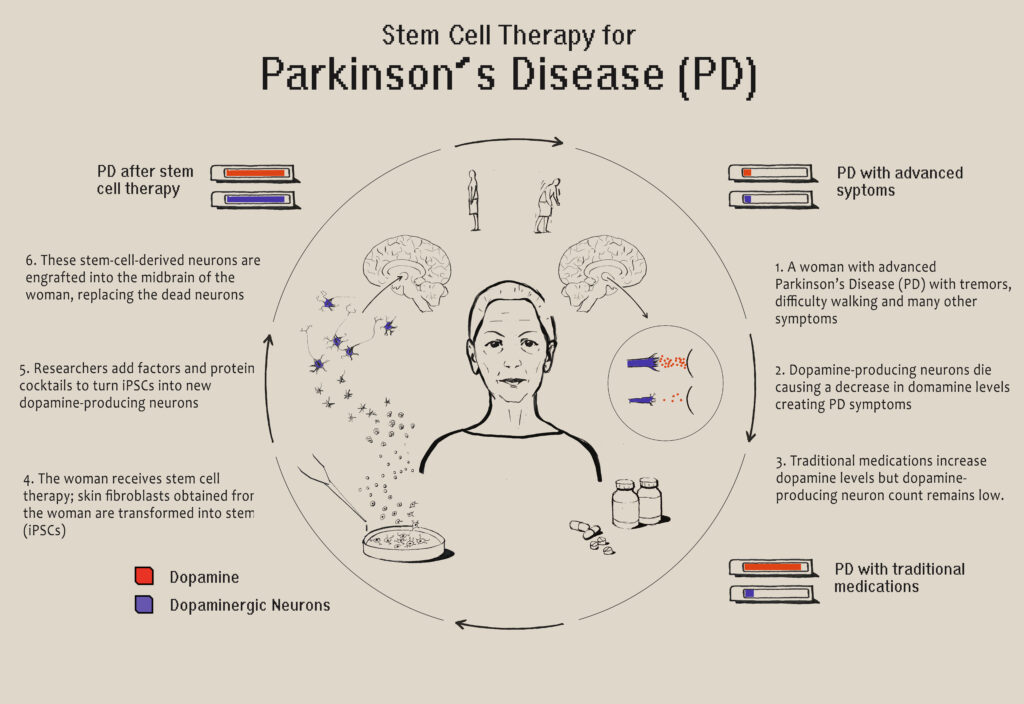 Stem Cell research has often been misrepresented and stigmatized in general media. Many people unfamiliar with stem cell research do not have a clear understanding of its benefits in our lives. For that reason, it's very important for scientists to reeducate the general population about stem cells and eliminate those harmful assumptions that could slow progress. With this project, students at the SSMV partnered with the Lippmann Lab, a laboratory in the Department of Chemical and Biochemical Engineering that investigates neurovascular engineering and therapeutic design with stem cells, and Mr. Noah Saterstrom, a local professional artist, to explain the benefits of stem cells through an art medium. 
Thanks to a previous CERP group of students, Mr. Saterstrom had already developed a comic strip for the Lippmann lab. This strip depicted the process of cell dedifferentiation in which skin cells are transformed into iPSCs, or Induced Pluripotent Stem Cells, and compared the process to recycling. The students from this year's CERP group took the comic strip and created a short video. In this video, the process of dedifferentiation was explained in a narrative-like structure, introducing two characters, a man and a grandmother, that each served as springboards to connect dedifferentiation with recycling in simple terms.  
As an additional contribution to the Lippmann lab, the SSMV students sought to create a second original illustration focusing on a specific application of stem cells. They decided to explain the need and implementation of stem cells in Parkinson's Disease treatment. To achieve this, the students first developed the main points necessary to introduce stem cell therapy for Parkinson's disease. It was important to show the way people were affected by the disease, how their current medications managed symptoms but failed to fight the root cause, and how stem cells are able to fill that gap. The SSMV students then created their own descriptions and brainstormed many possible illustrations in order to give Mr. Saterstrom a better idea of their end goal. Once a template had been created and the main points outlined, Mr. Saterstrom began drawing initial sketches of the desired illustration. Throughout the process, the SSMV students met with the Lippmann lab, Dr. Deweese, and Mr. Saterstrom to provide feedback on these sketches. With each new set of feedback, Mr. Saterstrom created a new version of the illustration and it began to develop into the final product. Since the goal of the illustration was to best represent the main points with little text needed, most of the discussions of feedback revolved around the best visual approach to show concepts such as neuron death, dopamine levels, and stem cell therapy.  
After many weeks of developing new versions of the illustration, the final products were decided upon. As a complement to the illustrations, the SSMV students also wished to include helpful descriptive text and decided on two separate versions. The first version (pictured above) would include more text, using simple language, to serve better as a stand-alone image. While the second image included less text, with more technical language, to be a visual aid of a larger presentation. The video and illustrations created by this CERP group can be used by the Lippmann lab during presentations or community events to help people connect with the vision of stem cells. Lastly, future groups can break up the large illustration and create a variety of stand-alone forms of media, including an animated video.   
The CERP group, Juliana Shoun and Kartik Rachakonda, would like to thank Dr. Ethan Lippmann, PI of the Lippmann Lab, members of the Lippmann Lab, Mr. Noah Saterstrom, Dr. Menton Deweese, and the SSMV for providing the group with the opportunity and for sponsoring this project.
Tennessee Environmental Council Compost Project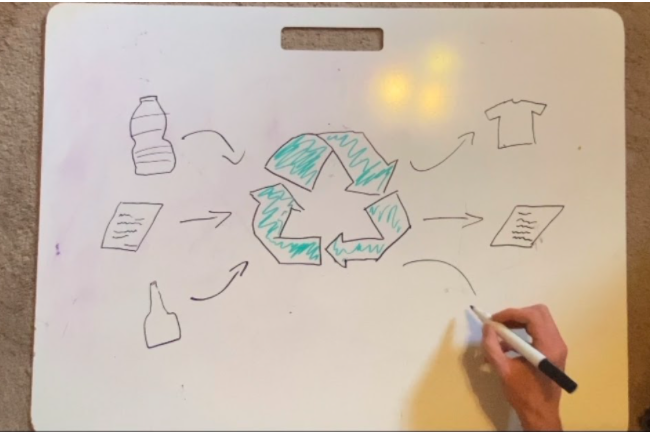 The Tennessee Environmental Council (TEC) is an organization devoted to improving the environment and public health. Although their topics of focus span from pollinator gardens to tree-planting, one of their central goals is to involve the community in their vision. In this project, the School for Science and Math at Vanderbilt partnered with the TEC to help fulfill this goal through the creation of lesson plans designed to educate students about sustainability. These lesson plans covered three different topics, and each topic was divided into a lesson outline, a Google slides presentation, and a corresponding video. With these lesson plans, we hope to extend the mission of the TEC to local schools and communities and to empower students to adopt sustainable practices in their own lives.  
The curriculum developed through this initiative included lessons covering three separate sustainability topics: zero waste initiatives, recycling, and composting. The "Zero Waste Initiative" lesson aimed to inform students about the various types of waste and pollutants that we are each individually responsible for on a daily basis. By establishing the pressing environmental issues caused by our waste production, the lesson was able to emphasize why pushing for "zero waste" must be a priority in every local community. The other two lessons in the curriculum, "Home Recycling" and "Compost at Home", both aimed to explain the processes and science behind two of the most productive sustainable practices that one can adopt. These two lessons also taught students how to adopt these practices correctly on their own, covering the common mistakes that are made when attempting to adopt each. 
Supplemental materials, including lesson outlines, activity plans, and instructional videos, were also created to accompany each of the curriculum's three lessons. For the "Zero Waste Initiative" lesson, the accompanying instructional video focused on sustainable swaps, or products that are reusable or otherwise more environmentally friendly than traditional disposable products. This video demonstrates examples of common sustainable swaps around the house, with the intent of showing viewers the simplicity and facility of adopting sustainable practices. The "Recycling" lesson's video gives an overview of how to recycle at home, with a focus on clearing misconceptions about non-recyclables. This video provides a visual example of sorting recyclables, and covers recycling the most common difficult-to-recycle items. The "Compost at Home" instructional video provided a plain overview of what composting is and explained how the composting process works. This video also included a demonstration of how to set up a simple, cheap composting system at home. 
Recently, the "Zero Waste Initiative" lesson was piloted with a group of 7th and 8th grade students in the encore program at Bellevue Middle School. This presentation sparked discussion about sustainable practices among both the students and teacher, and will ideally provide an example for future presentations of this content. The activities included in the zero waste lesson plan allowed students to reflect on their own daily habits and think about ways to reduce waste in their day-to-day lives. We hope that this curriculum will continue to be implemented among schools in Nashville, as well as Tennessee as a whole, so that the ideas of zero waste, recycling, and composting can be spread to students across the state.
Tennessee Environmental Council: Pollinator Garden Curriculum Development and Pollinator Habitats across Tennessee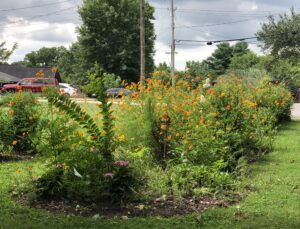 The Tennessee Environmental Council (TEC) is a non-profit organization that works to rehabilitate environmental sites in Tennessee while promoting community involvement and volunteerism. With the same passion for biodiversity conservation, the School for Science and Math at Vanderbilt (SSMV) partnered with the TEC. The main goals of this year's partnership were to develop a curriculum regarding pollinator gardens and their pertinence in maintaining biodiversity and fighting climate change. Ultimately, the goal is to pilot this curriculum in high schools all across the state of Tennessee. Additionally, we created videos modeling various pollinator garden habitats to inspire and involve the local community. 
Pollinator gardens offer a unique way to fight climate change and help curb global emissions due to their ability to store carbon via the roots and soil of pollinator species. Pollinator gardens capture carbon and may be implemented in varying locations and habitats with ease. We developed four mini-lessons centered around pollinators with the goal of engaging youth in climate action, bringing awareness to environmental issues and inequities, and helping students become inspired and empowered to dream of a brighter, more equitable planet.  Further, this curriculum seeks to bring representative content into schools, helping students envision themselves as scientists, advocates, and world-changers.  
The first mini-lesson covers fundamental concepts of sustainability, an introduction to the green movement, how pollinator gardens promote biodiversity and help alleviate the effects of climate change, and promotes environmental justice and the idea that youth can make a substantial positive. The second mini-lesson helps students identify how pollinators aid in the process of food production, understand the role pollinators play in ecosystems, identify ecosystem services that pollinators provide, and recall different examples of interdependence that pollinators have with other organisms. The third mini-lesson encourages students to identify ways in which they may participate in pollinator health and preservation via the creation of pollinator gardens. Students are guided through the process of how to make a pollinator garden, either as a full-sized pollinator garden, window box, or pollinator house. Students are also encouraged to join Tennessee Environmental Council's Generate Some Buzz initiative, which aims to plant thousands of square feet of pollinator habitats across Tennessee each year. The fourth mini-lesson helps students identify common sources of greenhouse gases and how they contribute to global warming, and helps students examine how photosynthesis and carbon capture via soil can help fight climate change. All lessons include engaging activities such as an evaluation of student ecological footprints and identification of ways to live more sustainably.  
Another aspect of this project was to present engaging videos on how to develop a variety of pollinator habitats in a fun, accessible, and engaging manner. Three varying pollinator habitats were developed within SSMV students' homes. There was a pollinator garden created in a front yard, construction of a pollinator window box, and construction of a simple a pollinator house. Videos like this offer a window for engagement with citizens who may not typically engage with climate-related education. 
As part of TEC's overall mission and outlined goals for the Generate Some Buzz program, they hope to establish pollinator gardens in as many areas of the state as possible, including the city's right of ways. We used a parcel viewer to delineate right of ways in East Nashville in the vicinity of Stratford High School to map out potential pollinator garden development with local homeowners and created information to advertise the vision of a large pollinator habitat among this right-of-way. Despite the SSMV Class of 2021's completion with this project, TEC's Generate Some Buzz project initiative, along with the pollinator curriculum and East Nashville Pollinator Corridor development, still have many fascinating and beneficial directions to blossom in!
Vanderbilt Center for Addiction Research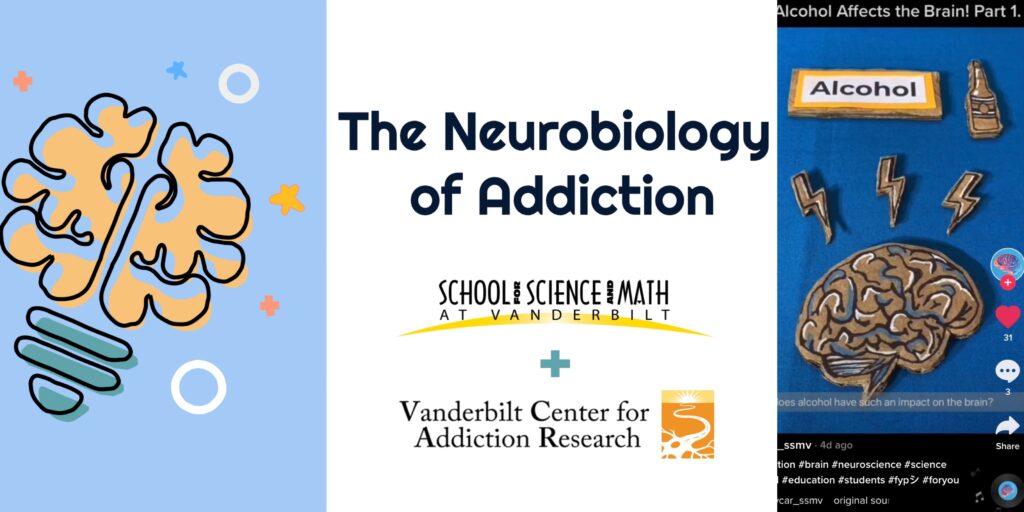 The Vanderbilt Center for Addiction Research (VCAR) conducts research and promotes outreach to adolescents concerning addiction. It is crucial that adolescents understand the deleterious effects of addiction as their brain is in a key phase of development and is uniquely vulnerable to developing a substance abuse disorder. The adolescent brain is vulnerable to addiction due to its heightened plasticity combined with the lack of development in the prefrontal cortex, which cannot tame the strengthening of the reward pathway that comes with repeated drug use. As the U.S. faces a substantial opioid epidemic, Tennessee is one of the most impacted states with more than six million opioid prescriptions and 19.9 opioid involved overdose deaths per 100,000 persons in 2018. Rural counties in TN are especially affected by this crisis due to decreased educational attainment and access to mental health care services, as well as increased rates of poverty and unemployment. 
In an attempt to raise awareness for addiction, we had two main objectives; to create an engaging, accessible, and informative zoom presentation about addiction and to create a 3 part TikTok series about how addiction impacts the brain and body, paired with treatments for addiction. We created a zoom presentation which informs middle to high school students about how addiction affects the brain, why it's classified as a brain disease, and discussed further the various treatments for addiction along with the various pitfalls that come with treatment. Near-peer education was specifically utilized as part of a broader attempt to better understand the effectiveness of this brand of outreach.  This zoom presentation was adapted so it can be used for both online and in-person students and is paired with an instructional guide to increase accessibility for interested educators.  
Our second output included a three-part TikTok series which discussed the neurobiological effects of alcohol, physiological effects and why it is classified as a disease, and treatment options. All TikTok videos were one minute in length and were stop-motion videos. The stop motion videos were edited to include a voiceover and background music to make it more engaging to our TikTok audience. We chose to post our videos on TikTok due to the percentage of teens on the app (25% of users are teenagers) and due to the algorithm which makes it easier to reach a larger audience. Although our TikTok series had an average of (amount of views), it will always be available for educators to use as reinforcements or summaries to their lessons about addiction.
---
CONNECT WITH SSMV