Maria Ressa – 2023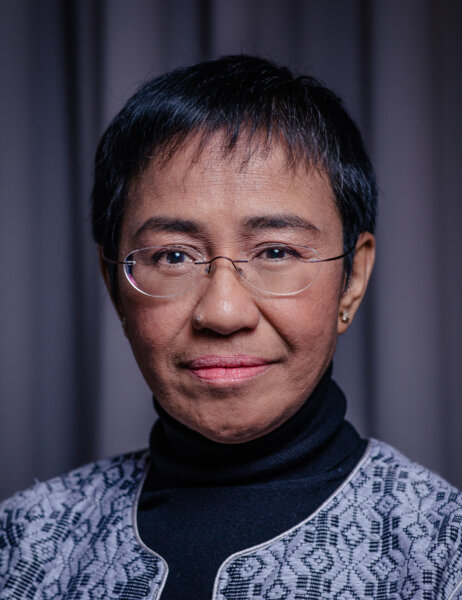 Nobel Prize Winner 2021, CEO of Rappler, Author


Maria A. Ressa is an internationally acclaimed journalist who has endured political threats and government arrests for her commitment to truth and democracy.
Read More

2021 Nobel Prize winner and journalist in Asia for nearly 35 years, Maria Ressa co-founded Rappler, the top digital only news site that is leading the fight for press freedom in the Philippines. As Rappler's executive editor and CEO, Maria has endured constant political harassment and arrests by the Duterte government, forced to post bail eight times to stay free. Rappler's battle for truth and democracy is the subject of the 2020 Sundance Film Festival documentary, A Thousand Cuts.

Most recently, Maria co-founded The Real Facebook Oversight Board—composed of 25 academics,
journalists, and activists that will rival the social media platform's own board.

For her courage and work on disinformation and "fake news," Maria was awarded the 2021 Nobel Peace Prize, named Time Magazine's 2018 Person of the Year, was among its 100 Most Influential People of 2019, and has also been named one of Time's Most Influential Women of the Century. She was also part of BBC's 100 most inspiring and influential women of 2019 and Prospect magazine's world's top 50 thinkers. Among many awards, she received the prestigious Golden Pen of Freedom Award from the World Association of Newspapers and News Publishers, the Knight International Journalism Award from the International Center for Journalists, the Gwen Ifill Press Freedom Award from the Committee to Protect Journalists, the Shorenstein Journalism Award from Stanford University, the Columbia Journalism Award, the Free Media Pioneer Award from the International Press Institute, and the Sergei Magnitsky Award for Investigative Journalism.
Previous Nichols-Chancellor's Medal Winners
Reid Hoffman - 2022
Co-Founder of LinkedIn
Partner at Greylock
An accomplished entrepreneur, executive, and investor, Reid Hoffman has played an integral role in building many of today's leading consumer technology businesses, including LinkedIn and PayPal.
Read more

Hoffman co-founded LinkedIn, the world's largest professional networking service, in 2003. LinkedIn is thriving with more than 700 million members around the world and a diversified revenue model that includes subscriptions, advertising, and software licensing. He led LinkedIn through its first four years and to profitability as Chief Executive Officer. In 2016 LinkedIn was acquired by Microsoft, where he became a board member.  

Prior to LinkedIn, Hoffman served as executive vice president at PayPal, where he was also a founding board member.  

Hoffman is the host of Masters of Scale, an original podcast series and is the co-author of four best-selling books: The Alliance, Blitzscaling, Masters of Scale and The Start-Up of You which offers career advice to recent University graduates.  
Dr. Anthony Fauci - 2021
Dr. Anthony Fauci, the nation's top leader in infectious disease research and an internationally renowned biomedical scientist.
Read more

Since 1984, Fauci has served as director of the National Institute of Allergy and Infectious Diseases at the National Institutes of Health, where he oversees an extensive research portfolio focused on infectious and immune-mediated diseases. He is also chief of the NIAID Laboratory of Immunoregulation, where he has made many seminal contributions in basic and clinical research.

Fauci has advised seven presidents on HIV/AIDS and many other domestic and global health issues. He was one of the principal architects of the President's Emergency Plan for AIDS Relief, a program that has saved millions of lives throughout the developing world.

Fauci is one of America's most recognizable physician-scientists. He became a popular public figure when the White House Coronavirus Task Force, on which he served, began holding daily press briefings in March 2020. In addition to his leadership of the NIAID, he now serves as chief medical adviser to the Biden administration and is a member of its COVID-19 response team.

Fauci received his bachelor's degree from the College of the Holy Cross and his medical degree from Cornell University Medical College. He then completed an internship and residency at The New York Hospital-Cornell Medical Center.

Fauci has been honored with numerous awards, including the Presidential Medal of Freedom, the National Medal of Science, the George M. Kober Medal of the Association of American Physicians and the Mary Woodard Lasker Award for Public Service.
Caroline Kennedy - 2020
Best-selling author, attorney and former U.S. Ambassador to Japan, Caroline Kennedy, the daughter of President John F.
Kennedy and First Lady Jacqueline Kennedy Onassis, has dedicated her life to public and philanthropic service. Kennedy was the first woman to serve as U.S. ambassador to Japan when she was nominated by President Barack Obama in 2013. During her tenure, she helped realize the U.S. military's return of nearly 10,000 acres on Okinawa to the Japanese government and played a pivotal role in President Obama's historic visit to Hiroshima. She was also an advocate for Japanese women in business and politics. 
Read more

Kennedy has authored, co-authored or edited more than a dozen books on American history, politics, constitutional law, and poetry. Among her eleven New York Times bestsellers are: She Walks in Beauty: A Woman's Journey Through Poems, A Family of Poems: My Favorite Poetry for Children and The Best-Loved Poems of Jacqueline Kennedy Onassis. Kennedy has been active in school reform efforts. From 2002 through 2011, she served as vice-chair of the Fund for Public Schools, an organization dedicated to engaging the private sector in school reform.

She is the honorary president of the John F. Kennedy Library Foundation and honorary chair of the Senior Advisory Committee of the Harvard University Institute of Politics.

Kennedy earned a bachelor of arts from Harvard University and a law degree from Columbia University.
Venus Williams - 2019
With 7 Grand Slam titles, 5 Wimbledon championships and 4 Olympic gold medals, tennis legend Venus Williams is arguably one of the most accomplished and inspiring women in the history of sports.
Beginning her rise to the top at the age of 14, Williams quickly took the world of tennis by storm rising to the top-ranked position, breaking countless records, and winning numerous championships.
Read more

Not only is Williams a force on the court, the fashion community has taken notice of her bold sense of style with numerous recognitions, including landing on Vogue's 'Top 10 Best Dressed' list and Sports Illustrated's 'Fashionable 50.'

Encouraged by her mother at an early age to explore her creative side, Williams enrolled in fashion school where she was instantly drawn into the world of fashion and interior design. True to her bold spirit, Williams parlayed her fine-tuned business acumen with her healthy competitive spirit into two successful design ventures.

In 2002, after obtaining an Interior Decorator certification, Williams founded V Starr Interiors, a fullservice commercial and residential interior design firm, which recently announced their partnership with Airbnb partner, Niido to design their first-ever apartment complex.

Continuing with her love for design, Williams obtained an Associate of Science in Fashion Design and in 2007 she launched the activewear brand, EleVen, the largest apparel line ever launched by a female athlete.

Sticking to her entrepreneurial spirit, in 2009 Williams along with her sister, Serena became the first female African-Americans to have a stake in an NFL franchise after joining the ownership group of the Miami Dolphins. The following year, Venus published her motivational book, "Come to Win" which reached No. 5 on the New York Times Best Sellers list.

Throughout her career, Williams has been a steadfast advocate for equality. In 2006 UNESCO, the United Nations' cultural organization titled her as the first "Promoter of Gender Equality.' In 2007 it was her unwavering fight, which led Wimbledon to award women players the same pay as their male counterparts and in September 2009, the Anti-Defamation League (ADL) honored Williams with the Americanism Award for publicly speaking up for Israeli player Shahar Pe'er who was barred from the Dubai tennis tournament.

Williams' achievements throughout her legendary career have merited her a plethora of additional accolades, including being honored as Glamour Magazine's 'Woman of the Year,' ESPN's 'WTA Player of the Year,' and Forbes' 'Celebrity 100' among others. Williams holds Bachelor of Science in Business Administration from Indiana University East and an Associate of Science in Fashion Design from The Art Institute of Fort Lauderdale.
Amal Clooney - 2018
Amal Clooney is a British human rights lawyer practicing at Doughty Street Chambers in London, where she specializes in international law and human rights. She is also a Visiting Professor at Columbia Law School, where she teaches Human Rights. Her clients have ranged from political prisoners and ousted Heads of State to WikiLeaks founder Julian Assange and the Republic of Armenia. She has appeared before the International Court of Justice, the International Criminal Court, the European Court of Human Rights and various courts in the United Kingdom and the United States.
Read more

The Oxford-educated lawyer is a frequent adviser to governments on international law and has held a number of posts within the United Nations, including senior adviser to Kofi Annan when he served as the UN Envoy on Syria. While in The Hague she worked on the genocide trial of former Yugoslav President Slobodan Milosevic. Since then she has challenged the detention of former Ukrainian Prime Minister Yulia Tymonshenko at the European Court of Human Rights. She has advised the Greek government on the return of the Parthenon Marbles, represented the Chagossians on their legal fight to return to their islands, and acted as counsel to the Armenian government in a case on the Armenian genocide.

In the last year she successfully represented three political prisoners: Canadian journalist Mohamed Fahmy, who was convicted in the 'Al Jazeera trial' in Egypt; former President of the Maldives Mohamed Nasheed, who was imprisoned on false terrorism charges; and award-winning Azerbaijani journalist 'Khadija', who was arrested in Baku after reporting on corruption by the Azerbaijani President. All have now been released from detention. She is currently counsel to Nadia Murad and other Yazidi women who have been sexually enslaved by ISIS in Iraq and Syria, working to secure accountability for the genocide committed by ISIS in national and international courts.

Amal Clooney is on the UK government's list of experts on international law and on the government's panel to prevent sexual violence in conflict. She has also been named a "Young Global Leader" by the World Economic Forum, and she serves on the Forum's Global Council on Human Rights. In 2016, she co-founded the Clooney Foundation for Justice with her husband. One of their first projects — aiming to educate hundreds of thousands of refugee children in Lebanon –was showcased at the 2016 United Nations summit on the refugee crisis.
Kens Burns - 2017
Ken Burns has been making films for almost forty years. Since the Academy Award nominated Brooklyn Bridge in 1981,Burns has gone on to direct and produce some of the most acclaimed historical documentaries ever made. A December 2002 poll conducted by Real Screen Magazine listed The Civil War as second only to Robert Flaherty's Nanook of theNorth as the "most influential documentary of all time," and named Ken Burns and Robert Flaherty as the "most influential documentary makers" of all time.
Read more

In March, 2009, David Zurawik of The Baltimore Sun said, "… Burns is not only the greatest documentarian of the day, but also the most influential filmmaker period. That includes feature filmmakers like George Lucas and Steven Spielberg. I say that because Burns not only turned millions of persons onto history with hisfilms, he showed us a new way of looking at our collective past and ourselves." The late historian Stephen Ambrose said of his films, "more Americans get their history from Ken Burns than any other source." Burns' films have won 14 "Emmy Awards" and two Oscar nominations, and in September of 2008, at the News & Documentary Emmy Awards, Burns was honored by the Academy of Television Arts & Sciences with a "Lifetime Achievement Award". Burns has been the recipient of 30 honorary degrees and has delivered many treasured commencement addresses. He is a sought-after public speaker, appearing at colleges, civic organizations and business groups throughout the country. Projects currently in production include films on Jackie Robinson, the Vietnam War, the history of country music, Ernest Hemingway, and the history of stand-up comedy. 
Soledad O'Brien – 2016
Leading media journalist, Soledad O'Brien has established herself as one of the most recognized names in broadcasting, bringing wider exposure to some of the most important issues and stories in the world through her coverage of breaking news, critically-acclaimed documentaries and empowering initiatives. Her critically acclaimed documentary series, Black in America and Latino in America are among CNN's most successful domestic and international franchises.
Read more

In 2013, she launched Starfish Media Group, a multiplatform media production and distribution company, dedicated to uncovering and producing empowering stories that take a challenging look at the often divisive issues of race, class, wealth, poverty and opportunity. Her projects include her documentary series, Latino in America 2, which won the distinguished Cine Award for documentaries and she is currently touring to promote Black in America. O'Brien is also a special correspondent for Al Jazeera's flagship show, America Tonight and a correspondent for HBO's Real Sports with Bryant Gumbel.

O'Brien has earned numerous Emmy awards for her reporting on the earthquake in Haiti, her coverage of the 2012 Presidential Election, and her work on "Kids on Race: The Hidden Picture." Her coverage of Hurricane Katrina earned her and CNN a Peabody award and she earned another for her coverage of the BP Gulf coast oil spill.

An authentic, engaging speaker, she offers a behind-the-scenes look at her work and inspiring, empowering narratives about the importance of making a difference and her commitment to exploring and uncovering the most important issues and stories in the world.
Walter Isaacson – 2015
Graduates should be humble, curious, and creatively open to collaboration, according to Walter Isaacson. The key to success in the 21st century, the same as it had been in the 20th century, will be combining love and facility for the sciences and the arts.
Read more

'Follow your passion' is sort of a mantra of (the) Baby Boom generation," said Isaacson, president and CEO of the Aspen Institute and formerly chairman and CEO of CNN and editor of TIME magazine, to an attentive crowd of students, their family and friends in Memorial Gymnasium on May 7, 2015

"Let me tell you something – it ain't just about your passion. It's about connecting your passion with something larger than yourselves. That's what you'll discover it's all about. … That's what made all the characters I wrote about so great."

Isaacson's books include biographies of Jobs, Franklin and Albert Einstein. His most recent is The Innovators: How a Group of Inventors, Hackers, Geniuses and Geeks Created the Digital Revolution.

The writer's prime example of that theory was the subject of his 2011 book, Steve Jobs. The founder of Apple was an electronics enthusiast as well as a lover of poetry and dance as a youngster, Isaacson said.

"He thought he was weird to have both sets of interests until he read something that Edwin Land – who had invented Polaroid – had said: 'Those who can stand at the intersection of the arts and the sciences, those who can stand at that intersection where the humanities meet technology, will be the creative ones, the ones who will produce value in our society.'"
Dr. Regina Benjamin – 2014
"Your presence matters," MacArthur "genius" and former U.S. surgeon general Regina M. Benjamin told graduating Vanderbilt University seniors on Senior Class Day, the day before Commencement will transform them into alumni.
Just by being there and making sure you're doing well and being good at what you do, your presence matters. You never know who's watching you," Benjamin said.
Read more

"Today I want to remind you and your families of the service side of your Vanderbilt values," Benjamin said. "The humanitarian values that have prepared you to follow Cornelius Vanderbilt's vision, for you to strengthen the ties that should exist between all sections of our common country, between the rich and the poor, the educated and under-educated, the Christian and non-Christian, and so on.

"You are now prepared to go out and change the world. You're prepared to make a difference."

Benjamin, who was named a fellow by the MacArthur Foundation in 2008, was the 18th surgeon general of the United States. She provided the public with information on how to improve their health and the health of the nation, oversaw the operational command of 6,500 uniformed public health officers, and served as chair of the National Prevention Council — 17 cabinet-level federal agencies that developed a national prevention strategy.

"While I left the position last summer, I didn't leave the mission," Benjamin said.
Toni Morrison – 2013
Novelist Morrison tells grads to embrace interconnectedness.
The bloody and warlike history of the world is all the more reason to be caring citizens going forward, Pulitzer Prize-winning novelist Toni Morrison advised graduates during Senior Day festivities at Vanderbilt University.
Read more

"None of us is alone," said Morrison, author of popular American novels Beloved and Song of Solomon. "Each of us is dependent on others. Some of us depend on others for life itself."

"(Morrison's) heartfelt work illuminates the struggles and triumphs of everyday people, and at the same time, unites us in our common humanity," Zeppos said.

Morrison said she would share some of the honorarium she will receive as the Nichols-Chancellor's Medal recipient with Doctors Without Borders.
Tom Brokaw – 2012
Journalist and author Tom Brokaw advised graduating seniors at Vanderbilt University to be mindful that everyone's fate is more intertwined than ever in an age marked by technological advancement and class division.
Read more

Brokaw urged graduates to "leave an indelible imprint on your time" by combining time spent on individual ambitions with work for the public good. He suggested that graduates should put forth "bold ideas about how to make public service in America mandatory, or at least more universal than it is today."

"Shoot for the stars and become the next 'greatest generation," he said.

Brokaw anchored the NBC Nightly News for 21 years and wrote the best-selling book The Greatest Generation.
Wangari Maathai – 2011
A Vanderbilt University graduate is a "potential great change agent," Nobel Peace Prize-winner Wangari Maathai told seniors the day before their Commencement ceremony.
Read more

 

"You are ready," Maathai exhorted students in Memorial Gymnasium. "Go forth then, the world is waiting."

Maathai was the founder of the Green Belt Movement, which focuses on women's groups planting trees to conserve the environment and empower themselves by improving their quality of life. More than 39 million trees have been planted across Kenya as a result.

In 2004, Maathai became the first African woman to receive the Nobel Peace Prize for "her contribution to sustainable development, democracy and peace." She was the first women in East and Central Africa to earn a doctoral degree, and served in the Kenyan Parliament and as assistant minister for environment and natural resources. Maathai died Sept. 26, 2011, of cancer. She was 71.
Khaled Hosseini – 2010
Novelist Khaled Hosseini wished Vanderbilt graduates "prosperity" in their post-college lives, but suggested they stay connected to suffering in the world by tithing 5 percent of their time or money to those less fortunate.
Read more

Hosseini, author of the bestsellers The Kite Runner and A Thousand Splendid Suns, spoke May 13 in Memorial Gymnasium to 2010 graduates, their friends and family members.

"I ask you to seek out people in your community in need – to try not just to understand them, but to help them," Hosseini said.

"It is hard to make a connection with people who are suffering. It requires you to take on some of that pain for yourself. It makes you see a kinship with misfortune, and to see how it could happen to you, and how it would make you feel."
Doris Kerns Goodwin — 2009
Historian and Pulitzer Prize-winning author Doris Kearns Goodwin received Vanderbilt University's prestigious Nichols-Chancellor's Medal on May 6, 2009, when she addressed graduating seniors and their families during Senior Day.
Read more

The address by Goodwin, author of Team of Rivals: The Political Genius of Abraham Lincoln, paid tribute to the 200th anniversary of the birth of President Lincoln in 1809 and was part of a series of events nationwide to celebrate the occasion.

"Doris Kearns Goodwin is a brilliant communicator who has illuminated U.S. history for millions of readers," said Chancellor Nicholas S. Zeppos.

Goodwin has written books on Lincoln, Lyndon Johnson, the Kennedy family, Franklin and Eleanor Roosevelt and a memoir about growing up in the 1950s in love with the Brooklyn Dodgers. In 1995, she won the Pulitzer Prize for No Ordinary Time: Franklin and Eleanor Roosevelt: The Home Front During World War II.
Bob Geldof — 2008
Graduating seniors should become "the new American revolutionaries" aiming for the stars even if they find themselves sometimes lying in the gutter, said musician and social activist Bob Geldof.
Read more

"Be unreasonable," said Geldof, who urged graduates to be engaged with the problems of the world's poorest citizens. "Demand stuff of the world and if they don't do it, then change the world to suit the demands."

Geldof, who has raised millions of dollars for famine relief in Africa through Live Aid and other events and now campaigns for debt relief for Third World countries, received the Nichols-Chancellor's Medal and accompanying $100,000 prize for his humanitarian efforts.

"Bob Geldof, through his energy, his force of personality and persuasion … simply changed the cultural expectations of popular music," said Chancellor Nicholas S. Zeppos. "He showed that music can educate, it can inspire and it can promote the very best in people to become activists a world away."
Muhammad Yunus — 2007
Muhammad Yunus, Vanderbilt alumnus and 2006 Nobel Peace Prize Laureate, was awarded the Nichols-Chancellor's Medal and $100,000 prize May 10, 2007. Yunus developed the concept of microcredit and founded the Grameen Bank, which has improved the lives of millions in his native Bangladesh through small loans to fund enterprises and buy livestock.
Read more

Yunus earned a doctorate in economics at Vanderbilt in 1971 through the Graduate Program in Economic Development. Grameen (which means "rural" in Bengali) Bank began in the village of Jobra in 1976, when Yunus lent $27 to 42 self-employed crafts workers. He reasoned that if money were made available to poor people on appropriate and reasonable terms, "these millions of small people with their millions of small pursuits can add up to create the biggest development wonder." As of December 2009, the Grameen Bank had loaned nearly $8.53 billion to 7.94 million borrowers, of which $7.59 billion has been repaid. The bank provides services in more than 84,787 villages in Bangladesh through 2,560 branches.
First Lady Laura Bush — 2006
First Lady Laura Bush was the winner of the Nichols-Chancellor's Medal its inaugural year. Mrs. Bush accepted the award on behalf of disaster relief workers around the world who, at great peril to their personal safety, provided assistance to victims of natural disasters. Mrs. Bush donated the $100,000 cash prize to Vanderbilt to create the Nichols Humanitarian Fund, which provides travel and living expenses for students and faculty who volunteer for disaster relief assignments around the world.
Read more

While first lady, Mrs. Bush was actively involved in issues of national and global concern, with a particular emphasis on education, health care and human rights. She was honorary ambassador for the Decade of Literacy of the United Nations Educational, Scientific and Cultural Organization (UNESCO), serving as an international spokesperson for efforts to educate people throughout the world, especially women and girls. As the leader of President Bush's Helping America's Youth initiative, Mrs. Bush worked to draw attention to programs that help children avoid risky behaviors like drug and alcohol use, early sexual activity and violence. She also emphasized the need of every child to have a caring adult role model in his or her life. She convened the Summit on Early Childhood Cognitive Development, at which prominent scholars and educators shared research on the best ways for parents and caregivers to prepare children for lifelong learning. She also worked with teacher recruitment programs like Teach For America, The New Teacher Project and Troops to Teachers and supports education campaigns for breast cancer and heart disease.
Shirin Ebadi — 2005
Shirin Ebadi, 2003 Nobel Peace Prize Laureate, was Vanderbilt's second Senior Day Speaker. Her poignant remarks regarding Democracy and peace were heard by the 2005 graduates and their guests.
Read more

"Democracy is not a gift that we can give to a nation", said Ebadi, the first Muslim woman and first Iranian to win the Nobel. "We can't export democracy by weapons. We can't bomb a nation in order to give it human rights. Democracy and human rights develop in any nation if the people of that nation want it. If a country claims to be a supporter of democracy and human rights in another country, it can only support it through negotiations."

Ebadi became the first female judge in Iran in 1975, only to be stripped of the job in 1979 after the Islamic Revolution. Until getting back her license to practice law in 1992, she studied the Koran and wrote books and articles designed to help counter arguments by conservative clerics restricting the rights of women and children. She has been jailed many times as a result of defending political dissidents in Iran.
Condoleezza Rice — 2004
National Security Adviser Condoleezza Rice was the guest speaker at Vanderbilt University's inaugural Senior Day on Thursday, May 13, 2004.
Read more

"I am delighted to welcome Dr. Rice to Vanderbilt to celebrate the achievements of our graduates," said Chancellor Gordon Gee. "As a scholar, an academic executive, a student and practitioner of public policy, she is a unique and demonstrated leader who will have much to say."

Rice served as President George W. Bush's chief national security and foreign policy adviser. Rice has been on the Stanford faculty as professor of political science since 1981 and has won two of the highest teaching honors—the 1984 Walter J. Gores Award for Excellence in Teaching and the 1993 School of Humanities and Sciences Dean's Award for Distinguished Teaching.

At Vanderbilt, Rice spoke of her childhood and growing up in the South. She was born in Birmingham, Ala., where she earned her bachelor's degree in political science, cum laude and Phi Beta Kappa, from the University of Denver in 1974; her master's from the University of Notre Dame in 1975; and her doctorate from the Graduate School of International Studies at the University of Denver in 1981.