Founder's Medal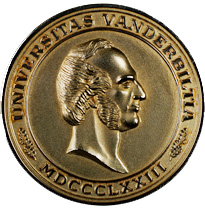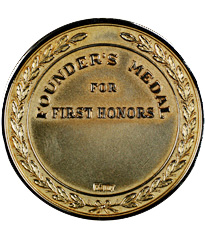 Cornelius Vanderbilt's gifts to the university included endowment of this award, given since 1877 for first honors in each graduating class. The medal is gold.
Obverse. The profile of Cornelius Vanderbilt is a replica of the one by sculptor Salathiel Ellis on the gold medal that was presented to the Commodore by action of Congress in 1864 to express the nation's gratitude for the gift of his steamship, the Vanderbilt, to the government during the Civil War.
Reverse. The words "Founder's Medal for First Honors" appear on the reverse of the medal with space below for the recipient's name, date and the school or college to be engraved.
Past Founder's Medalists
| YEAR | NAME | HOMETOWN | SCHOOL |
| --- | --- | --- | --- |
| 2020 | Sumanth Chennareddy | Cumming, GA | Arts & Science |
| 2020 | Mattew James Shorten | Wollongong, Australia | Blair |
| 2020 | Luke David Neise | Wildwood, MO | Engineering |
| 2020 | Constance Iris Du | Vernon Hills, IL | Peabody |
| 2020 | Michael Fears Johnston | McDonough, GA | Divinity |
| 2020 | Joshua Andrew Bruner | Kansas, City, MO | Owen |
| 2020 | Micah N. Bradley | Brentwood, TN | Law |
| 2020 | Thea Jean Autry | Katy, TX | Grad |
| 2020 | Jane Marie Mericle | Avondale, PA | Nursing |
| 2020 | Kianna Roze Jackson | Evansville, IN | Medicine |
| | | | |
| 2019 | Ethan Chevronski | Peachtree Corners, GA | Arts & Science |
| 2019 | Brigit Maynard Fitzgerald | Phoenix, AZ | Blair |
| 2019 | David K. Zhang | Clarksville, TN | Engineering |
| 2019 | Emily Joellen Burgess | Kingsport, TN | Peabody |
| 2019 | Maria Angeline Michonski | Chapmansboro, TN | Divinity |
| 2019 | Matthew Kemper Davis | Montgomery, AL | Owen |
| 2019 | Joshua Burton Landis | Hamilton, MA | Law |
| 2019 | Ian Miller Williams | Petaluma, CA | Grad |
| 2019 | Brooke M. Faught | Brentwood, TN | Nursing |
| 2019 | Jessica Lindsay Burris | Midlothian, VA | Medicine |
| | | | |
| 2018 | Madison Caroline Renner | Franklin, TN | Arts & Science |
| 2018 | Andrew Lee Sledge | Garner, NC | Blair |
| 2018 | Crystal Marie Loehman | Downers Grove, IL | Engineering |
| 2018 | Logan Elizabeth Brown | Lawrence, KS | Peabody |
| 2018 | Kelsey Laine Davis | Thousand Oaks, CA | Divinity |
| 2018 | Mogan Lea Flanders | Peachtree, City, GA | Owen |
| 2018 | Richard Turner Henderson | Nashville, TN | Law |
| 2018 | Thushara Gunda | Alexandria, VA | Grad |
| 2018 | Brenna Danielle Gillis | Mount Juliet, TN | Nursing |
| 2018 | Whitney Elizabeth Muhlestein | South Pasadena, CA | Medicine |
| | | | |
| 2017 | John R. Bouchard | Glendale, CA | Arts & Science |
| 2017 | Amanda R. Jurewicz | Phoenixville, PA | Arts & Science |
| 2017 | Mary G. Johnson | Murfreesboro, TN | Blair |
| 2017 | Dorothy E. Parks-Piatt | Chattanooga, TN | Divinity |
| 2017 | Duncan M. Morgan | Woodstock, GA | Engineering |
| 2017 | Emily A. Hennessy | Red Hook, NY | Grad |
| 2017 | Laura E. Dolbow | Alpharetta, GA | Law |
| 2017 | Samantha Gridley Haley | Milton, GA | Medicine |
| 2017 | Beverly Michelle Padgett | Portland, TN | Nursing |
| 2017 | Aaron Jackson Dorn | Charleston, SC | Owen |
| 2017 | Lauren Somers Heyano | Anchorage, AL | Peabody |
| | | | |
| 2016 | Leslie K. Bruce | Belton, MO | Arts & Science |
| 2016 | Jung Min Shin | Seoul, South Korea | Arts & Science |
| 2016 | Amy V. Thompson | Springfield, TN | Blair |
| 2016 | Samantha T. McGlothlin | Hoover, AL | Divinity |
| 2016 | Julie A. Schnur | St. Louis, MO | Engineering |
| 2016 | Andrew Hines | Lake Charles, LA | Grad |
| 2016 | Lauren M. Meyers | Lafayette, LA | Law |
| 2016 | G. Alexander Nunn | Flower Mound, TX | Law |
| 2016 | Mary Ellen Koran | Annapolis, MD | Medicine |
| 2016 | Jessica N. Walker | Brentwood, TN | Nursing |
| 2016 | Andrew Niemeier | Evansville, IN | Owen |
| 2016 | Felicia Hanitio | Singapore China | Peabody |
| | | | |
| 2015 | Danielle Jessup Beaujon | West Bloomfield, MI | Arts & Science |
| 2015 | Elenora Grace Pertz | Ashtabula, OH | Blair |
| 2015 | Akesh Umakantha | West Chester, OH | Engineering |
| 2015 | Sally Catherine Nichols | Worthington, OH | Peabody |
| 2015 | Naomi Kathleen Yoder | Knoxville, TN | Divinity |
| 2015 | Nicholas Carter Gordon | Charlotte, NC | Owen |
| 2015 | Robin E. Frazer | Lexington, KY | Law |
| 2015 | Rene Raphemot | Libreville, Gabon | Grad |
| 2015 | Morgan Elizabeth De Kleine | Pennington, NJ | Nursing |
| 2015 | Shyam Jayant Deshpande |  Nashville, TN | Medicine |
| | | | |
| 2014 | Kristin Lee Bater | Villanova, Pa. | Arts & Science |
| 2014 | Mae Louise Mosley | Henderson, Ky. | Blair |
| 2014 | Kasey Rebecca Hill | Huntsville, Ala. | Engineering |
| 2014 | Amanda Lange Palmer | Birmingham, MI | Peabody |
| 2014 | Susannah Marie Morris | Atlanta, Ga. | Divinity |
| 2014 | Peter Kevin Attwater | Kernersville, N.C. | Owen |
| 2014 | William Thomas Marks | Charlotte, N.C. | Law |
| 2014 | Debra Perrone | Fair Lawn, N.J. | Grad |
| 2014 | Cecilia Kennedy Page | Lexington, Ky. | Nursing |
| 2014 | Sarah Elizabeth Scott | Bloomington, Ind. | Medicine |
| | | | |
| 2013 | Robert George Tauscher | Geneva, Ill. | Arts & Science |
| 2013 | Shelby June Flowers | Highlands Ranch, Colo. | Blair |
| 2013 | Curtis George Northcutt | Lexington, Ky. | Engineering |
| 2013 | Jesse Mark Neugebauer | Gering, Nebr. | Peabody |
| 2013 | Frank Eugene Lilley, Jr. | Clinton, Miss. | Divinity |
| 2013 | Hoang Lan Huyen Ton Nu | Singapore | Owen |
| 2013 | Angela Lee Bergman | Brookfield, Wis. | Law |
| 2013 | Lindsay Satterwhite Mayberry | Lexington, Ky. | Grad |
| 2013 | Chaquetta Thomas Johnson | Alexandra, La. | Nursing |
| 2013 | William Michael Sullivan | Massapequa, N.Y. | Medicine |
| | | | |
| 2012 | Tim Xu | Vienna, Va. | Arts & Science |
| 2012 | Caroline Marie Hart | Saint Peters, Mo. | Blair |
| 2012 | Kathryn Elizabeth Maxwell | Saltillo, Miss. | Engineering |
| 2012 | Michael James Beno | Marietta, Ga. | Peabody |
| 2012 | Kyle Brent Thompson Lambelet | Wichita, Kansas | Divinity |
| 2012 | Scarlet Amber Jones | Clarksdale, Miss. | Owen |
| 2012 | Karen Usselman Lindell | Atlanta, Ga. | Law |
| 2012 | Elizabeth Reeves Covington | Houston, Texas | Grad |
| 2012 | James Clifton Roberson | Portland, Maine | Nursing |
| 2012 | Daniel Mark Koehler | Pickerington, Ohio | Medicine |
| | | | |
| 2011 | Sarah Anne Coggins | Cabot, Ark. | Arts & Science |
| 2011 | Lillian Elizabeth Johnson- | Murfreesboro, Tenn. | Blair |
| 2011 | Eppa Rixey V | Cincinnati, Ohio | Engineering |
| 2011 | Rebecca Lee Barden | Nashville, Tenn. | Peabody |
| 2011 | Elizabeth Anne Coyle | Franklin, Tenn. | Divinity |
| 2011 | Alison Chu Crawford | Paducah, Ken. | Owen |
| 2011 | David McMekin Barnes | Kingsport, Tenn. | Law |
| 2011 | Joshua Williams Buckholtz | Potomac, Md. | Grad |
| 2011 | Morgan Sutton Stone | Jamestown, Tenn. | Nursing |
| 2011 | Piotr Pawel Pilarski | Northbrook, Ill. | Medicine |
| | | | |
| 2010 | Leslie Claire Esbrook | Northbrook, Ill. | Arts & Science |
| 2010 | Johna Bradley Smith | Bloomington, Ind. | Music |
| 2010 | Lauren Baker Smelser | Florence, Ala. | Divinity |
| 2010 | Andrew Philip Jallouk | Oak Ridge, Tenn. | Engineering |
| 2010 | Ryan Thomas Holt | Nashville, Tenn. | Law |
| 2010 | Eric Keith Bilbrey | Nashville, Tenn. | Owen |
| 2010 | Jessica Emily Solomon | Moreland Hills, Ohio | Peabody |
| 2010 | Brandon Richard Litzner | Valley Center, Kan. | Medicine |
| 2010 | Jennifer Elaine Roemer | Knoxville, Tenn. | Nursing |
| | | | |
| 2009 | Meredith Harrison Sellers | Cleveland, Tenn | Arts & Science |
| 2009 | Kathryn Tierney Moreadith | Raleigh, N.C. | Music |
| 2009 | Arunan Skandarajah | Indianapolis, Ind. | Engineering |
| 2009 | Scott Ransom Brown | Alpharetta, Ga. | Peabody |
| 2009 | Nancy Angeline Lancaster | Franklin, Tenn. | Nursing |
| 2009 | Justin Thomas Steiner | Fairfax, Va. | Owen |
| 2009 | Myrick Clements Shinall, Jr. | Atlanta, Ga. | Divinity |
| 2009 | Tory Hodges Lewis | Alpena, Ark. | Law |
| 2009 | Brenessa Michelle Lindeman | Phelps, Ky. | Medicine |
| | | | |
| 2008 | Paul Edouard Gauthier | Wheaton, Ill. | Arts & Science |
| 2008 | Robert Patrick Tiedemann | Chester, N.J. | Music |
| 2008 | Christopher Bruce Bellande | Carmel, Ind. | Engineering |
| 2008 | Andrew John Haffner | Wexford, Pa. | Peabody |
| 2008 | Jane Zielinski-Carter | Rockford, Ill. | Nursing |
| 2008 | Philip J. Rutterer | Saint Louis, Mo. | Owen |
| 2008 | Julie Delane Hight | Nashville, Tenn. | Divinity |
| 2008 | Leah Jo Bressack | Los Altos, Calif. | Law |
| 2008 | India Fox Landrigan | New York, N.Y. | Medicine |
| | | | |
| 2007 | Christopher Scott Randolph, Jr. | Jacksonville, Ala | Arts & Science |
| 2007 | Peter Laurence Cain | Davidson, N.C. | Music |
| 2007 | Michael Charles Roach | Independence, Mo. | Engineering |
| 2007 | Courtney Cordell Miller | Austin, Texas | Peabody |
| 2007 | Frances Robin Bowden Riley | Nashville, Tenn | Nursing |
| 2007 | Bana Basel Yacoub Shomali | Amman, Jordan | Management |
| 2007 | Melanie Elizabeth Trexler | Richmond, Ky. | Divinity |
| 2007 | Cory Dean Kandestin | Montreal, Canada | Law |
| 2007 | Kristina Marie Collins | Peoria, Ariz. | Medicine |
| | | | |
| 2006 | Jimmy Lee Kerrigan | Gallatin, Tennessee | Arts & Science |
| 2006 | Daniel Jacob Schwartzq | Wheeling, Illinois | Music |
| 2006 | Michael Thomas Osborne | Louisville, Kentucky | Engineering |
| 2006 | Emily Webb Clark | Nashville, Tennessee | Peabody |
| 2006 | Michael D. Gooch | Brentwood, Tennessee | Nursing |
| 2006 | Murray C. Briggs III | Fort Smith, Arkansas | Management |
| 2006 | Jennifer Lynn Compton | Gardendale, Alabama | Divinity |
| 2006 | Robert Hart Smith | Senatobia, Mississippi | Law |
| 2006 | Joshua Patrick Fessel | Olney, Illinois | Medicine |
| | | | |
| 2005 | Lauren Alaina Weigand | Fort Smith, Arkansas | Arts & Science |
| 2005 | Amy Suzanne Helman | Macon, Georgia | Music |
| 2005 | Stephen John McGuire | Baton Rouge, Louisiana | Engineering |
| 2005 | Ann Brady Menees | Saint Louis, Missouri | Peabody |
| 2005 | Candace Riehl | Mayfield, Kentucky | Nursing |
| 2005 | Jeffrey Austin Fritsche | Fort Thomas, Kentucky | Management |
| 2005 | Joseph Daniels Blosser | Jefferson City, Missouri | Divinity |
| 2005 | Kathryn Elizabeth Komp | Green Bay, Wisconsin | Law |
| 2005 | Travis Scott Henry | Morgantown, W. Virginia | Medicine |
| | | | |
| 2004 | Sejal Rajnikant Patel | Richmond, Texas | Arts & Science |
| 2004 | Sarah Elizabeth Seelig | Louisville, Kentucky | Music |
| 2004 | Heather Elizabeth Brant | Jacksonville, Florida | Engineering |
| 2004 | Alexis Anne Nesbit | Pittsburgh, Pennsylvania | Peabody |
| 2004 | Tanya Renee Sorrell | Nashville, Tennessee | Nursing |
| 2004 | Brian Thomas McCann | Dayton, Ohio | Management |
| 2004 | Robert Odell Wyatt II | Nashville, Tennessee | Divinity |
| 2004 | John Kenneth Chapman | Tarpon Springs, Florida | Law |
| 2004 | Mary Hunt Martin | Nashville, Tennessee | Medicine |
| | | | |
| 2003 | Lauren Leigh Parker | LaVergne, Tennessee | Arts & Science |
| 2003 | Jennifer Ann Bernard | Ladysmith, Wisconsin | Music |
| 2003 | Matthew David Keller | Bettendorf, Iowa | Engineering |
| 2003 | Ashley Renee Black | Auburn, Alabama | Peabody |
| 2003 | Deanna Christine Pilkenton | Nashville, Tennessee | Nursing |
| 2003 | Edward Hunt Guilbert III | Peachtree City, Georgia | Management |
| 2003 | Heather Renee Cash | Princeton, Kentucky | Divinity |
| 2003 | Jacob Sommer | Wake Forest, North Carolina | Law |
| 2003 | Kevin Robert Kozak | Nashville, Tennessee | Medicine |
| | | | |
| 2002 | Elbridge Samuel Chase, IV | Chanhassen, Minnesota | Arts & Science |
| 2002 | Christopher Matchette Walters | Jaksonville, Illinois | Music |
| 2002 | Ibrahim S.I. Almojel | Riyadh, Saudi Arabia | Engineering |
| 2002 | Sabrina Zaman | Germantown, Tennessee | Peabody |
| 2002 | Lori Burch Ferranti | Nashville, Tennessee | Nursing |
| 2002 | Mara Judith Peskin | Charleston, South Carolina | Management |
| 2002 | Jill Elizabeth Sawoski Shashaty | Southampton, Pennsylvania | Divinity |
| 2002 | Anne-Marie Moyes | San Francisco, California | Law |
| 2002 | Sarah Page Hammond | Berlin, Maryland | Medicine |
| | | | |
| 2001 | Joel William McGlothlin | Kingsport, Tennessee | Arts & Science |
| 2001 | Kristina Marie Lobenhofer | Ada, Ohio | Music |
| 2001 | Benjamin Walter Cook | Princeton, Kentucky | Engineering |
| 2001 | Kathryn Joy Greenslade | Scottsdale, Arizona | Peabody |
| 2001 | Leah Akers-Bell | Washington, Indiana | Nursing |
| 2001 | Pradeep Parameswaran | Bombay, India | Management |
| 2001 | Krista Elizabeth Hughes | Beaufort, South Carolina | Divinity |
| 2001 | Jeremy Daniel Kernodle | Searcy, Arkansas | Law |
| 2001 | Samir Mukund Parikh | Edison, New Jersey | Medicine |
| | | | |
| 2000 | Brian James Miller | Newark, Ohio | Arts & Science |
| 2000 | Amy Lynn Forburger | Des Moines, Iowa | Music |
| 2000 | Charles Young Thomason IV | Marietta, Georgia | Engineering |
| 2000 | Steven Craig DeCaluwe | Naperville, Illinois | Peabody |
| 2000 | Anne Kathryn Gingerich | Harrisonburg, Virginia | Nursing |
| 2000 | Halley O. Willison | Standish, Maine | Management |
| 2000 | Matthew Devin Drever | Simi Valley, California | Divinity |
| 2000 | Robert Adam Newton | Indianapolis, Indiana | Law |
| 2000 | Eileen Hoff Dauer | Ada, Minnesota | Medicine |
| | | | |
| 1999 | Beth Marie Froelke | Hamilton, Ohio | Arts & Science |
| 1999 | Kathryn Leigh Janssen | Ankeny, Iowa | Music |
| 1999 | Allen Brantley MacKenzie | Knoxville, Tennessee | Engineering |
| 1999 | Donna Mazloomdoost | Lexington, Kentucky | Peabody |
| 1999 | Clare Judith Thomson-Smith | Old Hickory, Tennessee | Nursing |
| 1999 | Veiko Buinevits | Tallinn, Estonia | Management |
| 1999 | Brant James Pitre | Houma, Louisiana | Divinity |
| 1999 | Stephen Douglas Hurd | Nashville, Tennessee | Law |
| 1999 | Michael Alan Proffitt | Van Wert, Ohio | Medicine |
| | | | |
| 1998 | Diane Chang | Gainesville, Florida | Arts & Science |
| 1998 | Wilson Thomas Southerland | Macon, Georgia | Music |
| 1998 | Terrence William August | Gallatin, Tennessee | Engineering |
| 1998 | Stephanie Jane Reim | Hendersonville, North Carolina | Peabody |
| 1998 | Carolyn Burke Martindale | Nashville, Tennessee | Nursing |
| 1998 | Tavis C. McCourt | Nashville, Tennessee | Management |
| 1998 | Tanya Marcovna Becker | Tacoma, Washington | Divinity |
| 1998 | Scott Joseph Lynn | Celina, Tennessee | Law |
| 1998 | Sarah Justine Gladstone | Lexington, Massachusettes | Medicine |
| | | | |
| 1997 | Dreeny Chen | Knoxville, Tennessee | Arts & Science |
| 1997 | Mary Catherine Race | Nashville, Tennessee | Music |
| 1997 | Michelle Gere Palmisano | Ventura, California | Engineering |
| 1997 | Deidre Ellen Stavely | Macon, Georgia | Peabody |
| 1997 | Sharon Louise Heinrich | Gastonia, North Carolina | Nursing |
| 1997 | Scott Mitchell Bruni | Tullahoma, Tennessee | Management |
| 1997 | Scott Burnett Smith | Huntsville, Alabama | Divinity |
| 1997 | Jack William Campbell IV | Erwin, North Carolina | Law |
| 1997 | Michelle Terry Bass Goldin | Glencoe, Illinois | Medicine |
| | | | |
| 1996 | Brent Edward Pennington | Clarksville, Tennessee | Arts & Science |
| 1996 | Alexander Lee Bingcang | Nicholasville, Kentucky | Music |
| 1996 | Nikki Anne Sikes | Georgetown, Texas | Engineering |
| 1996 | Julie Young McElmoyle | Greer, South Carolina | Peabody |
| 1996 | Clare D. Sullivan | Nashville, Tennessee | Nursing |
| 1996 | Angelia Scott Brittain | Memphis, Tennessee | Management |
| 1996 | Susan English Knowles | Staunton, Virginia | Divinity |
| 1996 | Kelly Ann Cahill | Aurora, Illinois | Law |
| 1996 | Nova Michele Ryder | Nashville, Tennessee | Medicine |
| | | | |
| 1995 | Vernon Brooks Stewart | North Augusta, South Carolina | Arts & Science |
| 1995 | Joanna Helen Myers | Oak Park, Illinois | Music |
| 1995 | Shawn William Mowry | Osterburg, Pennsylvania | Engineering |
| 1995 | Michael Fletcher McElduff | Vernon, Conneticut | Peabody |
| 1995 | Margaret Ann Bronsberg | Nashville, Tennessee | Nursing |
| 1995 | Shannon Kathleen O'Connor | Dumfries, Virginia | Management |
| 1995 | Pamela Ruth Fickenscher | Stockton, California | Divinity |
| 1995 | Eugene Stewart Moritz | Nashville, Tennessee | Law |
| 1995 | Brian Scott Jewett | Goldsboro, North Carolina | Medicine |
| | | | |
| 1994 | John Bowden Connally IV | Houston, Texas | Arts & Science |
| 1994 | Melody Kai-Wen Mann | Germantown, Tennessee | Music |
| 1994 | David Lawrence Sanders | Jacksonville, Florida | Engineering |
| 1994 | Jennifer Lynn Wolden | Old Hickory, Tennessee | Peabody |
| 1994 | Janice Carol Gill | Leader, Canada | Nursing |
| 1994 | Edgar Michael Heilmann | Sao Paulo, Brazil | Management |
| 1994 | Christopher Mark Ferrell | Orange Park, Florida | Divinity |
| 1994 | Julia Christine Bunting | Sebring, Florida | Law |
| 1994 | Amy Winterbotham Connors | Ocala, Florida | Medicine |
| | | | |
| 1993 | David Charles Mengel | Altamonte Springs, Florida | Arts & Science |
| 1993 | Jonathan Daniel Bzur Haun | Lancaster, Pennsylvania | Music |
| 1993 | Kevin Matthew Graham | Portland, Tennessee | Engineering |
| 1993 | Kristen Alicia Wiesenmayer | Oxford, Ohio | Peabody |
| 1993 | Kelly Marie Ambrosi | Rochester, New York | Nursing |
| 1993 | Blix Manley Rice | Asheville, North Carolina | Management |
| 1993 | Amy Renee Carr | L'Anse, Michigan | Divinity |
| 1993 | L. Elizabeth Bowles | Little Rock, Arkansas | Law |
| 1993 | Elizabeth Dee Boettcher | Arden, North Carolina | Medicine |
| | | | |
| 1992 | Robert Bryan Atchison | Birmingham, Alabama | Arts & Science |
| 1992 | Ellen Annette Menking | Wichita, Kansas | Music |
| 1992 | Stanley Wayne Brown | Wheaton, Maryland | Engineering |
| 1992 | Kristin Wessler Carlson | Oceanside, California | Peabody |
| 1992 | Wendall Warner Bryan | Nashville, Tennessee | Nursing |
| 1992 | Hayley Charlotte Wallace | Columbus, Georgia | Management |
| 1992 | Julian Hugh Wright, Jr. | Winston-Salem, North Carolina | Divinity |
| 1992 | Michael David Daneker | Baltimore, Maryland | Law |
| 1992 | Bradley Wyatt Word | Memphis, Tennessee | Medicine |
| | | | |
| 1991 | Monicia Ann Elrod | Murfreesboro, Tennessee | Arts & Science |
| 1991 | Joan Marie Neel | Nashville, Tennessee | Music |
| 1991 | Rebecca Caroline Golden | Knoxville, Tennessee | Engineering |
| 1991 | Jennifer Anne Axelberd | Decatur, Georgia | Peabody |
| 1991 | Judy Ann Marciel | Antioch, Tennessee | Management |
| 1991 | Karen Pennstrom Barrineau | Smyrna, Tennessee | Divinity |
| 1991 | Elizabeth McGhee Carson | Franklin, Tennessee | Law |
| 1991 | John Alan Zic | Oak Lawn, Illinois | Medicine |
| | | | |
| 1990 | Stephen Mark Watson | Brentwood, Tennessee | Arts & Science |
| 1990 | Mary Elizabeth Sharp | Fayetteville, Arkansas | Music |
| 1990 | Stephen C. Stirm | Trenton, Ohio | Engineering |
| 1990 | Dana Ellen Mayberry | Nashville, Tennessee | Peabody |
| 1990 | Linda Jade Merrell | Nashville, Tennessee | Nursing |
| 1990 | Thomas Guenter Eckert | Schweinfurt, West Germany | Management |
| 1990 | Sean Farley Everton | Los Gatos, California | Divinity |
| 1990 | Nancy Sue Van Sant Palmer | Clarksville, Tennessee | Law |
| 1990 | Nicole Louise Schlechter | Los Angeles, California | Medicine |
| | | | |
| 1989 | Gregory Paul Guyton | Jackson, Mississippi | Arts & Science |
| 1989 | Emile Zaki Chammas | Paris, France | Engineering |
| 1989 | Moria Eilleen Nichols | Lexington, Kentucky | Nursing |
| 1989 | Laura Christine Wiesenmayer | Oxford, Ohio | Peabody |
| 1989 | Josu'e Christiano Gomes da Silva | Ub'a, Brazil | Management |
| 1989 | Nedra Penrod Merriman | Huntsville, Alabama | Divinity |
| 1989 | Linda Leonard Rippey | Columbia, Tennessee | Law |
| 1989 | Daniel James Diekema | Grand Rapids, Michigan | Medicine |
| | | | |
| 1988 | Wayne Thomas Williams, Jr. | Memphis, Tennessee | Arts & Science |
| 1988 | Camille Zaki Chammas | Paris, France | Engineering |
| 1988 | Paula Denise Welch | New Johnsonville, Tennessee | Nursing |
| 1988 | Janna Darlene Penn | Opelika, Alabama | Peabody |
| 1988 | Laura Morbach Scott | Miami, Florida | Management |
| 1988 | Irma Hawkins Stringer | Nashville, Tennessee | Divinity |
| 1988 | William Brown Senhauser | Worthington, Ohio | Law |
| 1988 | Terry Curtis Lairmore | Tulsa, Oklahoma | Medicine |
| | | | |
| 1987 | Norma Elizabeth Anderson | Hendersonville, Tennessee | Arts & Science |
| 1987 | Todd Kevin Whitehurst | Hendersonville, Tennessee | Engineering |
| 1987 | Juliet Marie Liposky | Louisville, Kentucky | Nursing |
| 1987 | Melissa Louise Hatchett | Fayetteville, Tennessee | Peabody |
| 1987 | Steven Thomas Jones | Montgomery, Alabama | Management |
| 1987 | Paul Coven Shupe | Loveland, Colorado | Divinity |
| 1987 | Mary Adair Crossley | Knoxville, Tennessee | Law |
| 1987 | David Allen Cook | Bountiful, Utah | Medicine |
| | | | |
| 1986 | Daniel Charles Ralph | Lexington, Kentucky | Arts & Science |
| 1986 | David Lee Potter | Bardstown, Kentucky | Engineering |
| 1986 | Inger Lise Evans | Nashville, Tennessee | Nursing |
| 1986 | Monique Beatrice Hunkeler | Wohlen, Switzerland | Peabody |
| 1986 | William Dudley Morgan | Nashville, Tennessee | Management |
| 1986 | Nancy Marie Victorin | Houston, Texas | Divinity |
| 1986 | Eric R. Fenichel | Nashville, Tennessee | Law |
| 1986 | Robert Wallace McClure | Waverly, Tennessee | Medicine |
| | | | |
| 1985 | Susan Lynette Hart | Hopkinsville, Kentucky | Arts & Science |
| 1985 | David Scott Baker | Houston, Texas | Engineering |
| 1985 | Cynthia Leigh Field | Indianapolis, Indiana | Nursing |
| 1985 | Timothy Edward Morse | Pickerington, Ohio | Peabody |
| 1985 | Baxter William Phillip | Hinsdale, Illinois | Management |
| 1985 | William Thomas Friskics, Jr. | Palantine, Illinois | Divinity |
| 1985 | Douglas Ivor Brandon | Plandome, New York | Law |
| 1985 | Samuel Martin Kneece | Columbia, South Carolina | Medicine |
| | | | |
| 1984 | Sharon Lynn Moellenhoff | Saint Louis, Missouri | Arts & Science |
| 1984 | Storrs Townsend Hoen | Baltimore Maryland | Engineering |
| 1984 | Emily Fran Ford | Brea, California | Nursing |
| 1984 | Veronica Stepanski | Ambridge, Pennsylvania | Peabody |
| 1984 | Stephen Michael Usery | Clarksville, Arkansas | Management |
| 1984 | Michael Wayne Petty | Houston, Texas | Divinity |
| 1984 | Sam Young Garrett, Jr. | Nashville, Tennessee | Law |
| 1984 | Thomas Howard Rand | Cleveland Heights, Ohio | Medicine |
| | | | |
| 1983 | David Samuel Fott | Clarksville, Tennessee | Arts & Science |
| 1983 | Gerald Joseph Calhoun | Madisonville, Kentucky | Engineering |
| 1983 | Susan Marie Barrett | Birmingham, Alabama | Nursing |
| 1983 | Alice Elizabeth Lumpkin | Dalton, Georgia | Peabody |
| 1983 | Barry Malcolm Stouffer | Harrisburg, Pennsylvania | Management |
| 1983 | Jeanne Sparks Howell | Tacoma, Washington | Divinity |
| 1983 | William A. Blue, Jr. | Peoria, Illinois | Law |
| 1983 | William Michael Kavanaugh | Lexington, Kentucky | Medicine |
| | | | |
| 1982 | Thomas Charles Andrews | Canton, Illinois | Arts & Science |
| 1982 | Roy Trent Wallace | Knoxville, Tennessee | Engineering |
| 1982 | Teresa Marie Stagaman | Cincinnati, Ohio | Nursing |
| 1982 | Andrew Scott Borchers | Omaha, Nebraska | Management |
| 1982 | Charles Edward Tobias | North Canton, Ohio | Divinity |
| 1982 | Ben Wayne Blanton | Memphis, Tennessee | Law |
| 1982 | Steven Roy Bennett | Marietta, Georgia | Medicine |
| | | | |
| 1981 | Karin Gail Au | Camden, South Carolina | Arts & Science |
| 1981 | Linda Diane Dulin | Charlotte, North Carolina | Engineering |
| 1981 | Elizabeth Roswitha Goy | Olean, New York | Nursing |
| 1981 | Paul K. Sun, Jr. | Toledo, Ohio | Management |
| 1981 | D. Jean Tallmon Samuelson | Mitchell, Nebraska | Divinity |
| 1981 | Bradley Alan MacLean | Nashville, Tennessee | Law |
| 1981 | Joseph Coleman Thompson, Jr. | Birmingham, Alabama | Medicine |
| | | | |
| 1980 | David Alan Ownby | Cookeville, Tennessee | Arts & Science |
| 1980 | Kenneth Andrew Zabriskie | Wauwatosa, Wisconsin | Engineering |
| 1980 | Chris Skinner | Nashville, Tennessee | Nursing |
| 1980 | Francis Muir Heard | Nashville, Tennessee | Management |
| 1980 | Susan Lynne Lausch | Brunswick, Ohio | Divinity |
| 1980 | Tony George Miller | Andalusia, Alabama | Law |
| 1980 | John Marcus Wharton | Mobile, Alabama | Medicine |
| | | | |
| 1979 | Robert Paul Dolan | Flossmoor, Illinois | Arts & Science |
| 1979 | William Mitchell Bradley | Magnolia, Arkansas | Engineering |
| 1979 | Laura Joanne Gee | Knoxville, Tennessee | Nursing |
| 1979 | Alan Jay Tarr | Jamaica, New York | Management |
| 1979 | William Frank Brosend II | Columbus, Ohio | Divinity |
| 1979 | Joel Randall Tew | Wachula, Florida | Law |
| 1979 | Robert Cornelius Murphy, Jr. | Nashville, Tennessee | Medicine |
| | | | |
| 1978 | Lynn Elizabeth Enterline | Shaker Heights, Ohio | Arts & Science |
| 1978 | Paul Herman Eichel | Columbus, Ohio | Engineering |
| 1978 | Mary Edna Falkmann | Memphis, Tennessee | Nursing |
| 1978 | Kenneth Edward Lanham | Cincinnati, Ohio | Management |
| 1978 | Meredith Lee Underwood | Pensacola, Florida | Divinity |
| 1978 | James Houston Lokey, Jr. | Nashville, Tennessee | Law |
| 1978 | Ellen Ann Hutcheson Price | Nashville, Tennessee | Medicine |
| | | | |
| 1977 | Elyn Ronna Saks` | Miami, Florida | Arts & Science |
| 1977 | Joseph Willcox Rudolph | Radnor, Pennsylvania | Engineering |
| 1977 | Sharon Elaine Sanders | East Point, Georgia | Nursing |
| 1977 | Amy Jean Jorgensen | Nashville, Tennessee | Management |
| 1977 | Karl Andrews Plank | Louisville, Kentucky | Divinity |
| 1977 | Walter Sillers Weems | Laurel, Mississippi | Law |
| 1977 | Henry Forrest Chambers III | Campbellsville, Kentucky | Medicine |
| | | | |
| 1976 | Stephen Harper Whitmore | Mount Pleasant, Michigan | Arts & Science |
| 1976 | Allen DeVaney Elster | Houston, Texas | Engineering |
| 1976 | Patricia Ann Dodge | New Orleans, Louisiana | Nursing |
| 1976 | James Richard Gordon | Clinton, Illinois | Management |
| 1976 | Mary Lee Kelly | Moorhead, Minnesota | Divinity |
| 1976 | Richard Clinton Stark | Tullahoma, Tennessee | Law |
| 1976 | Richard Duncan Pinson | Henderson, Kentucky | Medicine |
| | | | |
| 1975 | Alice Patricia White | Huntsville, Alabama | Arts & Science |
| 1975 | Luis Joaquin Batista | Nashville, Tennessee | Engineering |
| 1975 | Sarah Eliabeth Cornett | Maryville, Tennessee | Nursing |
| 1975 | Bruce Baner Johnson | Minneapolis, Minnesota | Management |
| 1975 | William Jay Postler | Cincinnati, Ohio | Divinity |
| 1975 | Jasper Albert Cragwall, Jr. | Jackson, Mississippi | Law |
| 1975 | Thomas Preston Kennedy | Zachary, Louisiana | Medicine |
| | | | |
| 1974 | Ann Marie Pearson | Jackson, Tennessee | Arts & Science |
| 1974 | Phillip Ritchie Jones | Nashville, Tennessee | Engineering |
| 1974 | William Kyle Parks | Andalusia, Alabama | Engineering |
| 1974 | Mary Hillman Trueblood | Nashville, Tennessee | Nursing |
| 1974 | Antonio Zoratto Sanvicente | Porto Alegre, Brazil | Management |
| 1974 | William Fairbairn Davnie III | Wauwatosa, Wisconsin | Divinity |
| 1974 | James Glasgow Martin III | Jackson, Mississippi | Law |
| 1974 | John Thomas Latham, Jr. | Greenville, South Carolina | Medicine |
| | | | |
| 1973 | Jack Barry Schreiber | Richmond, Virginia | Arts & Science |
| 1973 | Don Crawford Gilbert | Goodlettsville, Tennessee | Engineering |
| 1973 | Nancy Jane Curtis | Chattanooga, Tennessee | Nursing |
| 1973 | Peter Edward Heidenreich | Buffalo, N.Y. | Management |
| 1973 | Mary Fran Hughes | Appomattox, Virginia | Divinity |
| 1973 | Wayne Holbrook Scott | Nashville, Tennessee | Law |
| 1973 | Thurman Dwight McKinney | Quality, Kentucky | Medicine |
| | | | |
| 1972 | Patricia Susan Spicer | Nashville, Tennessee | Arts & Science |
| 1972 | Stephen Michael Heuser | Huntsville, Alabama | Engineering |
| 1972 | Leslie Jane Borg | Fort Lauderdale, Florida | Nursing |
| 1972 | Beryla Ruth Branson | Dixon, Illinois | Nursing |
| 1972 | Leslie Ann Jones | Upper Saint Clair, Pennsylvania | Nursing |
| 1972 | Harlan Ray Beckley | Nashville, Tennessee | Divinity |
| 1972 | John Howard Roe, Jr. | Clarksville, Tennessee | Law |
| 1972 | David Alan Jensen | Minnetonka, Minnessota | Medicine |
| | | | |
| 1971 | Anne Elizabeth Wall | Nashville, Tennessee | Arts & Science |
| 1971 | James Henry Kepper III | New Orleans, Louisiana | Engineering |
| 1971 | Margaret Adelle Mount | Highland Park, Illinois | Nursing |
| 1971 | James Oliver Duke | Glen Burnie, Maryland | Divinity |
| 1971 | Walter Matthews Grant | Winchester, Kentucky | Law |
| 1971 | Arthur Eastwood Broadus | Knoxville, Tennessee | Medicine |
| | | | |
| 1970 | Betsy Dianne Bennett | Charlotte, Tennessee | Arts & Science |
| 1970 | Logan Street Hopper | Nashville, Tennessee | Engineering |
| 1970 | Linda Ann Baile | Houston, Texas | Nursing |
| 1970 | John Francis Phelps | Marion, Kentucky | Divinity |
| 1970 | Paul Michael Stein | Bethesda, Maryland | Law |
| 1970 | Ralph James Mabry, Jr. | Chattanooga, Tennessee | Medicine |
| | | | |
| 1969 | Dan Ellis Connor | Paducah, Kentucky | Arts & Science |
| 1969 | Ahval Edward Turner, Jr. | Nashville, Tennessee | Engineering |
| 1969 | Marcia Frances Nightingale | Louisville, Kentucky | Nursing |
| 1969 | Curtis Rudolph Driver, Jr. | Resaca, Georgia | Divinity |
| 1969 | Richard Harwood Barry | Nashville, Tennessee | Law |
| 1969 | William Joseph Anderson | Jackson, Mississippi | Medicine |
| | | | |
| 1968 | Mary Dale Trabue | Nashville, Tennessee | Arts & Science |
| 1968 | James Russell Foster, Jr. | Nashville, Tennessee | Engineering |
| 1968 | Claudia Ann Baldwin | Chattanooga, Tennessee | Nursing |
| 1968 | Gerald Woodrow Williams | Nashville, Tennessee | Divinity |
| 1968 | Edward Jackson Hardin | Monroe, North Carolina | Law |
| 1968 | Joseph Sprott Atkinson | Macon, Georgia | Medicine |
| | | | |
| 1967 | Adolyn Acton Myers | New Orleans, Louisiana | Arts & Science |
| 1967 | Godfrey Anthony Lue | Kingston, Jamaica | Engineering |
| 1967 | Marianne Harrelson McIver | Nashville, Tennessee | Nursing |
| 1967 | Gary Lewis Marks | Zanesville, Ohio | Divinity |
| 1967 | Thomas Glen Bost | Roswell, New Mexico | Law |
| 1967 | John Martin Leonard | Sarasota, Florida | Medicine |
| | | | |
| 1966 | James Virgil Tyler | North Little Rock, Arkansas | Arts & Science |
| 1966 | Paul Donavon Rice | Orange, California | Engineering |
| 1966 | Judy Holmes Tincher | Nashville, Tennessee | Nursing |
| 1966 | David Thompson Childs | Orlando, Florida | Divinity |
| 1966 | Rrobert Walter Doty | Aliquippa, Pensylvania | Law |
| 1966 | Gordon Perry Flake | Little Rock, Arkansas | Medicine |
| | | | |
| 1965 | Janis Kay Bredeson | Memphis, Tennessee | Arts & Science |
| 1965 | Loyd Estes Tarver, Jr. | Franklin, Tennessee | Engineering |
| 1965 | Charlene Marian Kienberger | Oak Ridge, Tennessee | Nursing |
| 1965 | Robert Howell White, Jr. | Nashville, Tennessee | Divinity |
| 1965 | James Thomas O'Hare | Ft. Lauderdale, Florida | Law |
| 1965 | Walter Smithwick III | Lebanon, Tennessee | Medicine |
| | | | |
| 1964 | Mary Broach Scott | Little Rock, Arkansas | Arts & Science |
| 1964 | James Provine Kelley | Memphis, Tennessee | Engineering |
| 1964 | Bethel Kay White | Columbus, Georgia | Nursing |
| 1964 | Melvin Martin Goering | Moundridge, Kansas | Divinity |
| 1964 | John Bradbury Reed | Nashville, Tennessee | Law |
| 1964 | Alexander Robert Lawton III | Atlanta, Georgia | Medicine |
| | | | |
| 1963 | Charles Brown Moore | Dyersburg, Tennessee | Arts & Science |
| 1963 | Joseph Daniel Blackburn, Jr. | Kingsport, Tennessee | Engineering |
| 1963 | Judy Jean Cox | Nashville, Tennessee | Nursing |
| 1963 | Charles Thomas Waldrop | Fayetteville, North Carolina | Divinity |
| 1963 | Howard Michael Feuerstein | Memphis, Tennessee | Law |
| 1963 | Willis Ellsworth Brown, Jr. | Little Rock, Arkansas | Medicine |
| | | | |
| 1962 | John Robert Sobotka | Decatur, Alabama | Arts & Science |
| 1962 | Norman Ray Guidry | Memphis, Tennessee | Engineering |
| 1962 | Linda Julia Loy | Nevada, Missouri | Nursing |
| 1962 | Hugh Elliott Wright | Birmingham, Alabama | Divinity |
| 1962 | Thomas Ray Allen | Panama City, Florida | Law |
| 1962 | Warren Wendell Davis | Newnan, Georgia | Medicine |
| | | | |
| 1961 | Elmore Travis Stone | Nashville, Tennessee | Arts & Science |
| 1961 | Edward Lee Thackston | Lebanon, Tennessee | Engineering |
| 1961 | Phyllis Ruth Lange | Kirkwood, Missouri | Nursing |
| 1961 | O.T. Hargrave | San Antonio, Texas | Divinity School |
| 1961 | James Orin Bass, Jr. | Nashville, Tennessee | Law |
| 1961 | Robert Henderson Alford | Nashville, Tennessee | Medicine |
| | | | |
| 1960 | Eugene Almon Stone | Springfield, Tennessee | Arts & Science |
| 1960 | James Robert Thompson | Memphis, Tennessee | Engineering |
| 1960 | Carolyn Bingham | Kenton, Tennessee | Nursing |
| 1960 | Roy Draydon Wells, Jr. | Birmingham, Alabama | Divinity |
| 1960 | William Harold Bigham | Petersburg, Tennessee | Law |
| 1960 | Charles Wilbur Logan | Nashville, Tennessee | Medicine |
| | | | |
| 1959 | Elmo Graham Thompson | Little Rock, Arkansas | Arts & Science |
| 1959 | Henry Grady Campbell, Jr | Decatur, Georgia | Engineering |
| 1959 | Phoebe Senour Shackelford | Indianapolis, Indiana | Nursing |
| 1959 | Looney Keith Barlow, Jr. | Knoxville, Tennessee | Divinity |
| 1959 | Kenneth Lewis Roberts | Kingsport, Tennessee | Law |
| 1959 | Thomas Randolph Cate | Nashville, Tennessee | Medicine |
| | | | |
| 1958 | Elizabeth Lee Klepper | Memphis, Tennessee | Arts & Science |
| 1958 | Frank Henry Mason, III | Paris, Tennessee | Engineering |
| 1958 | Lynn Hill Lester | Lebanon, Tennessee | Nursing |
| 1958 | Elizabeth Elaine McCort | Hutchinson, Kansas | Divinity |
| 1958 | Elmore Holmes, III | Memphis, Tennessee | Law |
| 1958 | James Ray Callison | Columbia, Kentucky | Medicine |
| | | | |
| 1957 | Don Alan Smith | Cleveland, Tennessee | Arts & Science |
| 1957 | Robert Robson Buntin, II | Gulfport, Mississippi | Engineering |
| 1957 | Earl Fowler Gossett, Jr. | Birmingham, Alabama | Divinity |
| 1957 | James Foster Neal | Portland, Tennessee | Law |
| 1957 | John Donald McIntyre Gass | Nashville, Tennessee | Medicine |
| 1957 | Janet Kahler Buehler | Cedar Rapids, Iowa | Nursing |
| | | | |
| 1956 | Olaf Grobel | Nashville, Tennessee | Arts & Science |
| 1956 | Mia Canariis | Tampa, Florida | Engineering |
| 1956 | Walter Andrew Casson, Jr. | New Port Richey, Florida | Engineering |
| 1956 | Charles Jackson Dean | Athens, Alabama | Divinity |
| 1956 | Doris Ann Dudney | Tampa, Florida | Law |
| 1956 | James Lewis Talbert | Hopkinsville, Kentucky | Medicine |
| 1956 | Elia Wylene Barmore | Bradenton, Florida | Nursing |
| | | | |
| 1955 | James Claude Wertz, Jr. | Evansville, Indiana | Arts & Science |
| 1955 | William Clarence Colley, Jr. | Nashville, Tennessee | Engineering |
| 1955 | Fletcher Reynolds Herlong | Montgomery, Alabama | Religion |
| 1955 | Wade herbert Sides, jr. | Memphis, Tennessee | Law |
| 1955 | Clifton Kirkpatrick Meador | Greenville, Alabama | Medicine |
| 1955 | Vernon Harry Reynolds | Valparaiso, Florida | Medicine |
| 1955 | Margaret Davis Jacobson | Franklin, Tennessee | Nursing |
| | | | |
| 1954 | Paul Melton Dodd, Jr. | Memphis, Tennessee | Arts & Science |
| 1954 | Wallace Alexander Moser | Bradenton, Florida | Arts & Science |
| 1954 | Norman Edward Dye | Nashville, Tennessee | Engineering |
| 1954 | Paul Cain Mills, Jr. | Nashville, Tennessee | Religion |
| 1954 | James Lewis Boren, Jr. | Memphis, Tennessee | Law |
| 1954 | David Lawrence Beaver, Jr. | Nashville, Tennessee | Medicine |
| 1954 | Mary Louise Moore | Nashville, Tennessee | Nursing |
| | | | |
| 1953 | Mary Ellen McMurray | Nashville, Tennessee | Arts & Science |
| 1953 | Charles Lewis King | Evansville, Indiana | Engineering |
| 1953 | Reuel Hale Allen | Shreveport, Louisiana | Religion |
| 1953 | John Calvin McCoid, II | Mt. Pleasant, Tennessee | Law |
| 1953 | Charles Barnard McCall | Memphis, Tennessee | Medicine |
| 1953 | Phyllis Annette Hayes | Crofton, Kentucky | Nursing |
| | | | |
| 1952 | Anne Cullen Rich | Nashville, Tennessee | Arts & Science |
| 1952 | Wayne Longfellow Kaiser | Miami, Florida | Engineering |
| 1952 | William J. Carter | Slant, Virginia | Religion |
| 1952 | Lloyd Senter Adams, Jr. | Humboldt, Tennessee | Law |
| 1952 | Samuel Addison Marable | Clarksville, Tennessee | Medicine |
| 1952 | Florence Louise Rogers | Micanopy, Florida | Nursing |
| | | | |
| 1951 | John Newton Wrinkle | Chattanooga, Tennessee | Arts & Science |
| 1951 | Eugene Hamilton Owen | Covington, Tennessee | Engineering |
| 1951 | Karl Frederic Eaheart, Jr. | Memphis, Tennessee | Religion |
| 1951 | George Harrison Cate, Jr. | Nashville, Tennessee | Law |
| 1951 | Marcus Jacobs Zbar | Tampa, Florida | Medicine |
| 1951 | Martha Condit Bishop | West Chicago, Illinois | Nursing |
| | | | |
| 1950 | Elizabeth Bruce Cate | Nashville, Tennessee | Arts & Science |
| 1950 | Eugene Edgar Pentecost | Nashville, Tennessee | Engineering |
| 1950 | Donald Edwin Howell | Gordo, Alabama | Religion |
| 1950 | William James Harbison | Calumbia, Tennessee | Law |
| 1950 | Robert Joseph Linn | Birmingham, Alabama | Medicine |
| 1950 | May Elizabeth Pooler | Skowhegan, Maine | Nursing |
| | | | |
| 1949 | Clark James Bailey | Buffalo, N.Y. | Arts & Science |
| 1949 | Herbert Sylvan Schwartz | Nashville, Tennessee | Engineering |
| 1949 | Howard Farmer Huff | Stockport, Iowa | Religion |
| 1949 | Clyde Lowell Ball | Kenton, Tennessee | Law |
| 1949 | David Martin Lieberman | San Antonia, Texas | Medicine |
| 1949 | Robert Lee Gilmer | Hansonville, Virginia | Nursing |
| | | | |
| 1948 | Nell Hunter Shofner | Nashville, Tennessee | Arts & Science |
| 1948 | Rolph Albin Person | Chicago, Illinois | Engineering |
| 1948 | Hubert William Morrow | Batesville, Arkansas | Religion |
| 1948 | Herschiel Sevier Barnes | Cookeville, Tennessee | Law |
| 1948 | Gerald Ira Pitman | Clarksdale, Mississippi | Medicine |
| 1948 | LaNelle Blackston | Winona, Mississippi | Nursing/August class |
| 1948 | Helen Harris Clayton | Knoxville, Tennessee | Nursing/June class |
| | | | |
| 1947 | Nelle Marie Julian | McMinnville, Tennessee | Arts & Science |
| 1947 | Eugene Lamb | Nashville, Tennessee | Engineering |
| 1947 | Charles Everett Tilson | Marion, Virginia | Religion |
| 1947 | James richard Tuck | Dresden, Tennessee | Law |
| 1947 | Frank Cole Spencer | Haskell, Texas | Medicine |
| 1947 | Helen Weatherman Booth | Pulaski, Tennessee | Nursing |
| | | | |
| 1946 | James Warders Smith | Clarksdale, Mississippi | Arts & Science |
| 1946 | Lucien Ernest Rawls | Nashville, Tennessee | Engineering |
| 1946 | Decherd Henry Turner, Jr. | Decatur, Alabama | Religion |
| 1946 | Floyd Wolfe Denny, Jr. | Hartsville, South Carolina | Medicine |
| 1946 | Kathryn Wolff Nelson | Bethania, North Carolina | Nursing |
| | | | |
| 1945 | Mary Ann Tanksley | Nashville, Tennessee | Arts & Science |
| 1945 | Charles Minor Johnson | Nashville, Tennessee | Engineering |
| 1945 | Arnold Orville Olson | St. Albans, New York | Religion |
| 1945 | Not Awarded | | Law |
| 1945 | Henry M. Gewin | Mobile, Alabama | Medicine |
| 1945 | Clifford Tillman | Natchez, Mississippi | Medicine |
| 1945 | Martha Orr Burns | Pampa, Texas | Nursing |
| | | | |
| 1944 | Martha Campbell Thorpe | Tullahoma, Tennessee | Arts & Science |
| 1944 | Richard Samuel Reynolds, Jr. | Nashville, Tennessee | Engineering |
| 1944 | George P. Fowler | New Haven, Conneticut | Religion |
| 1944 | Not Awarded | | Law |
| 1944 | Ernest Harshaw Yount, Jr. | Newton, North Carolina | Medicine |
| 1944 | Joan Miller Ferran | Orlando, Florida | Nursing |
| | | | |
| 1943 | Phyllis Wolberg | Nashville, Tennessee | Arts & Science |
| 1943 | Erich Robert Westfield | Nashville, Tennessee | Engineering |
| 1943 | James P. Sanders | Nashville, Tennessee | Religion |
| 1943 | Not Awarded | | Law |
| 1943 | John Emmett Kesterson | Knoxville, Tennessee | Medicine |
| 1943 | Virginia Greer Pearson | East Tallassee, Alabama | Nursing |
| | | | |
| 1942 | William Thomas Bailey, Jr. | Nashville, Tennessee | Arts & Science |
| 1942 | Joel Samuel Bennett | Louisville, Kentucky | Engineering |
| 1942 | Francis Brooks Jones | Selmer, Tennessee | Religion |
| 1942 | Archie L. Boswell | Norfolk, Virginia | Law |
| 1942 | Bertram Edward Sprofkin | Paterson, New Jersey | Medicine |
| 1942 | Dorothy Eloise Johnson | Savannah, Georgia | Nursing |
| | | | |
| 1941 | Robert Manson Myers | Danville, Virginia | Arts & Science |
| 1941 | Paul Thomas Haury | Nashville, Tennessee | Engineering |
| 1941 | Lyman Challes Firestone | Kansas City, Missouri | Religion |
| 1941 | George Street Boone | Elkton, Kentucky | Law |
| 1941 | Charles Lipscomb Cogbill, Jr. | LaGrange, Tennessee | Medicine |
| 1941 | Kathryn Talley Harlan | Mt. Pleasant, Tennessee | Nursing |
| | | | |
| 1940 | Abraham Zheutlin | Jersey City, New Jersey | Arts & Science |
| 1940 | Robert Benjamin Moore | Shreveport, Louisiana | Engineering |
| 1940 | Helen Louise Panigot | St. Joseph, Missouri | Religion |
| 1940 | Kemper Harlan Dodson, Jr. | Madison, Tennessee | Law |
| 1940 | Beverly Todd Towery | Bowling Green, Kentucky | Medicine |
| 1940 | Esther Cynthia Lutz | Clearfield, Pennsylvania | Nursing |
| | | | |
| 1939 | John Hanor Webb | Nashville, Tennessee | Arts & Science |
| 1939 | George Milburn Morrow, III | Birmingham, Alabama | Engineering |
| 1939 | Arthur H. Jones, Jr. | Pensacola, Florida | Religion |
| 1939 | Jessee E. Baskette, Jr. | Nashville, Tennessee | Law |
| 1939 | Ransom Russel Bucholz | Georgetown, Texas | Medicine |
| 1939 | Helen Louise Rogers | Poteau, Oklahoma | Nursing |
| | | | |
| 1938 | Lucille Cowherd Cate | Nashville, Tennessee | Arts & Science |
| 1938 | Graham Finley | Nashville, Tennessee | Engineering |
| 1938 | Edward L. Young | Lenox, Iowa | Religion |
| 1938 | Robert W. Sturdivant | Nashville, Tennessee | Law |
| 1938 | Robert Raskind | Newark, New Jersey | Medicine |
| 1938 | Louise Holmes | Tupelo, Mississippi | Nursing |
| | | | |
| 1937 | Mary Helen Simpson | Nashville, Tennessee | Arts & Science |
| 1937 | David Spearing Mason | Buford, Georgia | Engineering |
| 1937 | Clarence W. Thomas | Martin's Gap, Kentucky | Religion |
| 1937 | Ellis Kirby Meacham | Chattanooga, Tennessee | Law |
| 1937 | Nathan Werter | Brooklyn, New York | Medicine |
| | | | |
| 1936 | Edgar Wilson Lacy | Henderson, Kentucky | Arts & Science |
| 1936 | Jere Shunk Dave, Jr. | Columbus, Ohio | Engineering |
| 1936 | David Livingstone White | Nashville, Tennessee | Religion |
| 1936 | R.N. Sims Crownover | Nashville, Tennessee | Law |
| 1936 | Ethel Walker | Nashville, Tennessee | Medicine |
| | | | |
| 1935 | Stanford Moore | Nashville, Tennessee | Arts & Science |
| 1935 | Bruce Martin Bayer | Nashville, Tennessee | Engineering |
| 1935 | Carl Rollen Key | Hemp, North Carolina | Religion |
| 1935 | William Glasgow Reynolds | Nashville, Tennessee | Law |
| 1935 | Thomas Edgar Wyatt | Union City, Tennessee | Medicine |
| | | | |
| 1934 | James Cason, Jr. | Murfreesboro, Tennessee | Arts & Science |
| 1934 | James Smith Shannon, Jr. | Nashville, Tennessee | Engineering |
| 1934 | Beryl Sales Kinser | Promise City, Iowa | Religion |
| 1934 | Julia Reese | Eatonton, Georgia | Law |
| 1934 | Fay Ballenger Murphey | Rossville, Georgia | Medicine |
| | | | |
| 1933 | Charles Meil Hudson, Jr. | Nasvhille, Tennessee | Arts & Science |
| 1933 | William Madison Watkins, Jr. | Nasvhille, Tennessee | Engineering |
| 1933 | Ernest Franklin Baulch | Nasvhille, Tennessee | Religion |
| 1933 | Claude Shannon Carney, Jr. | Ripley, Tennessee | Law |
| 1933 | Marvin Brown Corlette | Nasvhille, Tennessee | Medicine |
| | | | |
| 1932 | Frances Elizabeth Rodenhauser | Nashville, Tennessee | Arts & Science |
| 1932 | John Dillar Jacobs | Nashville, Tennessee | Engineering |
| 1932 | William Clinton Aden | Greenfield, Tennessee | Religion |
| 1932 | Joseph Morse, Jr. | Nashville, Tennessee | Law |
| 1932 | Hugh M.C. Linder | Oxford, Alabama | Medicine |
| | | | |
| 1931 | Edward Hewling Bringhurst | Paducah, Kentucky | Arts & Science |
| 1931 | Miller Woodson Swaney | Gallatin, Tennessee | Engineering |
| 1931 | Edward Coffman | Russellville, Kentucky | Religion |
| 1931 | Charles Edwin Shaver | Huntsville, Alabama | Law |
| 1931 | Kirby Smith Howlett, Jr. | Franklin, Tennessee | Medicine |
| | | | |
| 1930 | Kathleen Boyd | Nashville, Tennessee | Arts & Science |
| 1930 | John Pearre Hamilton | Nashville, Tennessee | Engineering |
| 1930 | Charles Harvey McCord | Marshall, Missouri | Religion |
| 1930 | Francis Marion Bass, Jr. | Nashville, Tennessee | Law |
| 1930 | Rogers Lee Hill | Winfield, Alabama | Medicine |
| | | | |
| 1929 | Mary Frances Burks | Nashville, Tennessee | Arts & Science |
| 1929 | Faye Ballenge Murphey, Jr. | Rossville, Georgia | Arts & Science |
| 1929 | Edmund Chenault Rogers | Nashville, Tennessee | Engineering |
| 1929 | Jesse Edward Thacker | Nashville, Tennessee | Engineering |
| 1929 | Andrew Pickens Johnson | Collinsville, Alabama | Religion |
| 1929 | Charles Lucien Williamson | Tecumseh, Michigan | Law |
| 1929 | Albert Weinstein | Middlesboro, Kentucky | Medicine |
| | | | |
| 1928 | Augustus Byron Hill | Jackson, Tennessee | Arts & Science |
| 1928 | Robert James Woods | Nashville, Tennessee | Engineering |
| 1928 | Thomas Beveridge Cowan | Dunfermline, Scotland | Religion |
| 1928 | James Edwards Atkins, Jr. | Nashville, Tennessee | Law |
| 1928 | William David Strayhorn, Jr. | Nashville, Tennessee | Medicine |
| | | | |
| 1927 | Samuel Weingarten | Nashville, Tennessee | Arts & Science |
| 1927 | Robert Taylor Cochran | Nashville, Tennessee | Engineering |
| 1927 | Joseph E. McCauley | Clinton, North Carolina | Religion |
| 1927 | Edwin F. Hunt | Nashville, Tennessee | Law |
| 1927 | Demetrius Nestor Issos | Birmingham, Alabama | Medicine |
| | | | |
| 1926 | Lillian Rosalie Weinstein | Nashville, Tennessee | Arts & Science |
| 1926 | Frederick Hamilton Collette | Nashville, Tennessee | Engineering |
| 1926 | John Wesley Humphreys | Nashville, Tennessee | Religion |
| 1926 | Charles Head Peay | Nashville, Tennessee | Law |
| 1926 | Peisach Godlker | New York, New York | Medicine |
| 1926 | William Franklin Eubanks | Daytona, Florida | Dentistry |
| | | | |
| 1925 | Robert Penn Warren | Guthrie, Kentucky | Arts & Science |
| 1925 | William McAlister Blackie | Nashville, Tennessee | Engineering |
| 1925 | John Roy Steelman | Thornton, Arkansas | Religion |
| 1925 | John Edward Keefe, Jr. | Nashville, Tennessee | Law |
| 1925 | John Hill Tilley | Lebanon, Tennessee | Medicine |
| 1925 | Wayne Clark | Little Rock, Arkansas | Dentistry |
| | | | |
| 1924 | Edwin Francis Hunt | Nashville, Tennessee | Arts & Science |
| 1924 | James Otey Porter | Columbia, Tennessee | Engineering |
| 1924 | Orville Bruvce Johnson | Emory, Virginia | Religion |
| 1924 | Lowe Watkins | Nashville, Tennessee | Law |
| 1924 | Leon Bromberg | Galveston, Texas | Medicine |
| 1924 | James Newman Cook | Bovina, Mississippi | Dentistry |
| | | | |
| 1923 | William Scott Vaughn | Nashville, Tennessee | Arts & Science |
| 1923 | William David Glehn | Nashville, Tennessee | Engineering |
| 1923 | Herman Marion Reynolds | Lynchburg, Virginia | Religion |
| 1923 | Thomas C. Phillips | Wallace, Virginia | Law |
| 1923 | John Christopher Burch | Nashville, Tennessee | Medicine |
| 1923 | Howard Ellswood Miles, Jr. | Marshall, Texas | Dentistry |
| | | | |
| 1922 | Elsie May Wallter | Nashville, Tennessee | Arts & Science |
| 1922 | Samuel Mann Porter | Fairhope, Alabama | Engineering |
| 1922 | Augustus LeRoy Huff | Salem, Illinois | Religion |
| 1922 | Felix Mizell Wilson | Nashville, Tennessee | Law |
| 1922 | Edwin Helferstein Magee | Unionville, Missouri | Medicine |
| 1922 | Mollie Varina Taylor | North Wilkesboro, North Carolina | Dentistry |
| | | | |
| 1921 | Beatrice Weinstein | Nashville, Tennessee | Arts & Science |
| 1921 | Clarence Moody Holt | Nashville, Tennessee | Engineering |
| 1921 | James Hart Hoadley Berckman | Stafford Springs, Conneticut | Religion |
| 1921 | Albert Arthur White | Nashville, Tennessee | Law |
| 1921 | Ashley Metcalf Patterson | Henryville, Tennessee | Medicine |
| 1921 | Shannon Comer Sadler | Red Boiling Springs, Tennessee | Dentistry |
| | | | |
| 1920 | Gretchen Hill Lee | Nashville, Tennessee | Arts & Science |
| 1920 | Lemuel Birthright Stevens | Nashville, Tennessee | Engineering |
| 1920 | Kazuo Kitoku | Kobe, Japan | Religion |
| 1920 | Thomas Weissinger Schlater | Nashville, Tennessee | Law |
| 1920 | William Getz Thuss | Nashville, Tennessee | Medical |
| 1920 | Elizabeth May Pease | Cunningham, Kentucky | Pharmacy |
| 1920 | Homer Alexander Akin | Greenfield, Tennessee | Dentistry |
| | | | |
| 1919 | Dorothy Bethurum | Nashville, Tennessee | Arts & Science |
| 1919 | Louis Robert Currey | Nashville, Tennessee | Engineering |
| 1919 | Minor Morton Myers | Fairfax, Virginia | Religion |
| 1919 | Clara Marie Weber | Bridgewater, South Dakota | Law |
| 1919 | Daphne Earl White | Monticello, Arkansas | Medical |
| 1919 | Elizabeth Sisk | Pulaski, Tennessee | Pharmacy |
| 1919 | James Edward Brown, Jr. | Marlin, Texas | Dentistry |
| | | | |
| 1918 | William Wallter | Nashville, Tennessee | Arts & Science |
| 1918 | Edmund Friedman | Nashville, Tennessee | Engineering |
| 1918 | Sekio Matsushita | Fukuyama, Japan | Religion |
| 1918 | James William Irwin | Savannah, Tennessee | Law |
| 1918 | Charles Marshall Hamilton | | Medical |
| 1918 | Richard Henry Kirby | Paragould, Arkansas | Pharmacy |
| 1918 | Abner Smith Ingman | LaGrange, Missouri | Dentistry |
| | | | |
| 1917 | Randall Stewart | Nashville, Tennessee | Arts & Science |
| 1917 | William Martin Clack | Nashville, Tennessee | Engineering |
| 1917 | Tsz Chen Choo | Soochow, China | Religion |
| 1917 | William Archie McDonnell | Little Rock, Arkansas | Law |
| 1917 | Joseph Henry Litterer | Nashville, Tennessee | Medical |
| 1917 | Charles Milton Hallum | Brownwood, Texas | Pharmacy |
| 1917 | Percy Moore Davis | Bowling Green, Kentucky | Dentistry |
| | | | |
| 1916 | Dean B. Ellis | Jonesboro, Arkansas | Arts & Science |
| 1916 | Preston P. Bailey | Nashville, Tennessee | Engineering |
| 1916 | Homer U. Campbell | Lee's Summit, Missouri | Religion |
| 1916 | William Currell Vance | Nashville, Tennessee | Law |
| 1916 | Allen E. VanNess | Nashville, Tennessee | Medicine |
| 1916 | Allen Waller Mason | Morganfield, Texas | Pharmacy |
| 1916 | Albert G. Leach | Alvord, Texas | Dentistry |
| | | | |
| 1915 | Clifton A. Ragsdale | Santa Fe, Tennessee | Academic |
| 1915 | Richard Samuel Reynolds | Franklin, Tennessee | Engineering |
| 1915 | Lingurn B. Babbitt | Charlotte, North Carolina | Biblical |
| 1915 | Isaac William Keys | Murray, Kentucky | Law |
| 1915 | Lattie Graves | Chapel Hill, Kentucky | Medical |
| 1915 | Erma Simpson | Hamburg, Arklansas | Pharmacy |
| 1915 | John Alexander Moore | Knoxville, Tennessee | Dentistry |
| | | | |
| 1914 | C.K. Leslie, Jr. | Coweta, Oklahoma | Academic |
| 1914 | Alfred Greif | Nashville, Tennessee | Engineering |
| 1914 | Harry King | Fayetville, Arkansas | Biblical |
| 1914 | Charles Cecil Sims | Birmingham, Alabama | Law |
| 1914 | R.M. Evans | Tompkinsville, Kentucky | Medical |
| 1914 | J.R. Knox | Center Point, Arkansas | Pharmacy |
| 1914 | H.D. Jackson | Mexia, Texas | Dentistry |
| | | | |
| 1913 | C.C. Applewhite | Winona, Mississippi | Medical |
| 1913 | George Wheeler | Greenville, Mississippi | Dentistry |
| 1913 | Alexander Green Fite, Jr. | Nashville, Tennessee | Academic |
| 1913 | Edwin E. Witherspoon | Murfreesboro, Tennessee | Engineering |
| 1913 | John Roy Keeney | Ruston, California | Pharmacy |
| 1913 | Milton Colley Davis | Fredericktown, Maryland | Biblical |
| 1913 | Fitzgerald Hall | Nashville, Tennessee | Law |
| | | | |
| 1912 | Mary Florence Teague | Smyrna, Tennessee | Academic |
| 1912 | Charles Knight Bruce | Nashville, Tennessee | Engineering |
| 1912 | Sterling G. Brinkley | Thomson, Georgia | Biblical |
| 1912 | Andy Anderson Eggstein | Joelton, Tennessee | Medical |
| 1912 | Ira Roscoe Sisk | Morganton, North Carolina | Pharmacy |
| 1912 | Okla A. Moore | Jasper, Arkansas | Dentistry |
| 1912 | Alfred Irl Winsetet | Texarkana, Arkansas | Law |
| | | | |
| 1911 | Eleanor Richardson | Memphis, Tennessee | Academy |
| 1911 | Milton B. McClure | Nashville, Tennessee | Engineering |
| 1911 | Roy Moore | Marion, Alabama | Biblical |
| 1911 | Ernest Mitchell Fuqua | Guthrie, Kentucky | Medical |
| 1911 | Jefferson Davis Martin | Pulaski, Tennessee | Pharmacy |
| 1911 | Harold Burton Dattishall | Geneva, Florida | Dentistry |
| | | | |
| 1910 | Addie Bartlett | Cedar Hill, Tennessee | Academic |
| 1910 | Clement B. Pentecost | Nashville, Tennessee | Egineering |
| 1910 | Robert M. Hawkins | St. Louis, Missouri | Biblical |
| 1910 | James Martin Souby | Del Rio, Texas | Law |
| 1910 | Lonnie Ray Wood | Attalla, Alabama | Medical |
| 1910 | Henry Lewis | Sparta, Georgia | Pharmacy |
| 1910 | Bruno William Klingeman | Texas | Dentistry |
| | | | |
| 1909 | John Crowe Ransom | Murfreesboro, Tennessee | Academic |
| 1909 | William Clifton Steele | Martin, Tennessee | Engineering |
| 1909 | Lorenzo Don Patterson | Birmingham, Alabama | Biblica |
| 1909 | George Waddell Currie | Hattiesburg, Mississippi | Law |
| 1909 | William Thompson Briggs | Tennessee | Medical |
| 1909 | Howard Matthew Rhea | Sommerville, Tennessee | Pharmacy |
| 1909 | Samuel H. Leslie | Arkansas | Dentistry |
| | | | |
| 1908 | James Martin Souby | Del Rio, Texas | Academic |
| 1908 | Frank Watkins Webster | Huntsville, Alabama | Engineering |
| 1908 | Charles E. Ruyle | Morrisville, Missouri | Biblical |
| 1908 | Lee Douglas | Nashville, Tennessee | Law |
| 1908 | Charles Ferguson Webb | Carroll, Tennessee | Medical |
| 1908 | Larmour B. Sandiford | Oxford, Georgia | Pharmacy |
| 1908 | Elmo R. Jarvis | Hansford, Texas | Dentistry |
| | | | |
| 1907 | Rosa Ambrose | Nashville, Tennessee | Academic |
| 1907 | Lewis LaTourette Baxter | Nashville, Tennessee | Engineering |
| 1907 | Clyde Kenner Campbell | August, Georgia | Biblical |
| 1907 | Duncan L. McRae | Prescott, Arkansas | |
| | | | |
| 1906 | Jesse Maxwell Corum | Paris, Tennessee | Academic |
| 1906 | Battle Hargrove Klyce | Cornersville, Tennessee | Engineering |
| 1906 | William L.C. Wailes | Birmingham, Alabama | Biblical |
| 1906 | John W. Holland | Jackson, Tennessee | Law |
| 1906 | Forrest Andrews | Nashville, Tennessee | Special Mention/Law |
| 1906 | John Field Simms | Texarkana, Arkansas | Special Mention/Law |
| 1906 | James Monroe Troutt, Jr. | Tennessee | Medical |
| 1906 | Otto Neville Morgan | Texas | Dentistry |
| | | | |
| 1905 | David Melville Smith, Jr. | Nashville, Tennessee | Academic |
| 1905 | Martin Smith Roberts, Jr. | Nashville, Tennessee | Engineering |
| 1905 | E. Wadsworth Lipscomb | Columbus, Mississippi | Biblical |
| 1905 | William Henry Spragens | Powers Kentucky | Law |
| 1905 | Paul DeWitt | Nashville, Tennessee | Medical |
| 1905 | Robert Carl Snow | Memphis, Tennessee | Dental |
| 1905 | Putnam Darden Whetstone | Woodville, Mississippi | Pharmaceutical |
| | | | |
| 1904 | Caro Roberto DuBose | Nashville, Tennessee | Academic |
| 1904 | Lester Alvah Cherry | Nashville, Tennessee | Engineering |
| 1904 | Robinson Ira Barnett | Sutherland, Florida | Biblical |
| 1904 | Edward Joseph Smith | Nashville, Tennessee | Law |
| 1904 | Stanley Ross Teachout | Huntington, Tennessee | Medical |
| 1904 | Jay Fisk Smith | Texarkana, Texas | Pharmacy |
| 1904 | Brien Boru O'Bannon | Memphis, Tennessee | Dentistry |
| | | | |
| 1903 | Grinnell Jones | Nashville, Tennessee | Academic |
| 1903 | Claude Mallory Garland | Nashville, Tennessee | Engineering |
| 1903 | Lewis Davies Lowe | Harlem, Georgia | Biblical |
| 1903 | Carl Monk | Atlanta, Georgia | Law |
| 1903 | William Adolphus duncan | Franklin, Kentucky | Medical |
| 1903 | Viston Taylor | Sylvia, Tennessee | Dental |
| 1903 | Thaddeus Harrison | Mt. Pleasant, Alabama | Pharmacy |
| | | | |
| 1902 | Gilbert Campbell Scoggin | Caruthersville, Maryland | Academic |
| 1902 | Richard Percy Rapier Hines | Mobile, Alabama | Engineering |
| 1902 | Henry Thompson Carley | Crystal Springs, Mississippi | Biblical |
| 1902 | Myles Powers O'Connor | Franklin, Tennessee | Law |
| 1902 | George Davidson McLean | Mississippi | Medical |
| 1902 | Edward Henry Happel | Texas | Dental |
| 1902 | Everette Glenn Setzer | Troutman, North Carolina | Pharmacy |
| | | | |
| 1901 | Herbert Gannaway | Bell Buckle, Tennessee | Academic |
| 1901 | Not Awarded | | Engineering |
| 1901 | Ernest lee Woolf | Rectortown, Virginia | Biblical |
| 1901 | Charles Ashley Stainback | Sommerville, Tennessee | Law |
| 1901 | John Wesley Hanner | Franklin, Tennessee | Medical |
| 1901 | Arthur Conyngton Pritchard | Albion, Illinois | Pharmacy |
| 1901 | Zenas Sanford Loftis | Rodgers, Texas | Pharmacy |
| 1901 | James Oscar Hall | Waco, Texas | Dental |
| | | | |
| 1900 | John Bell Tansil | Dresden, Tennessee | Academic |
| 1900 | Charles Crawford Jerrell | Oxford, Georgia | Biblical |
| 1900 | H.L. Berry | Tennessee | Medical |
| 1900 | Martha Emily Hunnicutt | Atlanta, Georgia | Pharmacy |
| 1900 | Benjamin Frank Thielen | Texas | Dental |
| 1900 | Not Awarded | | Law |
| 1900 | Not Awarded | | Engineering |
| | | | |
| 1899 | William James Howard | Mt. Pleasant, Tennessee | Academic |
| 1899 | David Irving Miller | Covington, Kentucky | Engineering |
| 1899 | Charles Gideon Hounshell | Rural Retreat, Virginia | Biblical |
| 1899 | H.H. Elmore | Durant, Mississippi | Law |
| 1899 | Lewis Henry Hightower | Mississippi | Medical |
| 1899 | Frank Richard Serger | Comfort, Texas | Pharmaceutical |
| | | | |
| 1898 | Oscar Teague | Montgomery Alabama | Academic |
| 1898 | Henry Beach Carre | New Orleans, Louisiana | Biblical |
| 1898 | Robert Emmett King | Brownsville, Tennessee | Law |
| 1898 | Robert Logan Jones | Nashville, Tennessee | Medical |
| 1898 | John Benton Bostick | Fresno, California | Pharmaceutical |
| 1898 | Miss Celia Rich | Nashville, Tennessee | Dentistry |
| | | | |
| 1897 | Halsey Werlein | St. Louis, Missouri | Academic |
| 1897 | John A.G. Shipley | Covington, Virginia | Biblical |
| 1897 | Hill McAlister | Nashville, Tennessee | Law |
| 1897 | Eugene Clark Goodloe | Alabama | Medical |
| 1897 | Harry Hammond Griffin | Darlington, South Carolina | Pharmaceutical |
| 1897 | Eugene Jerome Snider | South Carolina | Dentistry |
| | | | |
| 1896 | Cummins Ratcliffe | Arkansas | Academic |
| 1896 | James A. Parks | Indian Territory | Biblical |
| 1896 | K.T. McConnico | Tennessee | Law |
| 1896 | Harrington Marr | Tennessee | Medical |
| 1896 | Thomas Lee Odom | Texas | Pharmaceutical |
| 1896 | George C. Albright | South Carolina | Dentistry |
| 1896 | William Hamilton Johnson | Florida | Engineering |
| | | | |
| 1895 | Henry J. Livingston, Jr. | Tennessee | Academic |
| 1895 | Robert L. Lund | Alabama | Engineering |
| 1895 | Thomas H. Haden | Virginia | Biblical |
| 1895 | Carlos C. Vanleer | Tennessee | Law |
| 1895 | Paul Clements | Tennessee | Medical |
| 1895 | Paul E. Serger | Texas | Pharmaceutical |
| 1895 | Byron S. Dudley | Mississippi | Dentistry |
| | | | |
| 1894 | William H. Bates | Tennessee | Academic |
| 1894 | J. Owen Mahoney | Tennessee | Engineering |
| 1894 | Thomas Carter | Louisiana | Biblical |
| 1894 | Charles C. Trabue | Tennessee | Law |
| 1894 | William Henry Witt | Tennessee | Medical |
| 1894 | James M. Fly | Mississippi | Pharmaceutical |
| 1894 | W.W. Walker | Canada | Dentistry |
| | | | |
| 1893 | J. H. Dinning | Tennessee | Academic |
| 1893 | T.C. Meadows | Tennessee | Engineering |
| 1893 | Frank M. Thomas | Kentucky | Biblical |
| 1893 | Henry E. Smith | Tennessee | Law |
| 1893 | Henry C. Whitehead | Texas | Medical |
| 1893 | Eugene D. Lerman | Tennessee | Pharmaceutical |
| 1893 | James R. Beachum | Mississippi | Dental |
| | | | |
| 1892 | A.H. Wilson | Tennessee | Academic |
| 1892 | J.M. Hawley | Arkansas | Biblical |
| 1892 | J.A. Hughes | Tennessee | Law |
| 1892 | J.W. Waters | Tennessee | Medical |
| 1892 | L.D. Hoffman | Tennessee | Pharmaceutical |
| 1892 | R.A. Jones, Jr. | Alabama | Dental |
| 1892 | J.H. Ogburn | Tennessee | Engineer |
| | | | |
| 1891 | B.R. Downer | Kentucky | Academic |
| 1891 | J.T. Nolen | North Carolina | Biblical |
| 1891 | E.T.Seay | Tennessee | Law |
| 1891 | J.M. Ropp | Virginia | Medical |
| 1891 | W.B. Broun | Mississippi | Pharmaceutical |
| 1891 | J.A. Dale, Jr. | Indiana | Dental |
| 1891 | W. Halli Burton | Tennessee | Engineer |
| | | | |
| 1890 | J. Washington Moore | Tennessee | Academic |
| 1890 | N.H.D. Wilson | North Carolina | Biblical |
| 1890 | Claude Waller | Kentucky | Law |
| 1890 | Lewis T. Griffith | Oregon | Medical |
| 1890 | Charles B. Kirkland | South Carolina | Pharmacy |
| 1890 | J.L. Fox | New York | Dental |
| 1890 | Not Awarded | | Engineering |
| | | | |
| 1889 | Lucius S. Merriam | Tennessee | Academic |
| 1889 | O.E. Brown | Missouri | Biblical |
| 1889 | John H. Watkins | Tennessee | Law |
| 1889 | Robert Scott Woodson | Alabama | Medical |
| 1889 | W.L. Carr | Arkansas | Pharmacy |
| 1889 | J.H. Allen | Alabama | Dental |
| 1889 | Owen H. Wilson | Tennessee | Engineering |
| | | | |
| 1888 | Edmund I. Crockett | Kansas | Academic |
| 1888 | Neill M. Watson | North Carolina | Biblical |
| 1888 | E.E. Barthell | Tennessee | Law |
| 1888 | James C. Kellogg | Louisiana | Medical |
| 1888 | George C. Childress | Kentucky | Pharmacy |
| 1888 | George S. Vann | Alabama | Dental |
| 1888 | Not Awarded | | Engineering |
| | | | |
| 1887 | Chambers Kellar | Tennessee | Academic |
| 1887 | J.D. Crymes | Mississippi | Biblical |
| 1887 | H.B. Carlisle | South Carolina | Law |
| 1887 | W. LeRoy Broun, Jr. | Alabama | Medical |
| 1887 | Thos. E. Hardaway | Missouri | Dental |
| 1887 | Alfred Hume | Tennessee | Engineering |
| | | | |
| 1886 | W.G. Kirkpatrick | Tennessee | Academic |
| 1886 | G.F. Smith | North Carolina | Biblical |
| 1886 | R.W. Kittrell | Mississippi | Medical |
| 1886 | W.H. Justus | North Carolina | Pharmacy |
| 1886 | Robert T. Smith | Tennessee | Law |
| 1886 | T.C.Pope | Tennessee | Dental |
| | | | |
| 1885 | Waller Dearing | Kentucky | Academic |
| 1885 | Thomas Claiborne West | Mississippi | Biblical |
| 1885 | Thomas Hillard Wood | Georgia | Medical |
| 1885 | Pleasant Gray | Tennessee | Pharmacy |
| 1885 | H. Mc Meriweather | Kentucky | Law |
| 1885 | Thos. C. West | Mississippi | Dental |
| | | | |
| 1884 | Claude Waller | Kentucky | Academic |
| 1884 | W.E. Hardaway | Kentucky | Biblical |
| 1884 | Andrew Brown Ramsey | Tennessee | Medical |
| 1884 | James C. Kellogg | Louisiana | Pharmacy |
| 1884 | Seth Millington | California | Law |
| 1884 | O.F. Gambati | South Carolina | Dental |
| | | | |
| 1883 | G.C. Greer | Texas | Academic |
| 1883 | John E. Squires | Missouri | Biblical |
| 1883 | J.P.C. Walker | Tennessee | Medical |
| 1883 | Charles W. Beale | Tennessee | Law |
| 1883 | Morris C. Willis | Texas | Pharmacy |
| 1883 | Samuel W. Tally | Alabama | Dental |
| | | | |
| 1882 | J.C. McReynolds | Kentucky | Academic |
| 1882 | C.F. Comer | Virginia | Biblical |
| 1882 | J.I. Anderson | Missouri | Medical |
| 1882 | R.T. Fleming | Tennessee | Pharmacy |
| 1882 | J.W. Tomlinson | Tennessee | Law |
| 1882 | T.H. Lipscomb | Tennessee | Dental |
| | | | |
| 1881 | C.W. Beale | Tennessee | Academic |
| 1881 | A. Davisson | Virginia | Biblical |
| 1881 | G.R. Harsh | Tennessee | Law |
| 1881 | J.E. Hill | Tennessee | Medical |
| 1881 | J.N. Gunnels | Alabama | Pharmacy |
| | | | |
| 1880 | I.H. Bryant | Tennessee | Academic |
| 1880 | W.R. Sims | Louisiana | Biblical |
| 1880 | G.W. Gage | South Carolina | Law |
| 1880 | G.G. Buford | Louisiana | Medical |
| | | | |
| 1879 | Presley Simpson Ford | Kentucky | Academic |
| 1879 | William James Young | Maryland | Biblical |
| 1879 | Herbert Norvel Leech | Tennessee | Law |
| 1879 | Not Awarded | | Medical |
| | | | |
| 1878 | Walter Vernon Moore | Mississippi | Academic |
| 1878 | Thomas Cleaves Holmes | Tennessee | Biblical |
| 1878 | Robert Henry Rogers | Texas | Law |
| 1878 | David Campbell Kelly Binkley | Tennessee | Medical |
| | | | |
| 1877 | James Albert Brandon | Georgia | Academic |
| 1877 | John James Tigert, Jr. | Kentucky | Biblical |
| 1877 | Charles Pickney Wofford | South Carolina | Law |
| 1877 | Walter Russell Lambuth | China | Medical |