Patrick Leddin
Director, Business Studies
Associate Professor of the Practice of Business Studies

---
Patrick Leddin, Ph.D. is a Best-selling Wall Street Journal author, speaker, podcast host, entrepreneur, and professor. With a combination of academic, practical, military, and corporate experience, he is uniquely qualified to teach and inspire individuals to be the leader they are meant to be.
Dr. Leddin's impressive leadership experience ranges from leading soldiers as a U.S. Army airborne infantry ranger-qualified platoon leader to working with senior leaders for KPMG Consulting, FranklinCovey, and two successful leadership consulting businesses he co-founded with his wife Jamie. He earned his doctorate from the University of Kentucky.
Patrick is the founder and host of the weekly Leadership Lab Podcast. He has had the privilege to interview and talk leadership with more than 150 guests to date, including Stephan M.R. Covey, Patrick Lencioni, Liz Wiseman, Y-Vonne Hutchinson, James Patterson, Chris Voss, Dolly Chugh, Prakash Raman, and Marshall Goldsmith.
He has worked with organizations including General Electric, Samsung, The U.S. Secret Service, Penn State Leadership Academy, Trilogy Health Services, Ecolab, and Boston Consulting Group to develop their leaders. He has presented to countless audiences in the United States, Canada, China, Malaysia, Singapore, Great Britain, Germany, Denmark, and many other countries.
Patrick is the author of The Wall Street Journal Best-seller The 5-Week Leadership Challenge: 35 Action Steps to Become the Leader You Were Meant to Be and three additional books.
Patrick is an Associate Professor and the Director of the Practice of Business Studies at Vanderbilt University, where he teaches Negotiation, Advanced Marketing, and Crisis Leadership.
Patrick is an avid outdoorsman and mountain climber.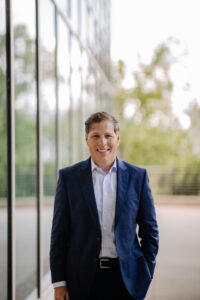 ---