Vanderbilt celebrates Bike to Work Day, offers Bike Month updates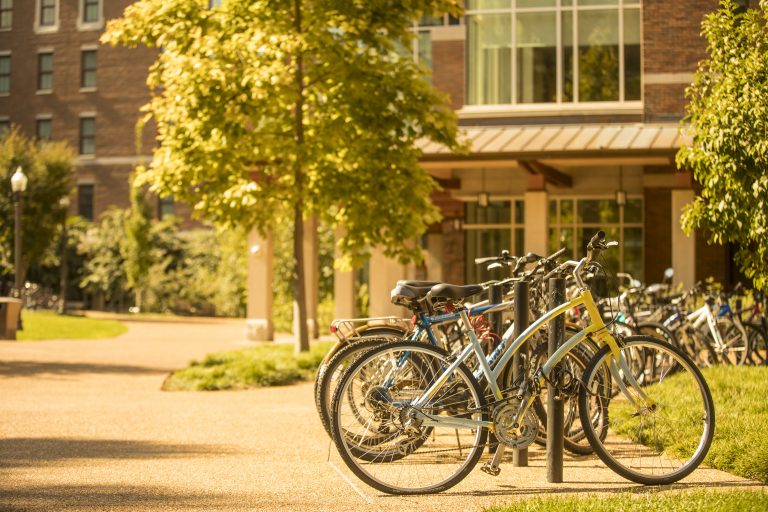 May is National Bike Month, and Vanderbilt has several activities and resources planned to showcase the many benefits of bicycling.
Bike to Work Day
The Vanderbilt community is encouraged to bike to campus on Friday, May 19. The Transportation and Mobility team and the Nashville Department of Transportation will be at the corner of 21st Avenue and Broadway, near the BCycle station and Walk and Roll Loop, with free coffee, bike lights and helmets from 7:30 until 9 a.m.
Those in the daily parking program who log bicycle commutes in the MoveVU Commute Hub will earn a sustainable commute bonus. Vehicle ownership is not required to participate.
Updated Bike Rack and Amenities Map
A new interactive bicycle parking map is available on the MoveVU website with the following information:
Covered and uncovered bike parking locations with pictures
Shower locations and shower access policies
Bicycle repair stations with tools and bike pumps
Preparing for Dockless Bike Share
Vanderbilt is currently preparing for a limited expansion of Nashville's Bike Share Pilot onto campus. To prepare for the arrival of electric-assist bikes on campus over the summer, paint and signs will be installed at nine on-campus locations in May.
The selected "station" sites include:
Locations across campus
Parking signs and on-ground painted corners to indicate where bikes should park
"Slow Zones" to prevent speeding through high-traffic pedestrian areas in the historic core and Peabody campus
Adequate parking distance from buildings for battery safety
More information about biking on campus can be found on the MoveVU website or by emailing MoveVU@vanderbilt.edu.