Reduce Waste
Our Goal: Vanderbilt will power its campus entirely through renewable energy and commits to carbon neutrality by 2050.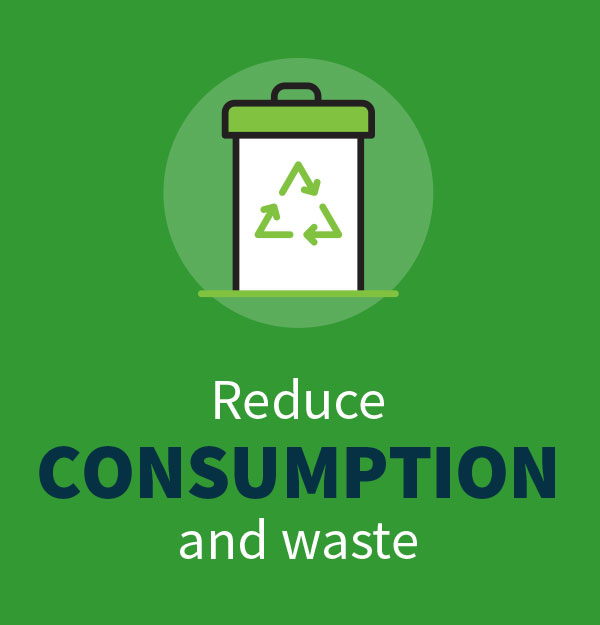 Zero Waste Study and Master Plan
The Zero Waste Study and Master Plan was developed by the Zero Waste Advisory Committee to address the portion of Scope 3 emissions related to waste disposal and recycling and to help progress towards Vanderbilt's carbon neutral and Net Positive + Resilience energy goals by 2050.
Vanderbilt's history of recycling has expanded in recent years to include food and material waste reduction. The Zero Waste Master Plan continues this forward progress to attain a higher standard of waste prevention, reduction, reuse and diversion.
Based on past data, the Committee recommended that the university consider the following two goals, along with two supporting actions:
Goal 1: Achieve Zero waste (90 percent diversion from landfill) by 2030
Goal 2: Achieve 30% waste generation reduction from 2017 levels by 2030
Supporting Actions:
End institutional single-use plastic purchases by 2025, except in laboratories*; and
Expand food waste collection to include all dining areas and residential halls by 2025.
*Laboratories are exempt due to lack of available alternatives and safety concerns.
Read the full Zero Waste Master Plan here.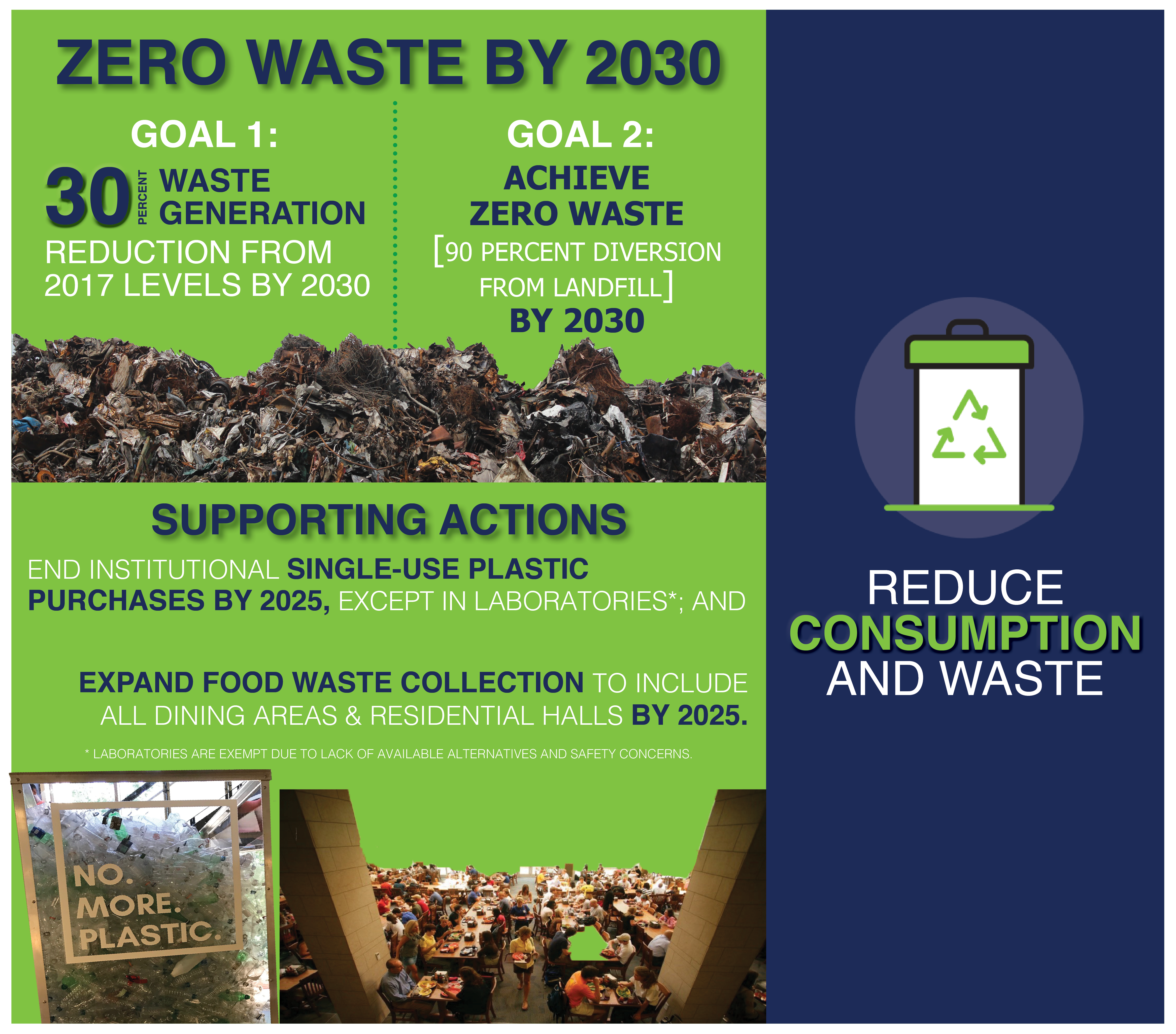 Recent waste reduction initiatives include:
Food Waste
Through collaboration with Campus Dining, the university has already implemented food waste collection for composting at all major Dining facilities and will be expanding this program throughout campus over the next few years. Additionally, Campus Dining is employing software and practices to reduce waste by avoiding overbuying and participating in unwanted food donation programs.
Learn more about campus dining.
Eliminating Plastic
Eliminating single-use plastic water bottles across markets and dining facilities across campus will be a significant step in reducing waste. The university installed rapid water bottle filler stations in key locations across campus with efforts underway to install more. See a map of the rapid water bottle filler stations here.
Sustainable Procurement Practices
Purchasing products made of sustainable materials and with recycled content will be prioritized at Vanderbilt, as well as reducing consumption of materials such as single-use disposable products, paper and cardboard.
Learn more about Vanderbilt's procurement policies.
Landfill Waste Reduction
While difficult to eliminate 100 percent of landfill waste, the Zero Waste Working Group will make recommendations for waste diversion, waste reduction, food waste reduction, and single-use disposable plastic elimination goals, significantly reducing the university's waste.
Campus Recycling Program
In 1990, Vanderbilt University began actively working on a program to reduce waste for the University community. Formally established in 1992, the Vanderbilt University recycling program has evolved and continues to grow through the active involvement and participation of its student body, staff and faculty.
The Department of Plant Operations is now operationally responsible for the University's Recycling Program, providing building recycling services to academic campus staff, students, and residents and managing a community recycling initiative at special events such as athletic games and move-out.
Learn more about campus recycling. 
Green Printing
The production of paper and the printing of publications use large amounts of natural resources (wood, water, energy, etc.) as well as potentially hazardous materials. Fortunately, many green printing options are now available to the Vanderbilt community through the VU Printing Services and Creative Services. These include post consumer waste recycled-content papers, papers certified by the Forest Stewardship Council (FSC), vegetable-based inks, papers processed without chlorine, and products made with renewable energy.
Learn more about green printing.